Cast: Jackie Chan, Amber Valletta, Madeline Carroll, Will Shadley, Alina Foley, Magnus Scheving, Katherine Boecher, Lucas Till, Billy Ray Cyrus, George Lopez.
Director: Brian Levant
Producer: Bob Simonds
Rated: PG
Running Time: 94 minutes

Lionsgate and Relativity Media's family action comedy THE SPY NEXT DOOR stars Jackie Chan as Bob Ho, an undercover CIA superspy who decides to give up his career in espionage to settle down with his next-door neighbor and girlfriend, Gillian (Amber Valletta). But Bob has one more mission to complete before Gillian agrees to marry him: winning over her three opinionated kids.
When Gillian suddenly has to leave town, Bob volunteers to babysit the children so he can earn their approval. But when one of the kids mistakenly downloads a top-secret formula from his computer, Bob's archenemy, a Russian terrorist, moves in for the attack, forcing Bob to juggle the roles of spy and prospective stepfather in the most challenging mission of his career!

Martial arts superstar Jackie Chan is joined by an talented supporting cast featuring Amber Valletta (PREMONITION, TRANSPORTER 2, HITCH), Madeline Carroll (SWING VOTE), Will Shadley ("Dirty Sexy Money"), Alina Foley, Magnus Scheving (LAZYTOWN), with Billy Ray Cyrus ("Hannah Montana") and George Lopez (BEVERLY HILLS CHIHUAHUA, SWING VOTE, "George Lopez"). THE SPY NEXT DOOR is directed by Brian Levant (ARE WE THERE YET?, SNOW DOGS, THE FLINTSTONES) from a screenplay by Jonathan Bernstein & James Greer and Gregory Poirier and story by Jonathan Bernstein & James Greer. The film is produced by Robert Simonds. Lionsgate and Relativity Media Present A Relativity Media and Robert Simonds Company Production; of The Spy Next Door, a film by Brian Levant.

Special Features:

* Jackie Chan: Stunt Master and Mentor
* Adventures in Acting with the Kids from The Spy Next Door
* Bloopers Reel

"Filled with hilarious set ups, impossibly executed stunts plus an engaging central story about family andbeing loved, this funny action comedy is great entertainment for the whole family."URBAN CINEFILE

The Spy Next Door
RRP $39.95
Blu-Ray $49.95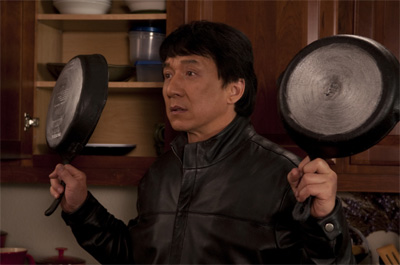 Behind the Scenes with Cast & Crew of The Spy Next Door
A bumbling pen salesman, Bob Ho appears to be just as nerdy and boring as his job. But this affable, seemingly harmless man - who secretly saves the world on a daily basis as a CIA superspy - is clearly much more than meets the eye. And so is the man who plays him. Modest and unassuming in person, Jackie Chan is a dynamic martial arts powerhouse, an international movie star, a selfless humanitarian, and a performer beloved by thousands of devoted fans around the world. For over 20 years, he was Asia's biggest box office star before he became internationally known for such blockbuster hits as RUSH HOUR, RUSH HOUR 2, SHANGHAI NOON, THE TUXEDO and SHANGHAI KNIGHTS. Now, Jackie Chan lends his considerable talents to THE SPY NEXT DOOR, bringing his idiosyncratic brand of action and comedy to the family film genre.

"Jackie Chan is an icon," says producer Bob Simonds. "He's an incredible performer and draws audiences worldwide."

Jackie Chan was instantly attracted to the script and the comic possibilities of Bob Ho's particular challenge: winning over the distrustful children of the woman he loves. After meeting with Bob Simonds in China he quickly signed on to the project. "The script has a little bit of everything," says Jackie Chan. "Action, comedy, romance, adventure - everything."

Adds Bob Simonds, "This is a great role for Jackie. He does all the stunts typical of a Jackie Chan film, but he also gets to bring out his sensitive side. There are a lot of laughs and heartfelt moments."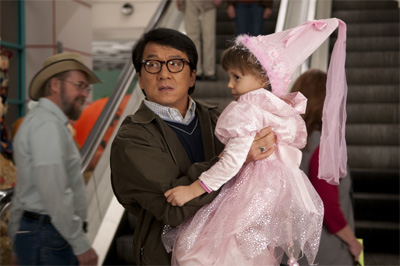 With THE SPY NEXT DOOR, Jackie Chan appreciated the opportunity to try his hand at a family comedy that focuses on his relationship with kids. "I really like to make children laugh," he says. "I really enjoy hearing from kids that they like my movies."

When asked about his favorite scenes in the film, Jackie Chan mentions a moment when Bob has a heartfelt talk with his step-daughter-to-be about her parents' divorce. "We get to sit down and talk about ourselves," says Jackie Chan. "And it's a very touching scene. I think a lot of families have problems like these today and it's important to explore them in movies."

Once Jackie Chan was involved with the project, the film immediately attracted a wide array of talented actors and filmmakers. "Everyone on the film - actors and crew - wanted to work on a Jackie Chan film," executive producer Ira Shuman recalls. "Not only is he a legend, but his good will, generosity, and charm attracted everyone to the project."

In search of a director, Bob Simonds turned to a colleague he trusted greatly, Brian Levant. Known for such hits as ARE WE THERE YET?, SNOW DOGS and THE FLINTSTONES, Brian Levant specializes in family films and had already worked with Bob Simonds on four previous projects. "I knew he would be a perfect fit for this film," says Bob Simonds. "He's an excellent comedic director and also works extremely well with kids."

The moment Brian Levant heard about Jackie Chan's involvement, he enthusiastically committed to the project. "Jackie Chan is a unique talent," says Brian Levant. "He has the ability to do incredible things before your eyes and make it look simple - to him, it is. He is so inventive and energetic. Every day with him is exciting. He knows about comedy as well. He's someone who lets you be loose and natural, and I think in comedy that helps a lot to try different things."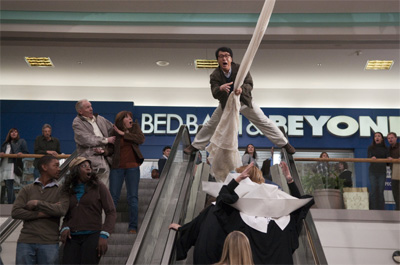 Brian Levant's enthusiasm was echoed by screenwriter Greg Poirier, a long-time fan who even pitched a script in the late 90s specifically for Jackie Chan to star in. "Writing for Jackie Chan is a dream come true for me," says Poirier.

In the case of SPY NEXT DOOR, production had to move particularly quickly due to Jackie Chan's limited availability between other commitments. "We only had a few months to prep and cast the rest of the film and then shoot it in 38 days," says Ira Shuman.

"I thought we were crazy to attempt such a fast schedule," admits Brian Levant. "But we somehow made it through snowstorms, the flu and injuries and finished the show on schedule!"

With Jackie Chan and Brian Levant on board, the remaining cast members were quick to commit to the project. Playing Jackie Chan's partner at the CIA is country star and actor Billy Ray Cyrus. "Every time I approach a new film project one of the first things I look at is the script," says Cyrus. "A script is like a hit song. It's gotta be on the page to make it to the stage, and I loved the script. It reads like a hit."

Cyrus was particularly excited to work alongside Jackie Chan and witness his talents first-hand. "Jackie's work ethic is exceptional," Cyrus says. "The guy is incredible. He never stops. He does everything perfectly and if it isn't perfect, he won't stop until it is perfect. When it's time to break and move to the next scene, he's the first guy picking up equipment, helping the crew. I've never seen anybody that hands on and so prepared."

"We were very excited to be working with Billy Ray Cyrus. I was unfamiliar with his acting and just knew him as a singer. He came across very naturally," says Ira Shuman.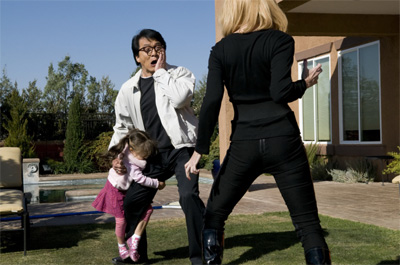 George Lopez, the star of the hit sitcom "George Lopez" explains the reason he wanted to do the film: "Two words - Jackie Chan." The filmmakers initially considered casting Lopez in Cyrus' role, but Lopez's unique combination of comedy and mystery made him the perfect choice to play Glaze, Bob Ho's trustworthy boss at the CIA who later turns against him.

"Both Billy Ray and George are big stars in their own fields and were very gracious in taking the parts to be involved in this film. Their participation makes the film more accessible to a wide audience," says Ira Shuman.

Casting the part of Bob's love interest, Gillian, was crucial, as the chemistry between them is the reason Bob goes to such lengths to win over her children. "We wanted someone who could play the mother of three children and yet still be a romantic interest for Bob Ho," says Ira Shuman. "Amber Valletta fit the bill perfectly."

Having a son of her own, actress and model Amber Valletta brought all of her knowledge of motherhood to the part of Gillian. "She's really fun to play," says Amber Valletta. "I liked this character. It was a nice departure for me. I really wanted to do something light that I could take my son to see."

Amber Valletta also enjoyed the opportunity to work with children. "Working with kids is fantastic because you don't know what they're going to do," she says. "People always say don't work with children or animals because they'll always upstage you, but I loved it. They keep you in the moment."

Casting the children in the film required finding three young actors, from ages 4 to 14, who were equally adept at comedy and drama. For the part of Ferren, Gillian's 14-year-old daughter who disapproves of her mother's relationship with Bob, the filmmakers turned to rising star Madeline Carroll. With her recent performance in the Kevin Costner's SWING VOTE, Madeline Carroll had demonstrated she was capable of serious work. But with THE SPY NEXT DOOR, Madeline Carroll had the opportunity to explore two new genres simultaneously. "In this movie I got to do action, but comedy as well which was really cool," says Madeline Carroll.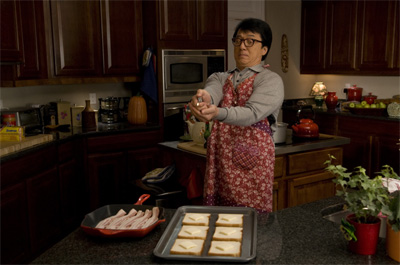 "I think that Madeline Carroll is going to be one of the top actresses of her generation," avows Brian Levant. "She is so interested in the quality of her craft. Everyone was blown away by her."

Another surprise to the filmmakers was Will Shadley, who plays 12-year-old Ian. Making his feature debut, Will Shadley came to set full of energy and enthusiasm every day. "I really like working on films," exclaims Will Shadley. "Playing this character I got to unleash my inner geek. I got to use cool spy gear like a belt that turns into a sword. It's pretty cool, but I don't think I'd ever want to be a spy in a real life. There are too many bad guys coming after you."

"Will Shadley is quite impressive. He has an incredible ability with dialogue. He is well beyond his years," reports Ira Shuman.

Having previously worked on a number of family films, Brian Levant has developed various methods of working with very young actors. But most of his techniques didn't apply to 5-year-old Alina Foley, who plays Nora, the youngest of the three siblings. "I've worked with a lot of little kids and it's like pulling teeth," says Brian Levant. "With Alina you just turn the camera and let her go, because you don't know what's going to happen with her! She is funny and different and it shows up on screen,"

Magnus Scheving, the actor who plays Poldark, Bob's nemesis, will be familiar to many young viewers as the star of the popular television series, "LazyTown." "I'm used to doing a lot of action because of the show I've been doing for the past five years," says Scheving. "The challenge for me was to go from playing the good guy to playing a villain. It was really difficult for me to change from being really nice to really mean."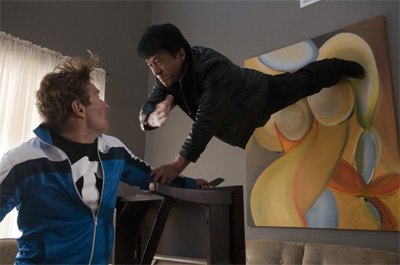 Hailing from Iceland, Scheving overcame the challenge of speaking English with a Russian accent for his performance. But at times he found it difficult to communicate with Jackie, who speaks mostly Chinese. "There was one fight scene with Jackie where I didn't really understand if I should go closer or backwards, and I got hit right in the face!" laughs Scheving.

While THE SPY NEXT DOOR is clearly aimed at a family audience, the film still delivers on the action and stunts that fans expect from a Jackie Chan film. In this case, Jackie Chan concentrated on turning suburban settings into places with extraordinary potential. "We are doing 'normal' things in this movie in a typical Jackie Chan style," explains Jackie Chan. "I like to use the basic things around me for the stunts. The refrigerator, microwave, ashtray. We also wanted to make sure children can see it. I wanted this to be a PG movie."

Jackie Chan also adapted his stunts to match the character of Bob Ho. "My character is an ordinary spy. He's not a superhero. I wanted to design the stunts so the audience would believe them," he says. "I asked myself all the time, 'Can I do this? Can I do that? Will the audience accept it?'"

Stunt coordinator Bob Brown led a group of his own stunt men while working closely with Jackie Chan's stunt team, led by Wu Gang. Having worked as both a stunt man and a coordinator for many years, Brown was impressed by Jackie Chan's prowess and pleased with the melding of their two distinct styles. "Besides the fact that Jackie is a gift for any stuntman to work with, getting the east and the west to blend together was the most fun for me," says Brown.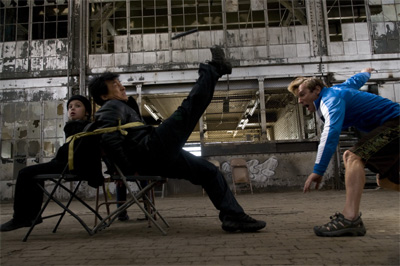 "It's a very different approach," says Brian Levant of Jackie Chan and his personal stunt team. "Usually you design things with storyboarding. Chan and his team have a different approach - it's almost always improvisational. Jackie and his six guys, who are from different countries and each have a unique talent, build a sequence on set from the ground up. It's also shot a little bit differently; they shoot things in small pieces. The level of perfection that they demand in each of those pieces is a bit staggering. It's all about movement and about doing as much as you can in each moment. They're not just trying to beat somebody up, they're trying to entertain you while they do it."

"Jackie has an incredible knowledge for comedy and stunt work. I've never worked with anybody like that. He thinks about what would be physically funny," says Amber Valletta.

The presence of children on set also modified Jackie Chan's approach to his on-set stunt choreography. "Doing a stunt myself is easy, but when I have to do stunts with children, I have to be very, very careful. I have to make sure they're very safe, so I prepare for the children. And I have to be very patient. They often don't listen to you!"

All three of the kids got to test out their physical talents with their first attempts at stuntwork. "I loved doing tricks," says Madeline Carroll. "It's fun but the harness is uncomfortable. Jackie makes you feel safe so it's really cool. The stunt team is great - they do lots of fun tricks with us."

With a mild fall and winter, Albuquerque served as an excellent backdrop for the production. Due to the film initiatives in New Mexico, a rapidly developing film community also provided the production with an outstanding crew and new shooting facilities. Brian Levant, in particular, was thrilled to film in Albuquerque having attended the University of New Mexico as a college student. He visited his old haunts, including the University, which invited him to speak to current students about his career.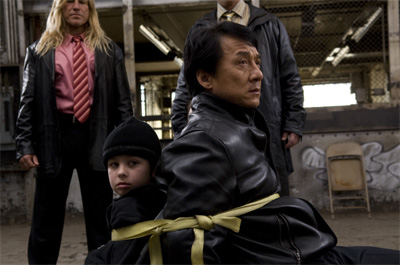 Filming on location also brought the crew together both on and off set. "The film wasn't all hard work," reports Ira Shuman. "That's one of the great parts of being on location - the cast and crew can bond. Jackie would often take the crew out for a family style dinner."

"It was really hard to leave because we became like a family," says Madeline Carroll.

The crew also found ways to keep themselves entertained between scenes. Brian Levant always had a volleyball in hand; Jackie Chan rode around on segways; and the kids played basketball. "During production I can't sit down for even an hour," Jackie Chan says. "If we had nothing to do, we would always play football or volleyball. Brian loves volleyball! He's the first director I've seen carry around a volleyball as he's yelling action!"

Apart from cutting loose on set, Brian Levant managed to orchestrate a large, complex production with very little time and money. "We were trying to make a 400 million dollar movie for a lot less," says the director. "Every day we had visual effects, stunts, animals, wire work, comedy, set pieces. We were having huge fights. We were cooking and making messes!"

But the director readily admits that he's very pleased with the result. "As soon as we put this group together, all the problems really went away. What we had built was a framework for Jackie to interact with the kids, Amber Valleta, George Lopez and Billy Ray Cyrus. When we turned all these personalities together it was like a comedy cuisinart and the consistency was perfect!"