Troy Barrett Long Time Comin'
Melbourne-based musician Troy Barrett is no stranger to the local music industry. He's been treading the boards in the rock scene for years, earning himself a solid reputation as a performer and songwriter. However, it is with his new offering that Troy really shines. After years of honing his skills, he has made a departure of sorts from the rock scene and transitioned over into his new passion… country roots. The EP Long Time Comin' highlights Troy's aptitude for storytelling and his innate skill as a musician.

When it came to stepping over to a different music genre, Troy says it was an organic decision. 'I wanted a change and a new direction," he says. 'I wanted to really concentrate on my lyrics and tell a story for each of the songs. When I first started listening to country music, the first thing that stood out was the story that was being told by the lyrics. I also loved having a pedal steel player play on my songs as I've never used or jammed with that instrument before."

After years of playing the rock scene around Victoria, and scoring gigs such as supporting the likes of Wolfmother in their early days, Troy found that he needed to be re-inspired by music. 'I needed something different that got me excited about music again," he says. 'It wasn't until one night I saw a country band playing, and they were awesome. Everyone was up dancing and having fun, and I thought -wow, I'd love to play music where everyone would get up and dance. What I like about country music is that people aren't obsessed about an artist's age or appearance, they just like them because of the music. It is the music that is important."

The EP, which features four tracks all penned by Troy, also acted as a change in direction for his approach to the songwriting process, something he believes was for the better. Harking from a background that heavily featured electric guitar, Troy says he would finish the music first, before focusing on the melodies and lyrics. 'For my EP I really tried to change my habit and write songs progressively, as in writing the lyrics as I'm working out the chords," he says. 'I also really concentrated on keeping the number of chord progressions to a minimum and concentrating more on writing a great melody."

It was only as Troy got older that he really started to appreciate the importance of songwriting from a storytelling perspective. He found himself drawn to those styles of music and realised that while he enjoyed the rock scene, it didn't resonate with him as well as roots inspired country and the messages behind the songs. 'I've really started to appreciate great lyrics and stories in songs," he says. 'I've always tried to write my songs as if they were mini stories, so whenever I did an EP or album, I'd see if as a collection of short stories written to music. Plus I can be pretty bad with remembering lyrics, so if it's a story, at least I know where I'm up to [laughs]."

While the songwriting process for the EP was organic, the songs also started out that way. Troy started penning the tracks completely acoustic, without the addition of the pedal steel in mind. It was only when he had the thought of adding in the pedal steel on one of the tracks, that he realised the instrument fitted all the songs. 'When I found my pedal steel player Drew (Gallus) and had a jam, I thought -hey this sounds cool, why don't we try this over all the songs'," he says. 'So I guess that's how my sound came about. I'm keen to still sound country, but to have my own take on it."

Troy Barrett Long Time Comin'
Stepping out and trying something new with his debut country EP release, former rock muso Troy Barrett has put together a searing offering of beautiful songs that tell personal stories and show his diverse versatility as a musician. Long Time Comin' may be the first country-oriented release Troy has brought to the musical fold, but, as the name suggests, this EP has been a long time coming for the established Melbourne-based musician. After touring extensively and performing in hard rock bands throughout his early 20s, Troy craved something different, and he found that, and his new musical home, in country music.

For a musician who has been performing around the traps for years, honing his skills and earning his stripes, it was an interesting realisation to find that he was craving something different musically. His inner passion was to be a solo artist, and a storyteller, and this lead him down the path of country music, where he feels he has at last found his niche. Long Time Comin' is an introduction to what is certainly destined to be a long and prosperous career for Troy. Released under his own record label -Masquerade Records', Troy is determined to pursue an independent path, ensuring he has creative control over the music he is producing.

'Once I actually sat down and thought about my career, and how most artists are unsigned, I thought, well, why not start out on your own and you can release anything you want," he says. 'I thought another option, further down the track, might be signing other artists to the label."

The album, finalised for release in 2012, was a progressive recording process throughout the past two years. It was solely produced by Troy, but included solid contributions by some of Melbourne's most well reputed musicians, including Gavin -Smooth' Ford (drums/percussion), Sonny Igusti (bass), Adam Spicer (piano/organ), Belinda McArdie (vocals), Brett Wood (electric guitar) and Drew Gallus (pedal steel). A multi-instrumentalist, Troy contributed acoustic guitar and harmonica to this impressive offering. The album was mixed by Cameron McKenzie and mastered at Crystal Mastering.

Troy says the tracks were laid down at a number of different locations, making for an interesting process and unique sound. 'I recorded the drums at a studio nearby called Cavern Sound and pretty much did everything else, except vocals, at my friend's home studio," he says. 'The good thing about recording at my friend's house was that he didn't charge me studio rates, so I could come around whenever and track what I wanted. The last place I recorded was a studio in Melbourne called Base Studios." This flexibility between venues made it possible for Troy to fit in recording with his other commitments, and gave him the chance to really make sure that the finished product was exactly what he wanted.

While the recording was structured across the past couple of years, all up Troy says it was probably a six-month process. He says while this is a bit long for four songs, he took his time to ensure that he was able to fully self-fund the record and create the music to his vision. 'I really tried to keep the instrumentation to a minimal," he says. 'When you're in rock, you tend to layer everything, like guitars, vocal harmonies, etc. This time I really wanted the core instruments to be drums, bass, acoustic guitar and pedal steel. Pretty much, what I recorded I wanted to be the same as what you would see live."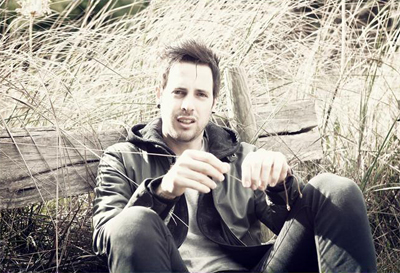 Track-By-Track
Justified
If I said to you girl, you could not be mine, you could walk away now, that would be justified. If I said to you girl, this is not our time, you could always blame me that would be justified…
The first track on the EP is catchy from the opening bars, and it is no surprise that this is the first single from the release. A classic -break-up' song, it is inspired by actual events in Troy's life. 'During the period I wrote and recorded the EP, I had a number of heavy things going on in my life, and one of them was breaking up with my girlfriend at the time," he explains. 'It's quite funny now, as I'm back with the same girl that I wrote the song about and we're happier than ever." The song was essentially Troy getting the emotions -off his chest' and was quite cathartic. Justified was one of the first tracks written for the EP, and is still one of the fastest songs Troy has ever written. 'Usually it takes me ages to write lyrics, although on this one when I was writing the lyrics, my hand was trying to keep up with my brain," he says. 'I probably wrote this in only 15-minutes."

Catching Stars
Click your heels and wish away, tonight we will be strong…
The EP's second track is one of those classical feel good songs. Unlike the other tracks on the EP, this wasn't written directly from an experience, rather it was penned about an emotion. Troy says while there is no hard storyline behind the track, he wanted to write a song about feeling good and being free, and doing what you want in life. 'I've always wanted to write a song that sums up the feeling of driving down to the coast in the summer with the roof down," he says. 'My Pa has a holiday house near the coast which I got to a fair bit, so I guess driving to that house was the inspiration." He wrote the song from his mother's lounge room, playing guitar one afternoon and came up with the intro riff. This was inspiration enough and the rest of the song seemed to flow out from there. Troy added in piano in during the recording process and an -opening' slide guitar solo.

Elusive
If you were to call, you were on my mind a thousand times, I've tried and tried to reach you, elusive girl…
The track Elusive is another instant catchy song, with real emotions and an interesting storyline. Penned about a break-up, but from a different perspective, Troy wrote the song after a close friend of his broke up with his girlfriend. He thought he would approach the song differently, by writing it from the perspective of someone else. 'I actually wrote this song at my Pa's holiday house," he says. 'I had been mucking around with this chord progression for a couple of years, but never thought any of the songs I had for it were good enough. I guess this one got the tick of approval." When it came to recording it, he wanted a big strong open sound. He also called in help with some backing vocals to pull the song together.

Mother's Eyes
So tell me, how do you think you will turn out, will you have your mothers eyes, will you play guitar like your daddy did…
The most personal of all the songs on the EP, Troy is understandably shy about revealing the true story behind Mothers Eyes. The lyrics tell their own story, and after sharing such raw emotions, Troy is keen for listeners to make up their own perceptions about the track. To give it more impact, he also recorded it as a harmonised duet and there is no doubt there is something about this song that grabs you instantly. 'One of the things I've learned since doing this EP, is that if you write truthfully and from the heart, songs come easy and frequently," he says. 'Once again, I think I was at my parents' house when I wrote this, I remember consciously wanting to write a song that had a very simple chord progression." Mothers Eyes also features Troy on harmonica.

Review: Troy Barrett produces a smooth musical sound that can only be described as breathtaking rhythmic. With a slight country sound, Troy Barrett produces new age music that makes listening easy! Producing themes of love, romance and honest, feel-good music; Long Time Comin' showcases Troy Barrett extensive talent.


Interview with Troy Barrett
Question: How would you describe Long Time Comin'?

Troy Barrett: Long Time Comin' is my debut EP that I have been working on because I have been wanting to put out an EP for ages, with all the bands that I used to be involved in. I have been determined to record an EP and I have recently changed genre to country music and after a year and a half of writing and recording I finally finished the EP.


Question: What inspired you to try a different genre?

Troy Barrett: I have been playing rock for years as I have always been in rock/metal bands and I grew tired of playing that music all the time. I've always listened to different styles of music and written acoustic songs of my own, on the side and I thought I'd try something different to inspire me musically.

I happened to see a country band, one night at a pub and everyone was up and dancing and I thought country music was the go!


Question: Do you write your own songs? What's your inspiration?

Troy Barrett: Yes. I always try and find a specific story to write about in each song because I am pretty hopeless at remembering lyrics and if I have a story I know where I am. Things that happen in life inspire me. Justified is about a breakup with a previous girlfriend which funny enough I am back with now, which meant awkward listening when I showed her the track at first.

I wrote a song about when I went to Japan recently because I saw some things that I thought were inspiring to write about. I also write about things that go on, from other people perspectives. Basically I try and write a different story for each song and if anyone asks I can explain what the song is about.


Question: What music/artists do you listen to when you are not playing your own?

Troy Barrett: I listen to anything from Ryan Adams to Enya and then the biggest death metal band you've ever heard! To be honest I've been really getting into Ryan Adams and trying to find my feet in the country genre, I have been listening to other country artists such as Brooks and Dunn and Keith Urban – I am trying to listen to as much country music as I can to absorb all the styles and make it my own.


Question: Do you prefer performing live or recording?

Troy Barrett: I love doing both. I love writing a song and then seeing it come into fruition when you gradually start to add all the parts together and then hearing it as it were when you wrote it, inside your head and then seeing the absolute product, at the end, which is always really cool.

Then again, I love playing live. I have played live a lot and toured a lot with my previous bands. I love standing on the stage especially when the audience gets involved. I'd have to say 50/50.


Question: What/who was your inspiration to go into the music industry?

Troy Barrett: I started playing guitar at 15 before I started singing and I was really into 80's metal music at the time and I had a really good guitar teacher who I got along with very well and he used to tell me stories about his gigs where he played in front of audiences and I thought that sounded amazing and I wanted to do something like that. I started out in a high school band and from there it became a passion for me whilst a lot of my friends sold their instruments after high school and I have always continued to do music because it is my passion. Music is the only thing I focus on all the time… apart from my girlfriend (laughing).


Question: What is the biggest challenge you have faced along the way to your musical success?

Troy Barrett: When I was in my last band we had management and we were going to get signed to Sony and things looked like they were going to blow up big (go overseas, tour and record) and then it all fell into a hole, quite suddenly. When you're in independent bands you tend to spend a lot of money because you like what you do and you put your money where your heart is. After spending so much money in years and years of bands I wondered if it was worth doing it anymore and contemplated quitting but I took a break (still played guitar) and eventually the passion returned and that made me want to change direction and do something a bit different.

I also looked into this genre because I believed it had more of longevity about it because I can always play at Folk and Country Festivals and it doesn't matter what age you are, because people go to hear the music they like. Whereas in the metal/rock scene you have a used-by-date and people generally look at you to see what clothes you're wearing and judge you. As a career perspective, it is better that I have gone in this direction.


Question: What's a typical day like, for you?

Troy Barrett: I work full time and try and supplement music as much as I can. I'll work through the day and then come home and try and play guitar, write songs, check emails and then work on music promotion and booking shows. This year I have really tried to crack down and play as many festivals as possible. As soon as I get home from work it is head down, full steam ahead.


Question: What has been your favourite part of becoming a music artist?

Troy Barrett: A couple of years ago when I was in my previous band, we were lucky enough to support the Taste of Chaos festival that came through Australia. Singing at Vodafone Arena in front of 7 or 8,000 was the highlight, to date.


Question: If you could collaborate with another artist, who would it be?

Troy Barrett: Oh wow, what a question… I don't really know as there is so many. Ryan Adams would be cool to write with but there are so many different genres that I listen to, it would be like trying to pick your favourite child (laughs). Off the top of my head it would be cool to collaborate with Ryan Adams.


Interview by Brooke Hunter