Fresh New Visuals of Take You
Following on to extend an already impressive career for Tyler Rivers , from supporting Trey Songs late last year to August Alsina on his Don't Matter Tour in front of 2,000+ at Metro City, 'Take You' shows a stylistic maturity that places Rivers in his own lane.

The music video showcases a spellbinding city ambience, riddled with neon and city-lights blended through smoke clouds to perfectly compliment the late-night-drive feeling of the single.

Featuring a Porsche-lit underground carpark and rooftop scene this video truly reflects the party-vibe portrayed through the lyrics.


Interview with Tyler Rivers
Question: How would you describe your music?

Tyler Rivers: I draw a lot of my inspiration through the new wave of R&B like Post Malone, dvsn, Bryson Tiller but infuse it with my knowledge of pop music growing up listening to Justin Bieber, Michael Jackson. So somewhere between the two. It's like... new wave pop R&B.


Question: What inspired the idea of the video for Take You?

Tyler Rivers: Honestly it was a collaborative effort between myself, my manager Jayson Brown and the director Christian Kennedy. We originally had a more elaborate plot line for the video but we decided to dial it back and make it more about the visuals, but still keep it dark, soulful and mysterious.


Question: Can you tell us about filming the video for Take You?

Tyler Rivers: We actually filmed the video on location at my recording studio. We took over the underground car park one night and shot the rest of the scenes inside the studio. It was a solid day of filming but the result was amazing, I still can't believe how good it turned out.


Question: Which is your favourite song to perform live and why?

Tyler Rivers: It's actually a song called "You're Mine". It's one of my earlier tracks but it means a lot to me and has always got an insanely good response from the crowd.


Question: If you could have anyone, in the world, attend a show, who would it be?

Tyler Rivers: Justin Bieber, he has to be one of my biggest inspirations to date. Justin is one of my first 'favourite' artists I can remember and I really admire how far he has become. You can't be where he is today without constantly evolving and he is one of the best at it.


Question: Do you prefer performing live or recording?

Tyler Rivers: I absolutely love performing live. I cannot describe the rush I get from being on stage, and performing my music in front of a crowd. It's the craziest feeling to look out and see people you don't know singing the words to something you created.


Question: What motivates you most when writing music?

Tyler Rivers: To be honest, I am always writing music. I draw inspiration from things that happen in my life or the things that happen around me so I am constantly motivated.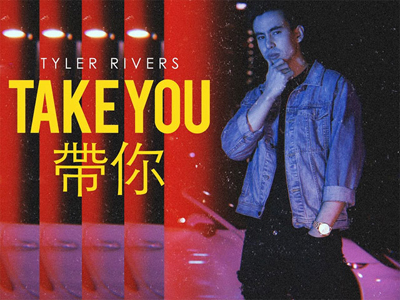 Question: Which music/artists are you currently listening to?

Tyler Rivers: I shuffle through a lot of Artists but the ones that come to mind are Khalid, Bryson Tiller, Chris Brown, Johnny Yukon, Post Malone and The Weeknd.


Question: What or who was your inspiration to go into the music industry?

Tyler Rivers: I actually started with music quite very early on. I remember writing songs way back when I was 6 years old. My Dad is very musical so I grew listening to all types of music. I ended up picking up my first instrument when I was 9, and then self-taught myself guitar when I was 13 and moved on to piano when I was 14.


Question: If you could collaborate with another artist, who would it be?

Tyler Rivers: Post Malone. So if you this mate, holla at your boi.


Question: What's next, for you?

Tyler Rivers: I am currently working on my debut EP and I have two more singles ready to be released (hopefully) before the end of the year. This is only the beginning.

Interview by Brooke Hunter