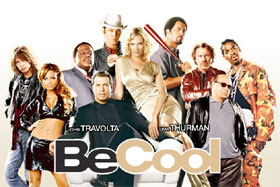 UMA DANCES TO A DIFFERENT TUNE.
Uma Thurman/Be Cool Interview by Paul Fischer in Los Angeles.

Uma Thurman is not one to open up about any aspect of her personal life. Ferociously guarded, Thurman skirts around discussing love and family, yet while promoting Be Col, the sequel to the 90s comedy Get Shorty, Thurman smiles sheepishly when asked about her Valentine Day plans. "Now that is a really sticky question. I don't know if I can share." Rarely talking about life post-marriage, Thurman does admit that somewhere, in the recesses of her mind, lurks a hopeful romantic. "I don't know. No, no, no, hopefully, we'll see," she says, laughingly.

But the frequently busy actress, currently in rehearsals for The Producers, is trying to juggle her busy film career with motherhood. "It is really impossible. Actually my ex-husband said to me the other day, that I clearly was someone who wanted to be a full time mother and still wanted to be an actress and I kept insisting I could do it, but I couldn't," Thurman admits. "I really try to give all of myself. I mean things this year I have been really lucky, and I refuse to read a script that didn't shoot in New York City, because I just needed to be home. It is a very difficult balance, and I have even thought about quitting, but then I think I can't quit, because I love what I do so much and it is the wrong signal and now I am a single mother so I really can't quit. But I don't want to because I love what I do. I find it very tumultuous and difficult but I wouldn't want to give up, so it is just something I am fighting for, to try to find a way to be in a satisfactory state, keep my foot in the business satisfactorily and still be creatively stimulated and take care of my children."

For that reason she was drawn to Be Cool, Elmore Leonard's self-deprecating satire of the Hollywood music industry, in which John Travolta returns as Chili Palmer, with Thurman cast as Edie, a woman trying to make it in the independent music scene. "In general I really like Elmore's characters, because I think they are incredibly defined and they make acting a little easier, usually because they are very well filled out, very distinct, very potent kind of reduced characters and it sort of gives you a lot to start with in general." Asked whether she sees parallels between Edie and the actress, Thurman sidesteps the question. "I think I identify with all my characters, so the idea of there being a parallel never even occurred to me. But I guess there is a certain kind of vulnerability mixed with a degree of toughness and her swagger which I guess I could relate to which tries to keep it hidden that she is actually a softie. But I don't really think about characters in any way of them being parallel to me."

While Thurman dances once again in Be Cool, we'll be seeing more of Thurman dancing the lights fantastic in The Producers, opening later this year. For the actress, dancing in a movie musical is a different ballgame. "I am doing Ulla and so I dance every day now so I am beyond overjoyed and totally excited, I can't tell you. At the moment I am part of a dance team which is a little bit more pleasant then being part of the fight team only because there is no fake blood involved. But the guys who did the Broadway musical and the director directed the Broadway musical, so the people I am working with right now are all basically the blood and flesh of Broadway. I am discovering that their discipline and their attention to detail in their work ethic is so unlike anybody in the movies, that I really look at them and go: 'boy, you do realize you work very hard. People who make films don't work this hard.' That is really hard to say because people do work hard in the film, but these people put that to rest, but their heart and their passion for what they do is just extraordinary. it has been so much fun for me." As for Thurman's singing, she admits it's OK. "I would say I made a poor but hopefully passable singer. They haven't suggested anyone sing or me yet, so I feel like, phew! And when I signed on they said they would have someone if I needed it, but no one has mentioned it so I feel I must be passing, with some tiny check box in the corner of my vocal chart," she adds, laughingly.

While there are rumours that a new Kill Bill is underway, Thurman says it's unlikely with her participation, but she will next shot Prime, with Meryl Streep, "a romantic comedy and it is coming out in the fall."

BE COOL OPENS MARCH 10.