New York born, Sydney bred dark-pop artist Valencia James is making music for those in need. With a catalogue of music inspired by real life events, Valencia is on a mission song by song to give listeners something real, something organic, something true.

Her latest release "All The Waves" was written amidst all the chaos, with Valencia bringing a brave and hopeful sound, reminding us that the hardest of times can actually bring out the best in us. The song speaks about how life's struggles keep trying to knock us down, but where there is love there is still life and there is still so much more good ahead for us. Valencia confides, "All The Waves takes inspiration from a really long, hard season I was going through that lasted really up until now and it's become even more relevant with everything going on in 2020. It's my way of comparing my fear of the waves to how I feel about the situations in my life and the hits that I've taken being likened to a succession of waves breaking over me."

Valencia gets vulnerable in one of her darkest times and gives us a glimpse of how there is always hope on the horizon alongside co-writer and producer Harrison Wood and Peter James, whose works include contributing to a Grammy Award-winning song.

"All The Waves" was mixed by Sydney-based Ben Whincop (Stan Walker, Missy Langcaster) and mastered in Paris, France by Bruno Gruel (David Guetta, Kelly Rowland), and brings us Valencia's signature dark and edgy voice aligned with new passion and hope. With influences ranging from Dua Lipa, Khalid and Halsey, Valencia delivers a honest and poignant song, casting light when we need it the most.

"All The Waves" is currently available worldwide.


Interview with Valencia James
Question: How would you describe your music?

Valencia James: Dark pop mixed with a bit of sarcasm and fun


Question: Can you tell us about All The Waves?

Valencia James: "All The Waves" is a song about something that I love and I'm also terrified of. I used to love running into the ocean as a kid, but something happened as I got older, (probably the Australian waves happened), and now I have to force myself to go out in the waves and go under them. It sometimes feels like I'm drowning myself, but I guess life can feel like that. It can be scary, but you've got to get out there and just do it, and conquer your fears.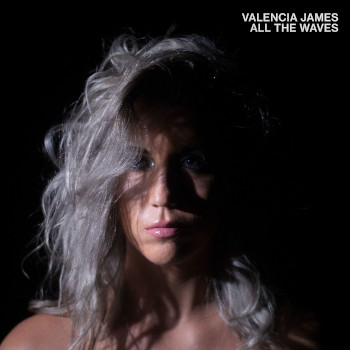 Question: Is there a particular message you hope listeners take from your music?

Valencia James: That life can be difficult, but there are always some good surprises just around the bend if we keep moving forward and working at a better future.


Question: Do you prefer performing live or recording?

Valencia James: I enjoy both, but I feel 100% at home recording.


Question: If you could have anyone, in the world, attend a show, who would it be?

Valencia James: My dad. I think he would love to see me perform and I haven't seen him in such a long time cause he lives in New York/Connecticut, and I live in Sydney.


Question: What motivates you most when writing music?

Valencia James: Real life situations. Writing about my/people's hopes and fears and how to overcome.


Question: Which music/artists are you currently listening to?

Valencia James: Billie Eilish and a bunch of new artists as well. I've been discovering some amazing talent recently.


Question: What or who was your inspiration to go into the music industry?

Valencia James: My friends convinced me to be honest. I never even thought about it until they kept telling me that I needed to.


Question: What moment in your musical career stands out the most?

Valencia James: Not sure I've had one yet, but I will definitely know when it happens.


Question: Was there a moment you contemplated throwing in the towel?

Valencia James: All the time lol, but I love it too much so I just keep on working as hard as I can. :)


Question: What's a typical day like?

Valencia James: Writing, writing, and more writing. And lately a lot of admin and contracts. A songwriter/artist's worst nightmare haha.


Question: How would you describe your personal style?

Valencia James: Covid19 casual, but really my style has been gym clothes and comfy jumpsuits/sweatpants suits.


Question: What has been your favourite part of becoming a music artist?

Valencia James: Writing songs with other producers and getting to collaborate.


Question: What's next, for you?

Valencia James: A lot more music. My own releases and releases with other producers which is pretty exciting.


Question: Can you share your socials? (links please)

Valencia James: Instagram
Facebook
Twitter
Listen to All The Waves: Spotify


Interview by Gwen van Montfort