Imagine the first time you hear a record of your own voice, or the silence right before someone clears their throat and tells you how they really feel. For Will Hyde, this uncharted territory has been years in the making.
Step one was a crash course in the music industry when he was just 15. Will experienced early success in house music project SŸDE, a collaboration with his high school best friend that combined their initial down-tempo tropical production experiments with the vocals of artists found scouring YouTube. The project spotlighted the pair's potential, amassing over 65 million streams and more than one million monthly listeners, including being named "unearthed high" finalists by Australia's taste making tripje J radio station. But as SŸDE's profile rose so did Will's detachment from the commercial beats behind his name, as well as sometimes being happy comes at a cost; and breaking up is never easy but can be the right thing to do. Taking the risk to leave behind a fracturing relationship with his musical partner and bringing SŸDE to a standstill would have its own rewards. Two years later and still just a few footsteps outside of his teens, Will has finally found a place to be at home with himself. This is 'with u in mind.', a diary entry of a person whose greatest inspiration has been trusting the process and finally recognizing themselves in the mirror.

Will always knew that he wanted to make pop music and to be the thing he never had when he was struggling, someone to relate to. But the touchstones of pop are like this: having a finger on the pulse of the darkest moments, understanding that feeling everything can be the most freeing, and learning that finding a home stems from not needing to hear another person say that they get it.


Interview with Will Hyde
Question: How would you describe your music?

Will Hyde : Thanks for having me my people. I would describe my songs as honest pop music. I think it has the story aspect to each song and still centres around a hook!


Question: Can you tell us about "easy for u"?

Will Hyde : "easy for u." came at a time when I realised I was giving more in a relationship than I was getting back. That doesn't have to necessarily be in a romantic relationship, we experience love in every facet of our life - family, friendship, romantically. The song is about having an awareness of the situation, I've realised perspective is everything. It's also about seeing someone fade as a result of trying to be something they're not. It's hard when you start to lose yourself in a relationship.


Question: Is there a particular message you hope listeners take from your music?

Will Hyde : That they are not alone and that they are enough. I think sometimes when things happen to us in relationships it can feel like we deserved it, but we don't. Being true to yourself makes you cool and you are enough because of that. I just think if we can all try to be better humans every day the world would be a different place. So hopefully some of those things come through in the music!!


Question: Do you prefer performing live or recording?

Will Hyde : They're both so different!! I love the fact that when I'm recording it's like creating something from nothing. I could have an idea the morning of a session and could walk out with a full song done. That's pretty dope and crazy for me to wrap my head around. Performing live is great from the perspective that I am in control of how the song sounds in each moment, which is a powerful thing. I think that performing live also provides a connection where you can see in real time people digesting what is happening, which is special.


Question: Which is your favourite song to perform live and why?

Will Hyde : I am looking forward to performing an unreleased song live, it's really special to me and is the type of song that came out exactly how it was in my head. I also wrote it with a close friend, so I'm excited to play that and for people to hear it later this year (it comes out in September :)).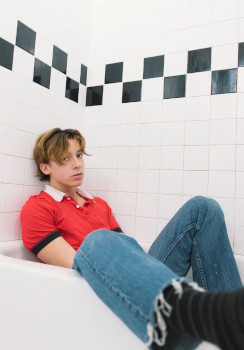 Question: Can we expect a tour once COVID-19 has passed?

Will Hyde : Yes, you can! I have a lot of songs I want to drop before that point happens though, so it'll be later this year. It's exciting putting my band together, so I'm enjoying that process at the moment!


Question: If you could have anyone, in the world, attend a show, who would it be?

Will Hyde : I have to think about this for a minute. I would love Deepak Chopra to come to a show/hang in my green room. That would be a mad hang. I love his poetry and the way he describes love has influenced the way I see it today. I would also have to say Lily Allen just because I think she's a bad ass.


Question: What motivates you most when writing music?

Will Hyde : It has changed over the years. When I started writing music like 6 years ago I loved the concept of other people hearing it and connecting to it. Now that I've matured I am enamoured with writing stuff that is true to me and my life. I think that I also find a lot of purpose in the studio, it feels like I'm meant to be there and I find myself connecting with other people that are just like me, which is cool.


Question: Which music/artists are you currently listening to?

Will Hyde : That's a great question. I've been listening to Angele, Gracie Abrams, Sky Ferreira, Alec Wigdahl, Kamal, Rex Orange County (I've been listening a lot to "new house"). Oh and Jeremy Zucker's new album is of course a special gift to the world.


Question: What or who was your inspiration to go into the music industry?

Will Hyde : My brother actually. He gave me the advice that maybe music could be better suited to me, haha. I was always trying to make the NBA as a kid even though I was so small. I needed a change and he convinced me to try it. We also had a big DJ that went to our high school so we were witnessing that guy do his thing when we had that conversation. It's funny because now I don't see myself doing anything different.


Question: How does it feel to be working alongside Creative Director Stefan Kohli?

Will Hyde : It's always humbling and exciting to work with someone who sees art/the vision the way he does. I've already learned a lot working with him, like creating things with intention. it's inspiring! And he's also just a good human, which is important when you are working with people, I've found.


Question: Was there a moment you contemplated throwing in the towel?

Will Hyde : Yup, there was a time when I was going to quit music in like 2019. I just felt like I had given it all and hadn't necessarily made the impact I wanted to make. I had to sit with myself for a bit to see what I wanted to do. Even like a month ago I considered quitting guitar - there are times when I just place too much pressure on myself and it starts to hurt me mentally, but I've grown and am learning through those times more than ever.


Question: What has been your favourite part of becoming a music artist?

Will Hyde : That's a great question. I just think hearing the songs I have created is very rewarding. I really believe in them and I have a lot of love for them. I listen to them when I need a pick up. Which is so refreshing for me to be able to do. It wasn't always like that in the past! So I'm happy to be here.


Question: What's next, for you?

Will Hyde : I have a lot of songs coming out in 2020, all of which I believe in as much as "easy for u.". So I'm excited! I have rehearsal periods coming up, excited for that. Touring later this year. Working on songs for next year. A lot of music :).


Question: Can you share your socials? (links please)

Will Hyde : Instagram



Interview by Gwen van Montfort


Message from Will: