Jordan Astra is an R&B, Hip-Hop and Pop musician, who is also a writer, producer and engineer. His new single Reasons features Melbourne based rapper Jalmar who incorporates his Chilean heritage with spicy Spanish flows. The two collaborators were introduced by Alexandré, host of Melbourne's 'Let's Vibe' events who knew Jordan and Jalmar had to work with each other.

Jordan says about his new single today, "Reasons is a song that reflects on the infatuation we feel for someone new, the rush we get when we think about someone who's caught our attention. Like most of the songs I write, the hook came to me first and then I began writing my verse and worked collectively on Jalmar's part to really keep the song cohesive."

Reasons is complemented by a self-directed video alongside Jordan's long time friend Mark Kobakian showcasing Jordan's creativity and versatility as an artist with a special cameo from his wife! The video illustrates this young artist's playful and cheeky personality. Citing artists such as The Neptunes, Free Nationals, and Jamiroquai as inspirations, it's no surprise that Jordan's dynamic new single Reasons features earworm hooks and classic word play.

Raised in Canada to an Indonesian father and German mother; Melbourne based Jordan Astra introduced us to his distinctive sound in early 2016 when he released his debut EP. Since then, he has achieved over 450,000 streams on Spotify and been building up his fanbase performing in LA and his new hometown Melbourne, including supports for American hip-hop musician Leikeli47.

Jordan was scheduled to do a twenty-city tour in the US which has since been put on hold due to Covid19, so he is looking forward to performing there in 2021.


Interview with Jordan Astra
Question: How would you describe your music?

Jordan Astra : I make music that pays homage to the rhythms of Nu Disco and lyricism of Hip Hop - it makes for a tasty combination


Question: Can you tell us about Reasons?

Jordan Astra : Reasons is a song about that special someone giving you every reason to love them and do the things you do for them. We all love playing games at the start of a relationship, but eventually you need some good reasons to stay in each other's life.


Question: Is there a particular message you hope listeners take from your music?

Jordan Astra : Stay positive, feel good about yourself and always find a reason to smile.


Question: Do you prefer performing live or recording?

Jordan Astra : Two totally different feelings, but they work hand in hand. Performing live is me as an extrovert, whether it's the first time you've seen me perform or the 100th, we all leave my shows happier and more energised. On the other hand recording for me is a very introverted exercise. I record at home in my studio, I shut the door and focus on making sure my record is as authentically me as possible. In short, love doing both.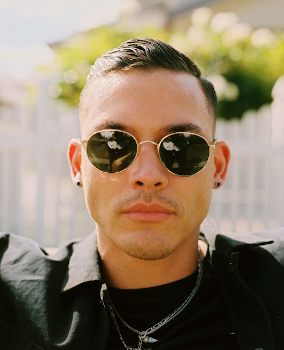 Question: Can we expect an upcoming tour after COVID-19?

Jordan Astra : We got 20 cities lined up in the US when everything is lifted, a couple shows in Canada and definitely need to jump on the tour scene here in Australia.


Question: If you could have anyone, in the world, attend a show, who would it be?

Jordan Astra : Jimmy Iovine. The conversation we could have post-show would be eye opening, I'm sure of it.


Question: What motivates you most when writing music?

Jordan Astra : So cliché, but my life is my motivation. The trials and errors that I've gone through translate to how I want my record to feel like. That's what motivates me to complete a song.


Question: Which music/artists are you currently listening to?

Jordan Astra : Lucky Daye, Justin Bieber, Tame Impala, Drake


Question: What or who was your inspiration to go into the music industry?

Jordan Astra : I started making remixes to songs like "In Da Club" for my friends when I was living in my dorm at the University of Guelph in Canada. Me and my roommate set up a DJ booth in our dorm flat and just dj'd for everyone at Uni. Seeing everyone smiling and having a good time is the reason why I make music.


Question: If you could collaborate with another artist, who would it be?

Jordan Astra : Lucky Daye, Jamiroquai, Daft Punk, Justin Bieber, Drake - there's too many to name.


Question: What is the biggest challenge you have faced along the way to your musical success?

Jordan Astra : Being recognised as one of the greatest artists of your generation takes time. Stay patient and let your 'overnight success' story take as long as it needs.


Question: What's a typical day like?

Jordan Astra : Breakfast and coffee
Emails
Mid-day training via Zoom (these days)
Lunch
Music Production & Recording
Dinner and some quality time with the wife
Music Production
Sleep
Do it all again :)


Question: Can you share your socials? (links please)

Jordan Astra : Instagram
Facebook


Interview by Gwen van Montfort