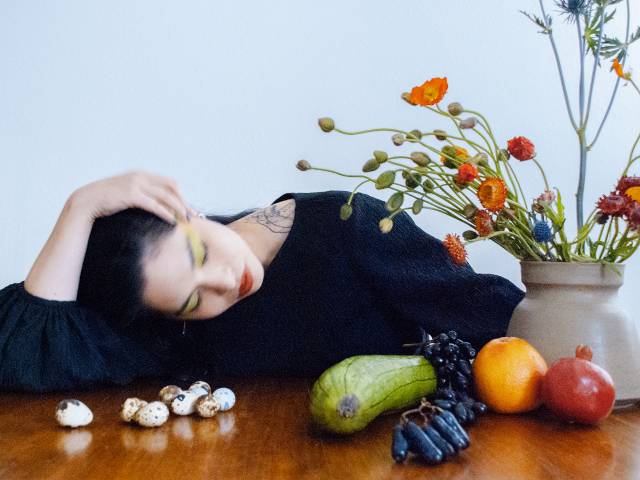 Contemplative and raw, Melbourne's Yi-Lynn has today announced her new single Just To Feed, a brooding, simmering ode to women and violent femininity, out now. Just To Feed precedes Yi-Lynn's new EP Foul Water, an exploratory art-pop collection evocative of Fiona Apple and Joanna Newsom, out July 12 – pre-order now available. Yi-Lynn will celebrate the release with a launch show at The Gasometer Upstairs on August 19, with support from local artists Sandy Hsu and LEO.

Just To Feed is pure and beautiful – each layer of soft piano, acoustic guitar, and airy percussion is carefully, painstakingly crafted to float by, wrapping gently around Yi-Lynn's soft yet commanding lead vocal. Technical elements of folk, classical, indie and pop songwriting work cohesively here to lull the listener into a borderline-hypnotic state – the track fills time differently, stretching and playing with it contemplatively and easily. Speaking on the inspiration behind the single, Yi-Lynn explains, "Just to Feed is inspired by all the women I know who have put themselves on the line for causes they care about, and who have had to walk away. I couldn't tell you the number of people I know – mostly women – who have been chewed up and spit out in the pursuit of progress. Whether it's feminism, racial equality, queer activism – you trade your energy, your relationships, years of your life in the hope that it will make a difference, somewhere. Sometimes it does, sometimes it doesn't."

The EP Foul Water encapsulates everything that makes Yi-Lynn such a special songwriter. The arrangements may be gentle and beautiful, but there is no coyness to this record; Yi-Lynn is flexing her power here, knowing that she only needs to whisper to command the attention of the room. Previous single Pixelate, almost shakes with feeling as Yi-Lynn grapples with "queer rage". The rest of the EP moves with similar emotional weight, as Yi-Lynn says, "I began writing the EP in the aftermath of the 2017 same-sex marriage plebiscite. I was filled with a kind of incandescent fury about the process, about what it did to me, my friends, my community – that so many people were seen as political collateral damage. I wanted to document elements of queer life that were glossed over during the whole embarrassing ordeal. Burnout, disgust, bitterness, sex. Parts of the EP are love songs dedicated to queer public seduction, other parts are revenge fantasies."

Foul Water will be welcomed into the world with an EP launch show at the intimate Gasometer Upstairs in Melbourne on August 19. Giving listeners a taste of what to expect from the live show, Yi-Lynn says, "I'm really excited to be playing with a band this year – it's a big expansion of the live Yi-Lynn sound. Hopefully, it will be both intimate and thrilling at the same time. I also do love a big gay chat so audiences can expect that too."