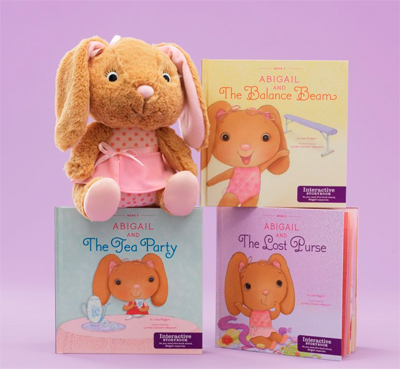 Abigail and The Balance Beam
Light up your child's imagination with Abigail the bunny, Hallmark's latest member to join the Interactive Story Buddy range which feature books and plush toy characters with voice-recognition technology.

Press the right ear on Abigail and begin reading the companion book, Abigail and The Balance Beam, to hear her respond to different phrases that change with each reading.

Abigail and The Balance Beam is a story about a chatty acrobatic bunny who loves gymnastics, tea parties, playing dress up and all sorts of fancy things. Abigail can't wait to grow up, but she can't help being a little girl either. She soon learns that being herself is the absolute best she can be.

With advanced voice recognition technology, Abigail Interactive Story Buddy responds with phrases such as 'I love my mum', 'practice makes perfect', 'grown ups have all the fun', 'if I try hard enough it will happen', it's going to be terrific', 'I'm working really hard' and more.

"Hallmark's Interactive Story Buddies are a unique way to make story time magical with the whole family, as it provides a fun, multi-sensory experience which encourages emotional connection and helps children to develop a lifelong love for books," said Hallmark Kids Marketing Manager Tenille Taylor.

Aside from Abigail and The Balance Beam which is inclusive with Abigail, corresponding book titles for the acrobatic bunny include Abigail and The Tea Party and Abigail and The Lost Purse. Each new book retails at $9.99 and unlocks new responses from Abigail.

A FREE Abigail and The Balance Beam App for iPhones and iPads is available at Apple's App Store, which feature games, animation that brings the story book pictures to life and the option of recording your own voice or playing a pre-recorded narration.

Retailing for $34.99, hop along to leading newsagencies and gift stores across Australia or online at www.hallmarkcards.com.au for this year's 'chocolate free' must have Easter gift idea. Other cool characters in Hallmark's Interactive Story Buddy range include Cooper The Bear and Jingle The Husky Pup, with more coming soon.