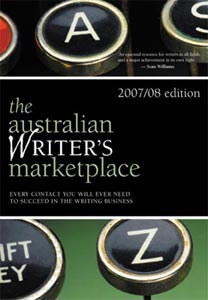 Australian writers 'meet' international publishers via web
Top US and UK publishers are accessible to Australian writers through the web edition of The Australian Writer's Marketplace - www.awmonline.com.au - features intimate chats with leading publishing industry professionals around the world.

Sharyn November, Senior Editor at Viking Children's Books and Editorial Director of Firebird thinks that the website is a great way to introduce developing Australian authors to the publishing industry.

"It's terrific to have a clearinghouse like this. I've been following Australian children's, YA, and speculative fiction writing for years, and it's some of the best around -- I'd love to publish more!" Ms. November said.

Darren Nash, Editorial Director of Orbit UK said he strongly supports initiatives like The Australian Writer's Marketplace.

"Publishers today receive a staggering number of submissions, but the demands of the business are such that we're getting less and less time to read them. To stand out from the crowd, new writers need to be professional and street-smart - and that's where initiatives like The Australian Writer's Marketplace are priceless."

Queensland Writers Centre CEO Kate Eltham agrees. "Because of this website, writers can now pick the brains of international publishers, editors and agents."

The home-grown web service, developed by Queensland Writers Centre, includes blogs, templates and advice, feature articles and online forums with industry professionals.

awmonline.com.au includes full access to the comprehensive directory of Australian publishing contacts that writers have utilised in printed form for more than a decade. With over 2,200 publication opportunities, contacts, courses, competitions and services, www.awmonline.com.au is a treasure trove for writers at all levels.


Writing Industry Statistics
· 556,500 Australians engage in writing as a creative or leisure activity
· 185,500 Australians have paid involvement in writing
(Source: Australian Bureau of Statistics, 2004, 6281.0 Work in Selected Culture and Leisure Activities, Australia)
· More than 5,000 manuscripts cross the desk of an editor or publisher in a year


The Australian Writer's Markeplace Statistics
· $1.4 million in prize monies listed in The Australian Writer's Marketplace
· 2,207 publication opportunities and writing industry contacts
· 1081 Australian, New Zealand and online magazines, newspapers and journals
· 284 publishers and publishing services, Australia-wide
· 308 literary organisations
· 243 awards, competitions, fellowships and grants
· 80 creative and professional writing courses
· 70 opportunities for young writers
· 156 markets for poetry
· 106 short story markets
· 89 children's/young adult markets
· 190 non-fiction and auto/biography markets
· 36 contacts for grants, fellowships and residencies
· 47 speculative fiction markets
· 57 travel markets
Top Ten Australian Blogs on Books and Writing
1. Inside a Dog Writer in Residence Blog http://www.insideadog.com.au/residence
2. The Australian Writer's Marketplace Blog www.blog.awmonline.com.au
3. Sarsaparilla http://sarsaparillablog.net/
4. Articulate http://www.abc.net.au/news/arts/articulate/
5. ABR Blog http://australianbookreviewblog.blogspot.com/
6. Reeling and Writhing http://austlit.typepad.com/cfn/
7. The Naked Novelist www.thenakednovelist.com.au
8. Misrule http://www.misrule.com.au/s9y/
9. Eglantine's Cake http://eglantinescake.blogspot.com/
10. Justine Larbalestier http://www.justinelarbalestier.com/blog/
Top Ten International Blogs on Writing and Publishing
1. Miss Snark www.misssnark.blogspot.com
2. Speakeasy, The Australian Writer's Marketplace Blog www.blog.awmonline.com.au
3. Agent 007 http://agentoo7.blogspot.com/
4. Writer Beware Blog http://www.accrispin.blogspot.com/
5. The Writing Coach http://stubbornworld.typepad.com/the_writing_coach/
6. The Evil Editor http://evileditor.blogspot.com/
7. Flogging the Quill http://www.floggingthequill.com/flogging_the_quill/
8. Publishing Insider http://www.publishinginsider.typepad.com/
9. The Booksquare http://www.booksquare.com/
10. Book Covers Blog http://covers.fwis.com/

About The Australian Writer's Marketplace

The Australian Writer's Marketplace is Australia and New Zealand's only guide to the writing industry published by the Queensland Writers Centre. All proceeds from sales of The Australian Writer's Marketplace support writers through the initiatives of Queensland Writers Centre, a not-for-profit incorporated association.

About Queensland Writers Centre

Queensland Writers Centre's mission is to support and promote a writing culture in Queensland by contributing to the professional development and practice of writers locally, and to advance their recognition nationally and internationally.

Queensland Writers Centre is supported by the Australia Council and Arts Queensland.

www.qwc.asn.au



---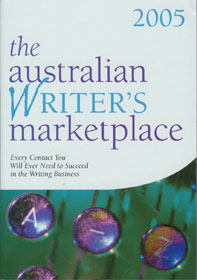 The Australian Writer's Marketplace, updated annually, lists over 2000 contacts for publishers, newspapers, magazines, literary agents, writing organisations and competitions. Including advice from leading authors Phil Dickie, Jackie French, Carmel Bird, Anita Heiss, Gail Bell, Kirsty Brooks and more......

This edition: 24 new Publisher listings
New section: Writer's Services, over 100 listings.

'For a beginning writer, The Australian Writer's Marketplace is the search tool to find those who will pay for your work. If you are already being paid to write, it is the tool to land you more markets and better markets.'
Phil Dickie, gold Walkley Award-winning journalist and freelancer.

'An essential resource for writers in all fields, and a major achievement in its own right.'
Sean Williams author of Star Wars: The New Jedi Order: Force Heretic (with Shane Dix), Del Rey Books.

'The everyday marketplace for every writer's needs - all measure, no trash.'
Carmel Bird author of Cape Grimm, Harper Collins.

'Professional Australian writers need professional tools: a dictionary, a thesaurus, a copy of What's What: A visual Glossary of the Physical World by Fisher and Bragonier....and the Australian Writer's Marketplace. If you want o place your work in the marketplace, you need this directory.'
Jack Dann author of Rebel, Harper Collins, editor of Dreaming Downunder.

'An indispensable reference for all Australian writers'
Irina Dunn, Director of the NSW Writers' Centre and author of the Writer's Guide: Writing for pleasure of publication (3rd edition 2004).

'I've just discovered this annual today, what a terrific resource, congratulations on a wonderful product. It's day one, and it's already assisted by saving me hours on Internet searches.'
Marianne Guy, writer.

'The only way to conquer Australian publishing is through the time-honored method of "knowing thy enemy".
Peter Watt author of Cry of the Curlew, Pan Macmillan.

www.qwc.asn.au