Australia's sweetheart, Angie Kent announces collaboration with luxe-for-less beauty brand MCoBeauty.

Australia's leading, cruelty-free beauty brand MCoBeauty, renowned for quality luxe-for-less beauty products has announced its latest exciting ambassador, TV personality Angie Kent.

The range will be available to shop online at MCoBeauty, and in 900 Woolworths stores nationally.

Angie frst melted the nation's hearts with her stint on Gogglebox, I'm A Celebrity Get Me Out of Here, The Bachelorette and now Dancing With the Stars. Angie perfectly embodies the MCoBeauty girl, she is the fun, girl-next-door who loves beauty and loves animals!

With a belief that beauty should be affordable and accessible to everyone, naturally Angie became an authentic brand voice for the MCoBeauty brand advocating the luxe-for-less message to her followers.

"When it comes to beauty I want a no-fuss, easy-to-use product that really delivers and I feel like MCoBeauty really does that. The price point of their products is so affordable as well, it's true luxe-to-less!" – Angie Kent

Both success stories of ModelCo & MCoBeautyhave been led by CEO & Founder Shelley Sullivan's initiative to align trending products with celebrities and influencers, creating even greater value and appeal.

"Our highly-engaged audience has allowed us to understand what our consumers want and need in a beauty brand. MCoBeauty has always had a fnger-on-the-pulse approach to influencer alignments, and we have strategically picked those who seamlessly ft into the consumer profles, enabling for greater reach and relevancy to a wider audience," says Sullivan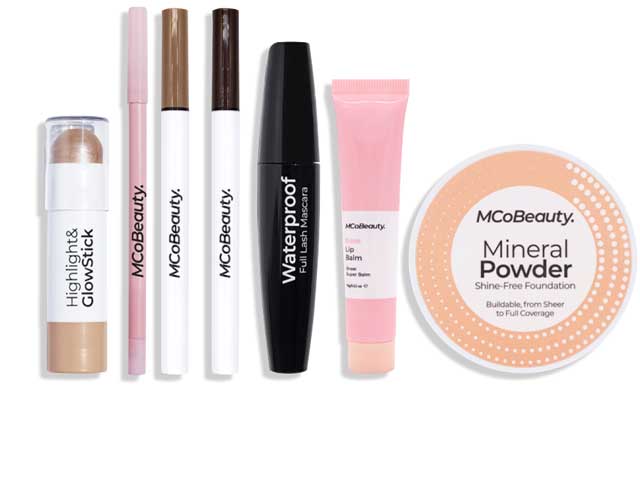 x Angie Kent
Angie's collection is the perfect representation of the effortless, yet glam beauty look she channels every day, now allowing her followers to achieve the same look at an affordable price.

The range includes: Rose Lip Balm ($12), Highlight & Glow Stick ($16), Mineral Powder Shine Free Foundation ($20), Waterproof Full Lash Mascara ($22), Waterproof Eye Defne Liner ($14), and Brow Stroke Feathering Brow Pen ($16).

"My absolute fave product in the range is the Highlight & Glow Stick, I always carry it around with me for on-the-go touch ups, it really makes my cheekbones pop! The Rose Lip Balm is another standout for me, it's so superhydrating and I love that it gives just a hint of natural colour, oh and it tastes incredible. I'm totally addicted!" – Angie Kent

The MCoBeauty x Angie Kent collection is available to shop online at MCoBeauty.com and will be in Woolworths stores nationally.
Win a MCoBeauty x Angie Kent $150 pack now.
Interview with Angie Kent
Question: Can you tell us about your collaboration with MCoBeauty?

Angie Kent: When the gals at MCoBeauty reached out and asked if I wanted to work with them on my favourite products and then then work with them to create my own I was like YES! I've always loved makeup but never have been super fancy about it. I know what suits my skin and what doesn't and that's about it. So to explore and create and work with a company filled with lady bosses creating magic, well that's right up my alley.


Question: Do you have a favourite product from this collaboration?

Angie Kent: I'm obsessed with the Highlight and Glow stick! It's such a beauty creamy formula and it's not too sparkly, it just makes my skin look all fresh and dewy. It's a winner!


Question: Which is your most used product and why?

Angie Kent: Probably the Mineral Powder Foundation and Brow Stroke Feathering Pen as I never leave the house without my brows done!


Question: What inspired you to work with MCoBeauty?

Angie Kent: They're cruelty free which is a huge must for me! It's luxe for less. So I can create and work with the best products that I can afford.


Question: How has makeup helped you during this uncertain time?

Angie Kent: Some days just to look nice can make you feel nice. Do little things like your brows or pop on some highlighter for that FaceTime call or Skype meeting. It makes you feel like you're ticking boxes and keeps some normality in your life.


Question: Did you use this range whilst rehearsing and performing for Dancing with the Stars?

Angie Kent: I certainly did- every day I would wear the Mineral Powder because it would keep this sweaty face shine free, pop on some Highlight and Glow to stay bright and fresh, the Water-proof mascara which doesn't smudge or budge all day long, the Brow Stroke Pen and a bit of bronzer and I'm done!


Question: What is your go-to daily make-up regime?

Angie Kent: Same as the one I just said above but sometimes I'll go heavier with mascara, and give my eyes a bit more definition with the Eye Define liner, and the highlighter and I'll also use the eyeshadow pallets and add a lip colour and some gloss from the range.


Question: What's next, for you?

Angie Kent: I am using this time to listen and trust in the universe. Time to slow down but also create and explore; I'll be working on my makeup range with the girls from MCoBeauty and get back into my writing. I have another exciting project coming up that I can do the pre-production for at home, so watch this space.


Interview by Brooke Hunter