April Kae Love Bomb Interview
Setting the scene ablaze once again is the sultry pop singer April Kae, releasing her insatiable new single, 'Love Bomb." Parading vocal chops as golden as her summery locks, April puts forth another effortless smash that's yearning for summertime rotation. With a vivacious spirit, envious fashion sense, and bold beauty, April is ready to give her expanding fan base a new taste of her hot spice. 'Love Bomb" is available for purchase now on iTunes.

Sassy and seductive, 'Love Bomb" is inflicted with rhythmic R&B bass lines and modern pop-friendly guitar licks that graciously transport April's fierce vocal melodies through the song. Reflecting the strong and independent character of April, the spunky pop tune details a nail-biting moment in the relationship where she has been cheated on and lied to, and is finally driven to her boiling point. Produced and co-written by Justin J (alongside April), the song's lyrics are poetic and hard-hitting, combining to make for a great listen when her liquid smooth voice is paired with equally harmonic orchestration. Lines like 'the shards of glass will stab at our love, two to kill" ring with conviction as she dances around the later hooks with adlibs that flaunt the classically trained singer's extensive range.

Native to the beautiful Southern California city of San Diego, April was first drawn to the love-soaked sounds of iconic powerhouses in R&B soul music. Mainstays such as Aretha Franklin, Luther Vandross, Alicia Keys, Whitney Houston and Mariah Carey filled up her CD player, which influenced and shaped her flowing singing style. As a young girl, she was mentored in singing and classical piano lessons very early and went on to partake in local and national talent shows. It was a singing competition she won at age 16 that pushed her to take fate into her own hands and seriously pursue a singing career. It was not long until the natural born performer caught the American Idol bug and auditioned in San Francisco, making it all the way to the hectic 'Hollywood Week," and proving she possesses star quality. After learning invaluable advice from the team at Idol, April has continued to use it to advance her solo career. Recently she released her singles, 'The Writings on the Wall" and 'Runnin' (Let Me Go Away)" which has helped to develop her loyal fan base.

Impressive by sight and ear, April Kae is more prepared than ever to let the world see the greatness that she believes in. Her talents alone speak loudly but the singer's bright and sharp personality elevates her out of a sea full of pretty faces. Lighting the fuse with her electric single 'Love Bomb," April Kae is giving it her all, as she always does. So stand back, because she's about to explode. Follow April's journey at www.AprilKae.com



Interview with April Kae
Question: What inspired Love Bomb?

April Kae: I co-wrote Love Bomb with Justin J, who also produced the track. We were inspired by that moment just before a break up, when you have a feeling of tension about what is going to happen next. The track is fun and hard-hitting, so I wanted to keep some playfulness in the lyrics. My vocals and harmonies were influenced by the R&B and Soul music that I grew up on.


Question: How does it feel to have Love Bomb compared to Katy Perry and Leona Lewis?

April Kae: It is amazing to have my song compared to those of such talented artists! Katy Perry's music is so fun and cutting-edge, and I love Leona's soulful vocals.


Question: How has American Idol helped your music and your career? What did you learn from American Idol?

April Kae: American Idol was a great learning experience for me. The process of auditioning for and performing in front of musical greats helped me break out of my shell and their positive feedback confirmed to me that I really do have what it takes to make it.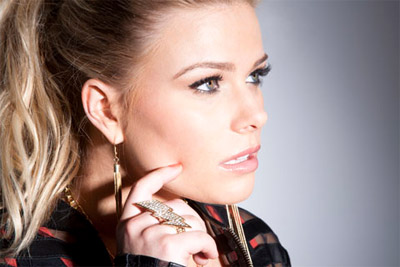 Question: Do you write your own songs? What's your inspiration?

April Kae: I love to write my own music. I am inspired by everything around me. Sometimes I will hear someone say something in passing and I think, "hey, that would be a great lyric!" so I write it down. Other times I am inspired by something that is going on in my life. Writing songs can be the best form of therapy, and when I am having a hard time with something I will often try to turn my feelings into music.


Question: What music/artists do you listen to when you are not playing your own?

April Kae: I love listening to music. I like to both find new artists and listen to my old favourites. I listen to a lot of hip-hop. Right now I love the J.Cole/ TLC collab "Crooked Smile". It's so cool to me how he is able to keep it current but he still brings that old school sound.


Question: What's next? Tour/Album/Single?

April Kae: I am writing a lot now, and hoping to have an album in the works by next year. This album will be a lot more personal, and I'm planning to write most of the tracks myself. I would also love to get a tour going for next year!


Question: Was there a moment you contemplated throwing in the towel?

April Kae: The entertainment business is extremely difficult. Your motivation always has to come from within yourself, and there are definitely days when I don't have it. But I always try to stay focused on my goals and see it through, no matter how I'm feeling. The blessing about being a musician is that my work is what I love to do, so when I feel tired or overwhelmed my love for music keeps me going.


Question: Do you prefer performing live or recording?

April Kae: I love both in different ways. There is something so exhilarating about being up on stage and being able to connect with your audience in such a personal way. I love that direct feedback from my fans. But I also love getting in the studio to write and create. I am able to take more time with my vocals in the studio, and really think about my emotions.


Question: What/who was your inspiration to go into the music industry?

April Kae: When I was young I always loved to sing, but I never really thought about making music my career. When I got into junior high I started doing school plays and choir, and I realized how much I loved to perform. Everyone was always so impressed with my voice, and I though "hey, this might be something I could be really good at!" I felt so at home on the stage- more so than anywhere else. So that is when my love affair with performing started.


Question: What is the biggest challenge you have faced along the way to your musical success?

April Kae: I think that our biggest challenges come from within ourselves. The music business is difficult to break into, and there is no set path to being successful in it. But I find when I stop telling myself "I can't ..." and I start just doing things, I ultimately find success.


Question: What's a typical day like?

April Kae: On a typical day, I spend a lot of time writing, rehearsing for performances, doing interviews, and trying to keep up with my social media. I also have three dogs and three horses that take up a lot of my time :) And I am in school working on getting my bachelor's degree.


Question: What has been your favourite part of becoming a music artist?

April Kae: My favourite part of becoming an artist is feeling like I have found my niche. I was never very good at school, and I often felt like I didn't fit in. But when I'm performing, it feels right. I love getting to wake up every morning and have my work be something that I love. It is a great feeling.


Question: If you could collaborate with another artist, who would it be?

April Kae: There are so many artists that I would love to collaborate with. I think it would be kind of cool to collaborate with Macklemore. He is so talented and I really love the messages he sends in his music.


Interview by Brooke Hunter