Hailing from the Central Coast, this Australian powerhouse vocal artist and songwriter has already tasted international success over the past 12 months.

Whilst relatively unknown as a recording artist, ASTON has penned and featured on a major film soundtrack, had her songs placed on an international commercial for BMW, featured on Netflix's television series, 'Insatiable' and 'Lucifer' and has aligned with the global NBA video game franchise.

Under her songwriting alias, A$ton Wyld, her single 'Next Level' was featured on the highly successful Fast and Furious Presents: Hobbs and Shaw movie and soundtrack and has independently racked up over 9 million streams on Spotify. The same track was later picked up and placed on a television commercial for BMW in China.

Additionally, her single titled 'Original' was featured on the release of the NBA 2K20 video game earlier this year and this is just the beginning for the talented songwriter.

ASTON has already amassed over 30 million streams on songs she has co-written and was recently announced as the winner of the John Lennon Songwriting Competition. She has penned songs for Comos Midnight, Jordie Ireland, Ricki-Lee, Chymes and more. ASTON is also working with some other yet to be announced artists - stay tuned for more news soon!

ASTON is now ready to step out from behind the song writing desk and unleash new music under her own name which begins with "Girl Is A Gun" out NOW. Her creativity as a writer touches on topics of girl power, sexuality and self-discovery in an edgy fusion of Pop, Hip-Hop and Reggae which can be heard in her debut single which has already amassed 20 K plays on Spotify and over 50 K views on the official video.

"I wrote GIAG about the first experience I had with another girl in LA. A temptress if you will. And even though I knew nothing was going to come out of it, I could appreciate her power. The song became my anthem to sexual exploration as I always felt there was this missing link around people that didn't feel a part of any queer label whether it be straight, bisexual or gay. I hope it'll make people feel like it's okay to explore sexuality even if it leads them back to where they started." Says, ASTON.

ASTON has spent the past 12 months working on her solo project including multiple stints in LA whilst also taking part in the APRA AMCOS highly regarded songwriting camp, 50 Songs in 5 days where she co-wrote with Cosmos Midnight who later released their collaboration titled 'Can You Dig It'.

ASTON walks the line of 'Rock Star meets Pop Princess'. She's unapologetic, persistent and won't be afraid to put her middle finger up to any barrier she'll face along her way. ASTON will be an artist to watch out for in 2021!


Interview with Aston
Question: How would you describe your music?

Aston: Edgy, bold, confident and unapologetic.


Question: What inspired Girl Is A Gun?

Aston: My trips to LA! I've travelled back and forth for a few years and really have had the wildest experiences ever in that city. I got my heart broken, explored my sexuality, met some bad friends, fell in love (which turned out horribly) and learned to love myself. Nearly all of my songs are related to moments I had while living there so I feel strangely connected to that place. Maybe even homesick.


Question: Is there a particular message you hope listeners take from your music?

Aston: Of course! I hope when people listen to my music that they feel confident to live their life unapologetically, do what they want, be who they want to be and love whoever they choose.


Question: What tips do you have for young females that struggle with their sexuality?

Aston: That their feelings are valid and it's okay to take your time. Also, it's important to note that your sexuality is not defined by your experiences.


Question: Do you prefer performing live or recording?

Aston: That's like chocolate and pizza, both are very different but both are THE BEST!


Question: Which music/artists are you currently listening to?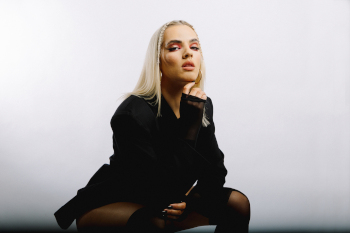 Aston: Apart from playing the So Fresh Summer 2004 album, I'm really enjoying Ashniko, UPSAHL and Kindora at the moment.


Question: What or who was your inspiration to go into the music industry?

Aston: Rihanna, Rihanna and Rihanna


Question: If you could collaborate with another artist, who would it be?

Aston: Princess Nokia, Rosalia, BANKS?


Question: How does it feel to hear your song played all over the airwaves?

Aston: It's so awesome! I mean, I'm notorious for blasting my own music in my car but anytime someone else chooses to play my music, it feels so damn good! Literally gives me chills.


Question: What has been your favourite part of becoming a music artist?

Aston: The writing process has been my favourite part thus far. It's rewarding to write music about your life! It's like a form of therapy for me haha!


Question: How would you describe your personal style?

Aston: It's edgy, bold, daring and sharp. A rock star/pop star fusion.


Question: What's a typical day like?

Aston: It changes quite often but it mostly consist of a lot of writing and a tonne of emails.


Question: What's next, for you?

Aston: More music, live gigs, collaborations. All of the good stuff.


Question: Can you share your socials? (links please)

Aston: You can find me @sheisaston on every platform.


Interview by Gwen van Montfort