Sydney-based sister duo CLEWS - originally hailing from a one-school town on the NSW south coast - leave it all on the field in the honesty, energy and elation they bring to their latest track "Want You That Way" - out now.

'Want You That Way' soars to new heights, CLEWS romancing more with the pop influences the pair have flirted with on earlier releases. Full of surprising textures and built up with stacks of towering harmonies, 'Want You That Way' takes gems from the duo's love of '90s rock and sets them firmly in the stone of 2021. Offering a fresh sound that hits with bittersweet pertinence to our times, it lands in the collective acquiescence that we have to let go of how things were before, not yearn afterlife as we knew it.

"This song came with the heart wrenching revelation that there's no need to hold on to people who can't be who you want them to be," says Lily. "I wrote Want You That Way on a rainy day when I was reflecting on my oldest friendship from childhood that's so non-existent now it's like it never happened. It's about how lots of different relationships can affect you; your friendships, romantic relationships, your future relationship with the child you're going to adopt someday, your past relationship with versions of yourself. I'm approaching 25 years of being single, an experience that I feel quite alone in because I haven't heard too many people talk about it. This song made me realise that although I've never been in a long romantic relationship, my friendships have taught me a lot about love. It's sad that sometimes people have to get cut out to let others in. But in the end, I hope this song serves as a proclamation of self-love and the confidence to be happy on your own."

'Want You That Way' started on acoustic guitar in Lily's living room before she took it to Grace to add guitars and harmonies, finding its final iteration through live renditions and studio experiments where producer Dylan Adams (DMA'S, West Thebarton) helped make a sad song shine bright.

Lily reflects on the recording process: "This song was part of our live set with our band before we headed into the studio, so it was already fleshed out in terms of the feel and structure. Even though it's a sad song, Grace and I knew it would lend itself well to being up and poppy sonically - I love Trojan horsing a gut-wrenching story in a fist-pumping anthem. Our band and Dylan, our producer, helped push it to an edgier pop sound that we haven't really done before."

CLEWS kept busy in 2020, creating their first body of work and continuing to play live shows. They recently returned to stages in Sydney supporting DMA'S and Tash Sultana, selling out two headline shows at The Lansdowne and appearing at venues in Newcastle and Wollongong, always putting a personal touch to their headline appearances for the audiences they now consider part of the big CLEWS extended family.

The band's development as a live act has influenced their songwriting, with a certain looseness and a natural approach to performance putting their light and loving dynamic as sisters on display and permeating through new studio recordings. Having spent the last year building a reputation as a formidable live act both in Australia and the UK, CLEWS have become more than just a band to watch.

2021 is set to be a huge year for CLEWS, Lily and Grace are ready to kick off what is set to be their biggest phase of creativity and music yet.


Interview with Lily (Clews)
Question: How would you describe your music?

Lily: Grungy guitars with stacks of harmonies. Our songs are love songs for people who aren't in love.


Question: Can you tell us about Want You That Way?

Lily: I wrote 'Want You That Way' on a rainy day when I was reflecting on the effect one of my oldest friendships had on me. It's about how relationships with different people have so much influence over how you feel in life. This song came with the heart wrenching revelation that there's no need to hold on to people who can't be who you want them to be.


Question: Is there a particular message you hope listeners take from your music?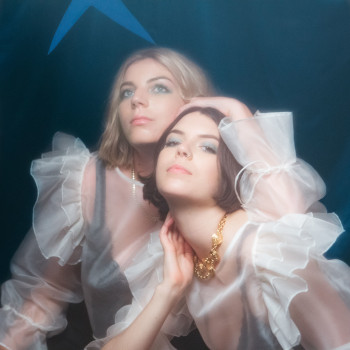 Lily: I hope people feel part of our family when they listen to our songs. Like we're all friends talking about our feelings, figuring it out and reflecting on life.


Question: Has moving to Sydney influenced your music?

Lily: Moving to Sydney enmeshed us in the scene here in a way that we didn't have access to growing up on the south coast. I so strongly associate Sydney and Clews with each other because it's where Grace and I really started playing together. We cut our teeth at pub shows around the city for a couple of years when she first moved here. So it's influenced our inspiration - being around loads of other great bands and creative people and getting to know our local scene.


Question: What is the story behind the band name?

Lily: I rang Grace as she was walking into school one day and said "if we're ever in a band together I think it should be called clews". We didn't overthink it, it's just a nice sound and I like one-word band names like 'pulp' and blur'. A few different meanings have come out of the woodwork the more we learn about the history of where the word comes from but clews has become its own thing to us, like our baby.


Question: Do you guys always agree on new music?

Lily: Pretty much! Even if our taste differs outside of this project we both have a clear idea of where clews is going sonically and where we've always wanted it to be. We even have the same sense of its future evolution (spoiler - the crystal ball prophesises a pivot from rock to Calvin Harris-style DJ sets, and then a hot country album post divorce number three). Grace has a good ear for the slightly more quirky elements of sound, like panning a percussive element specifically on one word to make it pop out, so I just go with her flow there.


Question: What motivates you most when writing music?

Lily: I feel so seen when I listen to another person's song that articulates exactly what I'm going through. Everyone knows that feeling, it's why music is so powerful. So I write for personal catharsis of course but I also know how important it is to tell stories, because you never know who will be listening and think wow that really resonates with me. Songwriting is such a cool way to connect to people so as I get older and have more life experience under my belt I'm trying to write really autobiographically and transparently about it all.


Question: Which music/artists are you currently listening to?

Lily: I've been absolutely rinsing Chloe x Halle, the new Madlib album, Miley's album and the new Broods single 'Move into Me'.


Question: What or who was your inspiration to go into the music industry?

Lily: Our parents are very musical and we grew up as babies of the industry to some extent. Our dad was in a band when we were kids and we got to travel a lot with them. We have memories being backstage at shows, slinging merch at gigs, sleeping in tour vans across the States for a good few years in the '00s which was completely magical and exciting as a kid. So the music path has always been visible to Grace and me, and we're really fortunate that we grew up surrounded by creative people who made us feel like it's something we could do. Singing is a given for us, and the more we get involved in all sides of the music industry the more I love being part of it and carving out a space for us here. Growing up we just wished we were the girl version of Oasis so they were some inspo too.


Question: If you could collaborate with another artist, who would it be?

Lily: I'd want us to stack up some harmonies on a sad country song with Kasey Chambers.


Question: What is the biggest challenge you have faced along the way to your musical success?

Lily: I was going to say self-doubt or inhibition, or being too damn delicious for our own good, but to be honest in a sudden turn of events last year we stopped working with our manager who had been with us from the get-go and that was a really challenging time - definitely the biggest hurdle so far. Everyone who is involved in clews, from people who listen to our music to the people we work with, we consider part of our family because building those relationships is really important to Grace and me as sisters. So having an arm of that tree fall off was a tough moment…but new branches will grow in its place (if I can just extend this metaphor into oblivion that would be great, I don't know how to stop it now). But every cloud has a silver lining and that situation made us take control of clews as a business, understand our finances and our long-term goals and work even more closely with the rest of our team. There are a lot of men in music - label heads, booking agents, venue managers, etc. - and it made me realise how important it is as women in this industry to unapologetically drive your creative project as if you are the CEO of your own company, because you are.


Question: What has been your favourite part of becoming a music artist?

Lily: People who like our band even a fraction as much as I love other bands is so crazy to me and definitely the best part of making music. People DMing us screenshots of our songs being their favourite tracks of the year, coming to our shows from out of town, telling us our music brightened their day or whatever puts the biggest smile on my face.


Question: What's a typical day like?

Lily: In clews mode it's wake up early, work out, swim (I'm a wholesome beach baby tbh), emails (now that we're self-managed there is tonnes to do oh boy), FaceTime with Grace about our plans for world domination, play guitar, work on whatever plate is spinning that day (mix notes, content shoots, social media planning, studio days) and always, always get some fresh air before it's sleep and repeat.


Question: What's next, for you?

Lily: Once our new single Want You That Way is out in the world we'll be releasing loads of new music this year, the most to date. There will be shows on the horizon and then writing and recording an even bigger body of work.


Question: Can you share your socials? (links please)

Lily: Facebook
Twitter
Instagram


Interview by Gwen van Montfort