Let's be honest here: there are three things most guests remember about a wedding. What the bride wore; how long the had to wait before eating....and how good the speeches.
Brilliant advice, tips, words of wisdom and jokes for every member of the bridal party. Don't leave the success of your speech to chance, this book covers every aspect including planning, preparing and delivery.

The simple yet colourful layout makes for an easy read and if you get desperate there ready-made toasts for all occasions!

RRP$27.95
The Big Book of Wedding Speeches is from the top-selling wedding series from www.confetti.co.uk

Review:
Don't leave it to the last minute, wedding speeches can be an awkward and messy. Rescue rememedy 'The big book of wedding speeches', giving a practical guide to successful & memorable wedding speeches.


---

Other books from Confetti.co.uk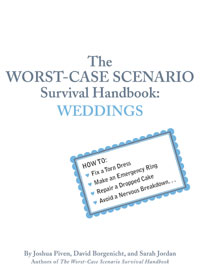 The Worst Case Scenario
Helping couples get hitched without a hitch.

The big day is coming - are you sure you know what you're doing? Months of precision planning can go awry in the time it takes for a seam to split or cake to drop.

From the best-selling 'Worst Case-Scenario handbook' series, this new addition provides all the must-have survival tips for everyone in the wedding party. From how to deal with an intoxicated bridesmaid to how to survive if someone objects. This handbook takes you chronologically through the wedding process and even offers advice on how to raise money for the wedding.RRP $24.95