At 14 years of age, Bianca is already proving that she has an extraordinary career ahead of her.
Growing up in Sydney, Bianca has been singing, dancing and acting since the age of 3. She has performed in numerous school plays and stage productions but found a greater buzz when performing solo. Bianca performed her first solo composition 'Music School Is Fun' at the age of 5 at the Yamaha Music Festival and by the age of 9, Bianca started to win a string of singing and dance competitions.
Like all young performers. Bianca had aspirations and dreams of becoming a professional singer but didn't know where to start. Her luck changed at the age of 12, when she was approached by Williamson Management.
Williamson Management immediately recognized Bianca's potential, signed her, and began pointing her in the right direction.
Since then, Bianca has been working really hard on her song writing and has come up with some great pop/rock tunes!!! Bianca draws upon her personal life experiences and issues affecting teens.
"I like to relate to the song I'm singing. I have also been working with great song-writers and producers who really help in making the song a hit!!!" says Bianca
Bianca's musical influences run the gamut from the likes of Queen & Boni Jovi to Gwen Stefani, Avril Lavigne, The Killers, Kelly Clarkson and Green Day.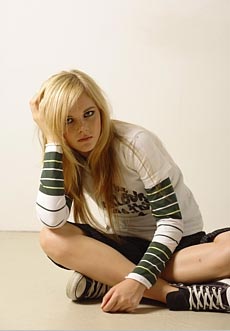 Over the past two years, Bianca has become somewhat of an identity among teens, she is often invited to perform at events around Australia, including Sydney on Sale Studio Bambini 20th Birthday, World Expo, Kids Universe, Starlight Foundation Gala, Darling Harbour Australia Day celebrations, Entertainment Quarters & Sydney Spring Carnival. In 2006, Bianca performed as the featured artist at the Hopscotch Festival in Townsville and at A-Venue, a Queensland Art's Trust initiative to promote music as a career choice to teens.
More on Bianca:
www.biancamusic.com.au