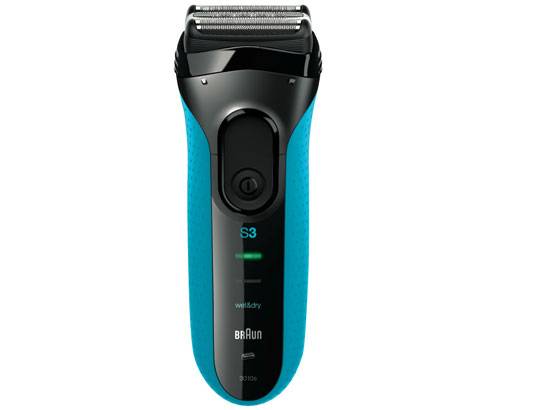 Braun Series 3 Shaver
For men across Australia who want to master their daily routine with agility and speed, the wait is over. Braun's new Series 3 has been built with a newly-designed and innovative cutting system to significantly reduce shave time*, without compromising on performance.

The secret behind a new era of speed is Braun's new Series 3 features the newly-designed and innovative MicroComb Technology: a comb-like structure that guides the beard hairs into the cutting element of the shaver. Skin irritation is less likely to occur, due to the reduced shave time*. The new Braun Series 3 gives men more time* in their day to do what they enjoy in life.

The Braun Series 3 range combines fluid and functional design with innovative, high-quality and superior performance. It easily fits into the dynamic and creative man's fast-paced life with eye catching colours, a new slim-line look and ergonomic technology for a strong grip.

Expertly designed triple-action MicroAdaptation Technology ensures that the shaver-head components are flexible enough to independently adapt to all facial contours and hair types. Two short-hair SensoFoil™ Technology cutting systems work harmoniously with the MicroComb, developed with optimal, ergonomically placed hexagonal holes to achieve a premium shave. Perfect for tackling a three-day beard shave, the optimised design permits a thorough shave of stubborn, thick and hard-to-reach hair without irritating or cutting skin.
The Braun Series 3 is available from the Shaver Shop, Harvey Norman, Myer and David Jones and priced from $149 RRP. For more information on the Braun portfolio, please visit Braun at www.braun.com.