At first glance Carly and Martina might look like your average teenagers, but they're powerhouses making music with a message.
The 18-year-old Chicago natives are creating a new sound within the pop genre, taking complete independence of their brand and audio aesthetic. Not only are the sister's talented vocally, they produced, mixed, wrote and arranged all of the songs on the upcoming debut album titled, Are You Listening?
Carly and Martina have captured a large global audience with impressive numbers across their social platforms and amassed over 2M views on their channels, with their numbers growing consistently each week. The reach of the girls' music did not go unnoticed by networks, which led to sync placements on network shows including, High Fidelity, The Bold Type and L.A's Finest.
Their new single, Your Song, has recently been picked up by Apple Music and Shazam's top playlists. The twins are really gaining momentum towards their album launching in August.
Carly and Martina realize the importance of holding a platform; one that can motivate and inspire their generation, which is why they believe that music can create a pathway to unity. They aspire to provide their peers with a positive outlet and motivate creativity; they actually have volunteered for music writing programs in Chicago for the past few years. I think the idea of two young, female music artists who create all of their own work independently will set them apart as two of the top creators of their generation.

Carly and Martina have collaborated with an array of songwriters for their next chapter including Victoria Shaw (Garth Brooks, Christina Aguilera), Big Al Anderson (Zac Brown Band, Martina McBride, Tim McGraw, Rascal Flatts) and Marty Dodson (Carrie Underwood, Blake Shelton, Kenny Chesney). They're not limited by genres, but inspired by catchy pop hooks and acoustic elements, producing their own work and playing their own instruments live.



Interview with Carly And Martina
Question: How would you describe your music?

Carly And Martina : Our sound is where breathy vocals meet Hip Hop beats in a lush Alt-Pop production. We really like rich tones and huge harmony arrangements. The goal is to make music that is both interesting but also satisfying to listen to.


Question: Can you tell us about "Your Song"?

Carly And Martina : "Your Song" is all about the moment when a song takes you back to a person you miss. You can be totally fine and over the situation, but the second you hear that song, you get momentarily transported back to the relationship. We wanted it to have a throwback, '90s Hip Hop feel because we were trying to sonically communicate the feeling of nostalgia.


Question: Is there a particular message you hope listeners take from your music?

Carly And Martina : We hope that people love our music and that they can connect events from their own lives to our songs. We also hope that us writing, producing, and mixing our own music inspires other people to take charge of their goals, too.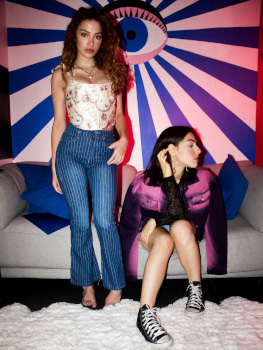 Question: Do you prefer performing live or recording?

Carly And Martina : We love performing live, but we prefer recording. There's something so hopeful and magical about literally making something out of nothing. It's a high that we always want to chase because it's so gratifying.


Question: Do you write all your music together?

Carly And Martina : We write and produce everything together. It's not the same if only one person works on a song!


Question: Which music/artists are you currently listening to?

Carly And Martina : It changes every day, but right now we're really feeling a summer vibe and listening to The Beach Boys, Chance the Rapper, Lana Del Rey, Surfaces, and Chloe x Halle's new album.


Question: What or who was your inspiration to go into the music industry?

Carly And Martina : It was actually an accident! We've been playing piano since we were four and have been writing songs for a while, but we always thought it was just for fun. When we were in middle school our dad signed us up for a week-long songwriting summer camp. At the end of the week we got to perform in a real studio on its off day in front of our friends and family. It just so happened that a producer at the studio forgot his keys and had to come in right when we were performing. Two weeks later, he contacted our mom asking to give us a record deal. It was then that we started taking this seriously as a career opportunity.


Question: If you could collaborate with another artist, who would it be?

Carly And Martina : We love Jhené Aiko's vibe and think we could do something really cool together!


Question: What was your first performance?

Carly And Martina : Our first performance was at a summer camp where we performed an original song for our friends and family.


Question: What has been your favourite part of becoming a music artist?

Carly And Martina : Our favorite part of becoming a music artist is connecting with fans on the internet and in real life. It's so cool to hear about how our music has impacted people's lives. We do this because we love the music we make, but knowing that other people love it too and connect to it is definitely the cherry on top.


Question: What is the biggest challenge you have faced along the way to your musical success?

Carly And Martina : The biggest challenge we've faced is developing the confidence to do it ourselves. For years, we were told that we needed esteemed producers and writers to give us our sound and tell us what to say. It took a while to realize we could, and should, just do it ourselves. We're really happy we found the confidence to trust ourselves because we ended up creating the best and most authentic music yet.


Question: How would you describe your personal style?

Carly And Martina : We like to take classic pieces and give them a twist, like a leather pair of converse shoes or platformed Doc Martens with a flowy dress. We love trying out trends but we always end up back to the basics.


Question: What's a typical day like?

Carly And Martina : There is no typical day! However, we try to make sure that we are making music every day even if our schedule is all about promo or socials. Normally, the mornings are reserved for answering emails and posting on social media, the afternoons are for meetings, and the evenings are for making music, seeing friends, and working on whatever projects we were doing earlier that day.


Question: What's next, for you?

Carly And Martina : We have another single, "Honeymoon", coming out July 24th and our debut album, "Are You Listening?", coming out August 7th! We're super excited about these new releases, as all of our new music is written, produced, and mixed completely by us. Can't wait for you to hear the new music!


Question: Can you share your socials? (links please)

Carly And Martina : Spotify
Instagram


Interview by Gwen van Montfort