Dylan Cartlidge first came onto the scene with his debut release 'Love Spoons' / 'Strawberry Blonde's Snip'. Hailing from a small town in the North-East of England and with the phrase "Hope Above Adversity" as his motto, the stars aligned for Dylan when he was spotted by a management team and signed by Glassnote Music in 2018.

A true lover and supporter of his northern hometown, Dylan first arrived in Redcar at the age of 16, having been born in Stoke and spent part of his childhood with foster families before settling in North Yorkshire with his adopted mum. Having grown up listening to chart pop and rap -think Lupe Fiasco and Kid Cudi -it was where his peers would put him onto the likes of The White Stripes and The Black Keys which helped mix up his musical influences to produce something quite unique.

Musically, Dylan boasts an uncanny talent for deconstructing and subverting genres that he honed in his teenage years, it's not hard to see why Dylan has drawn comparisons with everyone from Beck to Andre 3000. It's a stylistic mix that's reflected in his unique image: timelessly cool afro; Americana-inspired Hawaiian shirts; Elvis-style cuban collars. While no two of his songs are quite the same, the constants are a boundary-squashing, scattergun approach to genre, and an ability to connect with the deeper fabric of British society in these complex times. His ethos is one of "hope above adversity, though I don't want to sound preachy or like I'm trying to fix all the world's problems. If people want to listen to my music and just groove, they can, but if people relate to it that's great".

Having spent the last year or so meeting and writing with like-minded musical mavericks, Dylan is super excited to release his new music this spring. The first offering is the brilliant Yellow Brick Road –produced by James Dring (Jamie T, Gorillaz) which will set the ball rolling for a run of singles into the summer.


Interview with Dylan Cartlidge
Question: How would you describe your music?

Dylan Cartlidge : I'd put it under the alternative Hip-hop umbrellas but no two songs are the same and its somewhere between left field hip hop like Outkast and early 2000s rock such as The Black Keys and The White Stripes.


Question: Can you tell us about Cheerleader?

Dylan Cartlidge : It's my new single and it's a song about labels stereotypes and how the two are portrayed in Hollywood 'Coming of age' movies. Its ultimately about how you don't need to look a certain way or subscribe to a certain clique and that you should always be your own cheerleader in life.


Question: Is there a particular message you hope listeners take from your music?

Dylan Cartlidge : It's subjective so if people don't get anything that's cool but if people relate or take something that's great too. I'm all about Hope Above adversity and making music helps me to process my emotions so if it could help somebody else overcome adversity then that would be amazing.


Question: Which is your favourite song to perform live and why?

Dylan Cartlidge : Yellow Brick Road atm, really enjoying the groove.


Question: Can we expect an upcoming tour?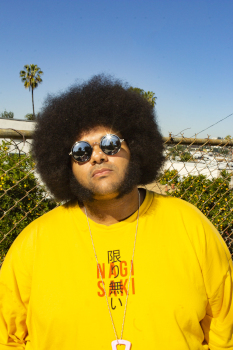 Dylan Cartlidge : I don't think we can expect any shows for a while with Coronavirus but I look forward to playing again when I can.


Question: If you could have anyone, in the world, attend a show, who would it be?

Dylan Cartlidge : My Mum because the best shows are always played past her bedtime! lol


Question: What motivates you most when writing music?

Dylan Cartlidge : Life experience and catharsis.


Question: Which music/artists are you currently listening to?

Dylan Cartlidge : I'm loving Gus Dapperton, Oliver Tree and Keina Suda.


Question: Do you play any instruments?

Dylan Cartlidge : I play pretty much all the instruments on the tracks, I'm a rapper by trade but do my best impression of a bass and keys player and anything else I can get my hands on.


Question: If you could collaborate with another artist, who would it be?

Dylan Cartlidge : Stromae, Kid Cudi, Or Jack White….ANY!! Of these players


Question: What is the biggest challenge you have faced along the way to your musical success?

Dylan Cartlidge : Navigating the emotion pressures of having your creativity and subsequent art transformed into a business in a lot of ways.


Question: What's a typical day like?

Dylan Cartlidge : Eat, Sleep, Rave, Repeat.


Question: What has been your favourite part of becoming a music artist?

Dylan Cartlidge : The Interviews


Question: What's next, for you?

Dylan Cartlidge : Keep getting by and figuring out my shiz on the way, whilst having music be the soundtrack to that. Hopefully people jam it.


Question: Can you share your socials? (links please)

Dylan Cartlidge : Instagram
Facebook
Youtube


Interview by Gwen van Montfort