Cars 2
Voice Cast
: Owen Wilson, Larry the Cable Guy, Michael Caine, Emily Mortimer, Jason Isaacs, Joe Mantegna, Peter Jacobson, Thomas Kretschman
Genre
: Family, Animation
Synopsis
: Cars 2 goes global next year in a tale of international espionage featuring lovable tow truck Mater - yes Mater - as a secret agent... or not.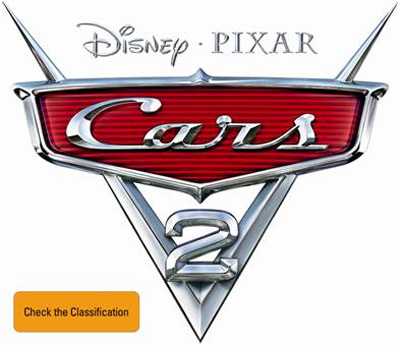 Release Date
: 23rd of June, 2011
Website
:
www.disneymovies.com.au
Francesco Bernoulli
Francesco Bernoulli grew up in the shadow of the famous Monza race course in Italy where he and his friends would sneak onto the track and race the famous Pista di Alta Velocita bank turn. He was an instant winner on the amateur circuit and soon became an international Formula Racer champion. The ladies love Francesco's open wheels, youngsters look up to his winning spirit and fellow racers envy his speed. But Francesco's biggest fan is Francesco himself, as evidenced by his racing number. As the most famous race car in Europe, #1 Francesco is a favourite to win the World Grand Prix, which also makes him Lightning McQueen's chief rival.
Uncle Topolino (voice of Franco Nero)
In the small village of Santa Ruotina, near Porto Corsa, Italy, Luigi's favourite uncle, Uncle Topolino, resides with his beloved wife, Mama Topolino. Uncle Topolino is the owner of the village's tire shop, where he taught Luigi and Guido everything they know, though Uncle Topolino is full of sage advice about more than just tyres.
Mama Topolino (voice of Vanessa Redgrave)
To all who know her, Luigi's aunt, Mama Topolino, is a masterful cook with the best fuel in the village of Santa Ruotina, near Porto Corsa, Italy. Though she has a loving, but fiery relationship with her husband, Uncle Topolino, she shows her love and generosity for both family and friends by feeding everyone her renowned delizioso fuel.

Miles Axlerod (voice of Eddie Izzard)
Sir Miles Axlerod is a former oil baron who has sold off his fortune, converted himself into an electric vehicle and has devoted his life to finding the renewable, clean-burning energy source of the future-ultimately discovering what he believes is the fuel everyone should be using. Axlerod is also the car behind the World Grand Prix, a three-country race he created that attracts the world's top athletes-but it's really an excuse to show off his new wonder-fuel, Allinol.
Nigel Gearsley
Nigel Gearsley from Warwickshire, England, is an Aston Martin DB9R racer bearing #9. He got his start racing the Speed Hill Climb-a unique, completely uphill race through the Aston Hill Mountain Area that his family has run for generations. Nigel's racing career has been anything but an uphill challenge, as he's won nearly every start in the past few years on the Grand Touring Sports Car circuit, including a string of podiums at Nurburgring and Le Mans. His cool British refinement makes him an imposing presence on the World Grand Prix courses.
Carla Veloso
World Grand Prix contender Carla Veloso hails from Rio de Janiero, Brazil. The sweet but powerful Latin diva can dance the night away at "Car-nival," but spends most of her time on the racetrack. After setting a new track record at the local Interlagos circuit, she was drafted to join the 24-hour endurance racing team in Europe, where she posted a consistent series of podium finishes. In the World Grand Prix, the proud Brazilian Le Motor Prototype racer is the only female in the field, and Carla is ready to prove to the world that #8 is there to win for her home country.
Raoul ÇaRoule
Known as the "World's Greatest Rally Car," #6 Raoul ÇaRoule was born in Alsace, France. A restless soul, Raoul joined the famous 'Cirque du Voiture' French circus where he learned Gymkhana - a graceful, drift-filled motorsport that taught him pinpoint timing and an unparalleled ability to navigate tricky courses with ease. He's the first car to ever win nine consecutive rallies. Raoul is confident he can use his rally experience to pull ahead of his fellow World Grand Prix racers during the three courses' touchy dirt sections, especially with his fans in the stands waving banners that read: "ÇaRoule Ca-Rules!"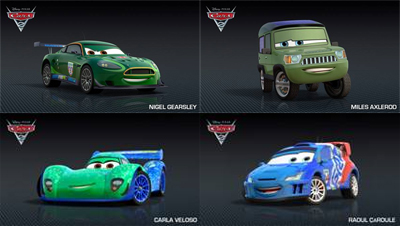 Mater
In the now popular tourist destination of Radiator Springs, the rusty old tow truck Mater has a number of roles, including proprietor of Tow Mater Towing and Salvage, grand storyteller and the heart and soul of the town. But Mater's favourite title is best friend to Lightning McQueen. Mater values each and every dent he's earned on his escapades with Lightning over the years, and anxiously awaits further fun with his friend when Lightning returns with his latest Piston Cup.
Cheerful, honest and loyal to a fault, Mater rushes to his best friend's defence, which ultimately lands the off-duty Lightning in an international racing exhibition: the World Grand Prix. When Lightning invites Mater to come along as a member of his pit crew, Mater leaves Carburetor County for the first time ever.
Not long after their arrival in Tokyo, Mater learns that the world outside of Radiator Springs is decidedly different and its newfangled ways may take some getting used to. But when he's mistaken for an American secret agent, he falls into an intriguing adventure of his own. Caught between supporting his best friend on a globe-trotting racing competition and his new role in international espionage, Mater ends up in an explosive chase through the streets of Tokyo and Europe alongside a team of British spies and international bad guys.
Sally
Sally, a baby blue Porsche 911 Carrera, is the proprietor of Radiator Springs' Cosy Cone and Wheel Wagon Motels and the apple of Lightning McQueen's eye. Longing for Lightning's return from his latest Piston Cup race season, Sally is looking forward to a long drive with "Stickers," as she affectionately calls Lightning.
When Lightning commits to racing in the World Grand Prix the same night of his return, Sally remains steadfastly supportive of her star racecar. She even convinces Lightning to take his best friend Mater along for the ride of a lifetime. Though Sally stays behind in Radiator Springs, even she lights up for the open-wheeled racing cars from Europe - but only Lightning truly makes her motor purr.
Ramone
Ramone owns and operates Ramone's House of Body Art, Radiator Springs' custom body and paint shop. Ramone is an artist - a true magician with paint and metal. There was a time when his only canvas was himself, so he repainted himself daily. But since Lightning McQueen helped put Radiator Springs back on the map, Ramone has had his share of customers-including the star race car himself. Before heading off to the World Grand Prix, Lightning stops by Ramone's for a new paint job...and Ramone does him up gooood.
Flo
Flo is a sassy, no-nonsense lady with the biggest heart in Radiator Springs. She runs the local diner, Flo's V-8 Café, the only gas station for miles around, where she still serves the "finest fuel in 50 states." Flo is Ramone's main squeeze. As a touring Motorama girl in the 1950s, Flo was passing through Radiator Springs and when she met Ramone, she was hooked.
Sheriff
Sheriff is the local law enforcement and the keeper of the peace in Radiator Springs. He takes his job very seriously. Sheriff enjoys telling stories and taking the occasional nap behind the Radiator Springs billboard. That's where he was when Lightning McQueen first zoomed into town years ago, which led to a messy car chase that didn't end well. These days, Sheriff welcomes the hotshot racer Lightning home to Radiator Springs with all four tires.
Lizzie
Lizzie is a Radiator Springs original. She's a little old lady, but still an active businesswoman who uses her moxie to sell bumper stickers, mud flaps and other Route 66 memorabilia from her curio shop. She's as feisty as she is brash. Lizzie's unswerving frankness and offbeat comments keep the townsfolk and tourists on their toes, even though she has no idea what she's just said.

Rod "Torque" Redline (voice of Bruce Campbell)
Rod "Torque" Redline is considered by many as the greatest American spy in the world. Recruited after the Cold War for both his brains and brawn, Torque is a tough-as-nails Detroit muscle car with a mastery of disguises. In his latest deep-cover operation, he obtained vital information about the plot to sabotage the World Grand Prix. So Rod plans a rendezvous with his British counterparts to share his discoveries at the World Grand Prix welcome reception in Tokyo, Japan. But with the bad guys hot on his tailpipe, Rod is forced to ditch the intel early and with the first party guest he sees - a rusty American tow truck named Mater.
Siddeley (voice of Jason Isaacs)
Siddeley is a state-of-the-art British twin-engine spy jet. At 176 feet from nose to tail and an impressive 157-foot wingspan, the super sleek silver-bodied Siddeley streaks through international skies at record-breaking mach 1 speeds. Outfitted with all the latest in high-tech spy equipment, including cloaking technology, defensive weaponry and afterburners, Siddeley is Finn's steadfast partner-in-fighting-crime around the globe.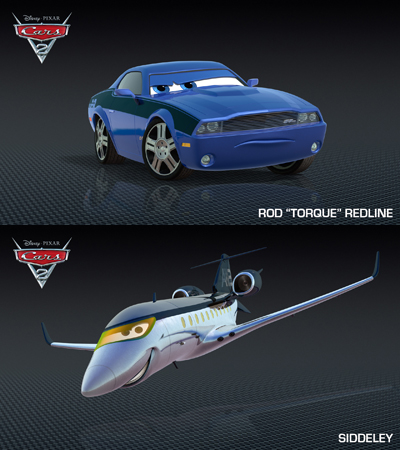 Rip Clutchgoneski (voice of Thomas Kretschmann)
The former European colony and newly independent Republic of New Rearendia is desperate to put their name on the map - the #10 open-wheeled racer Rip Clutchgoneski is their best bet. After putting together a remarkable string of qualifying races, Rip's entry into the World Grand Prix is clearly the Cinderella story of the competition. Though Rip credits luck for his chance on the international stage, it's really skill and exuberance that brought the proud New Rearendian racer to the starting line.
Jeff Gorvette (voice of Jeff Gordon)
Jeff Gorvette is one of the greatest American racecars alive today. Donning the stars and stripes of his country's flag, the #24 Corvette C6.R has proven his ability to succeed on the big ovals and the road courses of the Grand Touring Sports circuits. Having moved from his hometown of Vallejo, California to Indiana to be closer to the racing world, Gorvette's ability to accelerate at such a young age has turned hoods wherever he competes. His championships and number of victories are unmatched, making him a respected competitor-and legitimate threat-at the World Grand Prix.
Darrell Cartrip (voice of Darrell Waltrip)
Darrell Cartrip is a legendary multi-Piston Cup champion turned beloved racing announcer. The Kentucky-born #17 Chevrolet Monte Carlo is known for his wild color commentary, delighting Piston Cup fans with his humor, charisma and signature catch phrases-"Boogity, Boogity, Boogity! Let's go racin' boys!" He's spent years on the track, in the pits and in the grease, and he'll tell you all about it. This American Southern gentleman knows what it takes to win, and plans to bring that fervent expertise to calling the World Grand Prix.