East coast trio Columbus are thrilled to return with their second new single of the year, the hopeful and warm sonic daydream 'Temporary Summer'. Drawing from the trio's much-loved punk and rock tones, the new release also embraces elements of indie rock, resulting in a dreamy and driving new addition to their discography.

"I was listening to a lot of early The Killers when I wrote 'Temporary Summer', and I wanted to try and channel their uplifting indie-rock drive alongside Columbus' heartfelt rock/punk style," says frontman Alex Moses. "It's a song about escapism and being somewhere for a short while where everything feels good, and nothing can hurt you – a temporary summer."

Recorded in between Melbourne's lockdowns with Joel Quartermain (Fergus James, G-Flip, Eskimo Joe), the three interstate best mates had only a few days together to rehearse and record their new material. Moses compared the recording process to "going to a theme park and trying to cram as many rides as you can before they close."

The release follows what has been a rollercoaster of a last year and a half for the trio. Ringing in 2020 with a full rotation addition to triple j for their single 'Can't Hide From What Hurts' and their third appearance at UNIFY Festival, the independent return of Columbus was a triumphant one. Follow up singles 'Out Of Time' and 'Pain Is A Mirror' debuted to fans via triple j's Good Nights and Home & Hosed, and saw the band land a national support with Sly Withers on their sold out tour in May 2021. As an end to an incredibly busy year, Columbus were billed to support Stand Atlantic on tour across the country, however following multiple rescheduled dates due to the evolving public health crisis, the tour was cancelled. Their new single 'Temporary Summer' arrives as a bright and welcome alternative end to 2021 for Columbus, and will serve as the perfect soundtrack as the weather gets warmer and the New Year rolls closer.

Columbus are Alex Moses (guitar / lead vocals), Lauren Guerrera (bass / vocals), and Daniel Seymour (drums).


Interview with Columbus (Lauren Guerrera)
Question: How would you describe your music?

Lauren Guerrera: I'd say we sit somewhere between pop punk and Aussie rock – rock music written by elder emos.


Question: Can you tell us about Temporary Summer?

Lauren Guerrera: To me, Temporary Summer is a really warm, summery rock song that makes me nostalgic for long drives to the beach with friends (very cliché but I'm not sorry). We actually didn't plan on recording this song until maybe 3 days before we went to the studio. Interestingly enough, this is one of my favourite Columbus songs now!


Question: Is there a particular message you hope listeners take from your music?

Lauren Guerrera: I really just hope that our music makes people feel good.


Question: Do you prefer performing live or recording?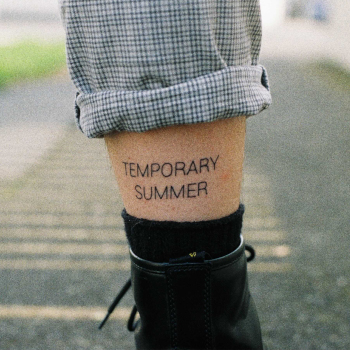 Lauren Guerrera: It's a really close call but I think performing is the winner for me. I am quite an anxious person but for whatever reason, all of those feelings completely go away whenever I'm on stage. There is really nothing like playing shows.


Question: Can we expect any upcoming shows?

Lauren Guerrera: As long as we don't get hit with another lockdown, there will definitely be some upcoming shows!!


Question: What is the story behind the band name?

Lauren Guerrera: I only joined the band a couple of years ago so I actually have no idea how Alex and Dan came up with the band name.


Question: How did the band come together?

Lauren Guerrera: A mutual friend of Alex and I recommended me when the boys were looking for a new bassist. I didn't know either of them, they flew to Sydney to meet up and we hit it off straight away. After that I filled in for a headline tour at the end of 2018, then officially joined in 2019.


Question: What motivates you most when writing music?

Lauren Guerrera: This one is really hard to answer, I've never really thought about it. When we're workshopping songs altogether, my contributions are always really impulsive and fuelled by excitement a lot of the time haha.


Question: Which music/artists are you currently listening to?

Lauren Guerrera: I'm currently smashing MUNA, SOPHIE, the new Between You and Me songs and the new Knocked Loose EP.


Question: What or who was your inspiration to go into the music industry?

Lauren Guerrera: Playing music has been my dream since I was a kid. I was a major tomboy and (thankfully) never saw my gender as a barrier or point of difference, and once I started learning bass, there was no other option in my mind other than to be the best and pursue it as professionally as possible.


Question: How does it feel to hear your song played all over the airwaves?

Lauren Guerrera: It is genuinely one of the most exciting feelings ever and it never gets old. I didn't think I would ever be played on the radio and I understand that there are a million other bands that could be played on the radio instead of us, so I am really grateful whenever it happens.


Question: What has been your favourite part of becoming a music artist?

Lauren Guerrera: Meeting so many likeminded people, travelling (classic response but true) and having people sing our songs back at us at shows.


Question: What's a typical day like?

Lauren Guerrera: Pure chaos at all times because I am a chronic overcommiter. I wake up at 6:30am, get ready for work, teach music during school hours, come home and either play music at home or hang out with friends/family, then probably watch Real Housewives until I fall asleep.


Question: What's next, for you?

Lauren Guerrera: Get out of lockdown, see my friends and play some goddamn MUSIC.


Question: Can you share your socials?

Lauren Guerrera: Twitter
Instagram
TikTok


Interview by Gwen van Montfort