Dana Williams
Dana Williams is an American singer songwriter and musician. She is the daughter of the late David Williams, best known for his 30 year collaboration with Michael Jackson. Her Dad also collaborated with many great artists, including Madonna, Bryan Ferry, Earth Wind & Fire, Whitney Houston and Mariah Carey. This proved to have a profound influence on Dana's passion and dedication to music, who as a young girl was inspired by the works of Ella Fitzgerald, Billie Holiday and Sam Cooke. Dana is also the sister of American actress Davida Williams. At 13, Dana travelled to New York to attend the Master's School where she began her instrumental studies and music theory. She quickly engaged the guitar and is an accomplished contemporary as well as classical player. Shortly thereafter, Dana graduated from Sarah Lawrence College. Throughout college Dana was an award winning and widely published poet. Her lyrics are laced with poetic images and emotions, her beautiful voice is angelic and her songs stir the soul.

Dana recently finished the Leighton Meester Check in the Dark Spring Tour of 2012 as the Opening Act. During the summer of 2012 Dana appeared in the Zoe Report's '5 Summer Singles" and then again in Rachel Zoe's 'Summer Playlist" in Vogue UK. She recently teamed up with indie rapper Freddie Gibbs, singing on the first single, 'The Hard", off of his most recent mixtape, Baby Face Killa. Currently, she lives and performs frequently in Los Angeles.


Interview with Dana Williams
Question: How would you describe Keep Me Waiting?

Dana Williams: "Keep Me Waiting" is a simple song about a simple sentiment with a pretty melody. It's really one of my favourites. It's gentle and bluesy but also I think it makes a big statement.


Question: Tell us about The Hard?

Dana Williams: "The Hard" is a soulful song about love and life struggles. I think the collaboration was great, the juxtaposition between my gentile manner of singing and Freddie's real and deep voice made for an awesome combination.


Question: What was it like working with Freddie Gibbs?

Dana Williams: It was so much fun. I think he's a really great guy, really easy to work with and he is really funny. Those things are important. He basically just played me the song and then I wrote a little part and that was that.


Question: How did it feel to feature in Zoe Report's '5 Summer Singles" and then again in Rachel Zoe's 'Summer Playlist" in Vogue UK?

Dana Williams: It was such a great honour. I always try not to celebrate too much, things like that only mean that I need to keep working even harder so things like that can keep happening.


Question: Tell us, what is Leighton Meester like?

Dana Williams: She is the sweetest; very honest and loving and she really cares about what she's doing.


Question: Did you have any pre-conceived ideas about the music industry?

Dana Williams: Well my Dad was a part of the music industry for so long I like to think I know what to expect, but despite my awareness my path will be unique and I'm ready to greet it with enthusiasm.


Question: Do you write your own songs? What's your inspiration?

Dana Williams: I do write my own songs. I feel like that's the whole joy of being a performer. Songs are little gifts and when you perform you get to share them with people so that they can enjoy them too. My inspiration comes from life and everyday struggles and experiences.


Question: What music/artists do you listen to when you are not playing your own?

Dana Williams: Lately I've been listening to Carole King, Phoebe Snow, Marina and the Diamonds, Patsy Cline, Ella Fitzgerald, Feist and the list can go on. At this point mainly female crooners. But I also listen pop and rock. I really like the Cure and Iggy Pop, Thelonious Monk and The Jesus and Mary Jane.


Question: What's next? Tour/Album/Single?

Dana Williams: My EP "The Lonely One" is coming out soon; it was produced by Maxwell Drummey of Chester French and Dan Stringer.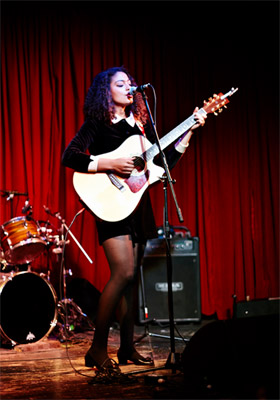 Question: Was there a moment you contemplated throwing in the towel?

Dana Williams: No, I don't think I can ever quit music. I grew up with it and so it's pretty much a way of life for me. Music isn't something I hope to achieve it is something I live for.


Question: Do you prefer performing live or recording?

Dana Williams: I definitely prefer live performances to recording. During a live performance there is so much energy to feed off of, but in the studio booth it's just you so it's more of an acting job, which is fine, it's just a little less fun. Although, since you only have one chance to get it right while performing live it can be a bit nerve wracking but that's all just part of the fun.


Question: What/who was your inspiration to go into the music industry?

Dana Williams: Most probably my Dad. As a small child, I saw him play and it brought me such joy. I always knew that playing music was my vocation.


Question: What is the biggest challenge you have faced along the way to your musical success?

Dana Williams: Well I am still paving the way. But one challenge I have found is that since I am just starting out everyone wants to tell me what I SHOULD sound like or what I SHOULD wear and it's silly, there is always an opinion to be heard and considered but at the end of the day I have to do what makes me happy and what is most sensible.


Question: What's a typical day like?

Dana Williams: A typical day… well I sometimes take my dogs on hikes or to the dog park. But before that I drink coffee and eat yogurt and then if I'm feeling inspired I'll play guitar.


Question: What has been your favourite part of becoming a music artist?

Dana Williams: My favourite part has just been sharing my music with people and playing live shows. I really like watching the audience's reactions when I perform. Sometimes people cry and that makes me feel like I've done some right (but not always).


Question: If you could collaborate with another artist, who would it be?

Dana Williams: Hmmm… I'd like to collaborate with the Alabama Shakes and Kurt Vile.


Question: Do you have a website fans can visit?

Dana Williams: www.DanaWilliamsOfficial.com


Question: Can you tell us 5 things required for a happy healthy & enjoyable life?

Dana Williams: drink lots of water and get enough sleep
find something that makes you happy (mine is music and animals)
stay busy with something positive (like work)
do outdoor activities like go on a hike or swim in the ocean or something
maintain face to face friendships away from a computer or tv


Interview by Brooke Hunter