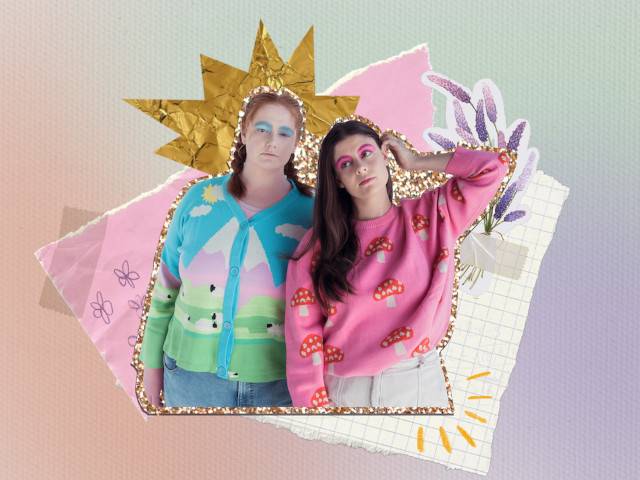 As perfect as biting into a freshly baked cookie straight out of the oven, Dreaming Soda have today announced their sparkling debut single Caramel, an oozy, cosy glimmer of joy and nostalgia, out now. Caramel precedes Dreaming Soda's upcoming EP and comic book project, entitled Just Before The Internet and due for release on July 27., Helmed by Ella Starland and buoyed by Renee Stein, Dreaming Soda is a completely singular experience, combining a detailed, visually stunning comic book with the glitter and euphoria of Ella's nuanced and impressive songwriting and production.

Dreaming Soda will be celebrating the release of Just Before The Internet with a show at The Leadbeater Hotel on August 9, where fans will be able to purchase a physical copy of the comic book, and enjoy specially-made Dreaming Soda-themed cocktails.

It's said that writing a truly happy song is an incredibly difficult task for even the most skilful songwriter. Ella has well and truly achieved this with Caramel; evocative of the eccentric Superorganism, Architecture in Helsinki and millennial treasures Phoenix, the song feels as gooey and indulgent as its namesake, floating blissfully by on its chippy, percolating production and bolstered by Ella's infectious topline. Speaking on the inspiration behind the pixelated treasure of a song, Ella says, "On the surface, 'Caramel' kind of seems like a flirty song about new love – 'I like you but it's way too soon' - but for the most part, the lyrics are truly just related to baking. It's literally specific motifs about sugar boiling, and not adjusting the perfect biscuit recipe."

Dreaming Soda has a clear intention, both with Caramel as a single and the EP/comic book project as a whole: to speak to the specific nostalgia felt by the zillennial – not quite Gen Z, not quite millennial, it's the kids who still have blurry visions of the world before the internet but now can't quite seem to stop scrolling in time for bed. The visual, musical project was backed by a horde of eager fans on Kickstarter, where Ella crowdfunded the money to print the accompanying comic book for the EP's release. The comic book itself was storyboarded by Ella herself, then brought to visual fruition by artists @lukalunar, @puncertainty and @strumblesart.

Clear and passionate about the meaning behind Dreaming Soda and Just Before The Internet, Ella explains, "'Just Before the Internet' has been designed to work as a bit of a sci-fi story; you start off in this glitchy warm world, that becomes unstable and strange, like Alice falling down the rabbit hole. Where you end up is in a very Pixar-esque 'core memory' world of some of your most transformative happy moments. Each track describes how your understanding of relationships and love (familial and platonic) have evolved to make you the person you are in the 'real world'."