Stepping into a new light full of confidence and self-awareness, Ellen Reed is excitingly beginning a new chapter in her musical journey with the empowering self-love anthem 'Lycra'
Soaked in slick synths and big pop beats, the Brisbane based singer-songwriter has honed a playful sound that embodies the electric confidence and personality that oozes through the lyrics, and has intertwined it with a little nostalgic 80's twist.

Inspired by the likes of Lizzo and Dua Lipa, 'Lycra' is an anthem for anyone that has ever doubted themselves and felt like their age, size, colour, sexuality or gender has been something that has hindered them in the past. Dancing through the revelation that you control your own power, she showcases the growth she's had in accepting and loving herself, and takes control of the narrative that's been spun throughout her career.

"Releasing this song was really important to me because the internet trolls and the media have had their fair share of stabs at my weight and looks over the years, but I feel like the older I get, the more content I am in my own skin. I work hard every day to love myself for every stage that I am at".

"I finally feel strong and confident and sexy in my own skin. I, of course have momentary lapses where I feel like shit as I am only human, but for the most part I remind myself that I'm a boss bitch and get on with it "Reed explains.


Interview with Ellen Reed
Question: How would you describe your music?

Ellen Reed: My music is sassy singer/songwriter pop. I write songs about the ups and downs of life and love to make us all feel a bit better.


Question: Can you tell us about Lycra?

Ellen Reed: Lycra is an empowerment anthem. It's about feeling so comfortable in your own skin regardless of all the judgemental things society tells us, or we can often say to ourselves.


Question: Is there a particular message you hope listeners take from your music?

Ellen Reed: I hope listeners feel as fierce and fabulous listening to this song as I feel when I am singing this song. It makes me feel so free so I hope it has that effect on them too.


Question: How has The Voice Australia influenced your music?

Ellen Reed: I don't think it has in any obvious way. The Voice was something that I will always remember fondly because I experienced some really special moments, however, it also caused more mental health issues than I anticipated.


Question: Which is your favourite song to perform live and why?

Ellen Reed: I love performing my song Selfish because it's so fun and we get to dance and jump around, however I think my favourite is probably my song Never Surrender. I have heard so many incredible stories about how this has helped so many people and that warms my heart because this song definitely "fixed" me in a way too.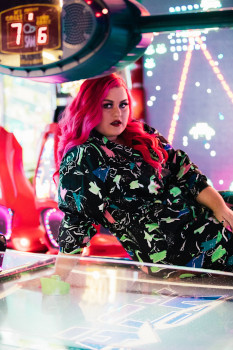 Question: What was your first performance?

Ellen Reed: I always performed for my family when I was younger, however, my first official performance was when I was around 12/13 and I competed in a local shopping centre competition and I sang How Can I Not Love You from the King and I in the Finals!


Question: Can we expect an upcoming tour once all restrictions are lifted?

Ellen Reed: I am currently launching my single Lycra with two performances in Brisbane - One at the Wickham on Saturday 19th of September and one at the Stand on Friday 25th of September.
I also know as soon as I am allowed to travel and do shows properly I will be there!


Question: If you could have anyone, in the world, attend a show, who would it be?

Ellen Reed: I would want my Nana Kann to see a performance. She passed away when I was only 10; I wear her ring every day of my life and I was very close with her. She always told Mum (her daughter) that I would grow up and do incredible things and I would have loved for her to be at some of those incredible things. But I know she probably always is.


Question: What motivates you most when writing music?

Ellen Reed: To be honest, most of the time it's catharsis. I need to get this situation out of my head and on to the page. I am a classic overthinker and a lot of the time I need to just get it out of my head.


Question: What moment in your musical career stands out the most?

Ellen Reed: I have a few… Singing my own songs anywhere is a highlight! Performing them at places like QPAC, or Suncorp Stadium or the Gabba is another highlight. Performing the National Anthem for Australia at the Cricket a couple of years ago was amazing.

But one of the most special experiences of my life was performing at the Goodbye Ruby Tuesday concert in honor of the female rock legend that is Carol Lloyd. She was my mentor and friend for the last few years of her life and was an absolute bad ass! She was tough as nails and soft as silk all at the same time. I adored her and she passed so many opportunities my way, including performing at her farewell concert at QPAC and giving me the opportunity to sing my own songs with a full orchestra. I was honoured!


Question: If you could collaborate with another artist, who would it be?

Ellen Reed: I am obsessed with GFlip! I think she writes incredible music and I love her energy and songwriting! She is already an Aussie Icon!


Question: Did you have any pre-conceived ideas about the music industry?

Ellen Reed: I think I was under the impression that if you had talent you would be successful. When you're younger you don't realise that it costs A LOT OF MONEY and nepotism is alive and well.


Question: What's a typical day like?

Ellen Reed: I get up, go to the gym, come home and have brekky, do some chores and then get straight into writing and recording - either at home or with my producers - and then the day will disappear. Before Covid nights meant gigging but now it means dinner and watching tv with my partner.


Question: What's next, for you?

Ellen Reed: Releasing more music, and hopefully more live performances if COVID will allow it!


Question: Can you share your socials? (links please)

Ellen Reed: Facebook
Twitter
Instagram


Interview by Gwen van Montfort