73% Of Australian Women Don't Wear Sunscreen Every Day
A new study has revealed that three quarters (73%) of Australian women don't wear sunscreen every day due to it feeling oily and greasy on their skin (35%), it clogging pores and making them break out (18%) or not blending with their make-up (7%).

As a country with one of the highest rates of skin cancer in the world, these stats are quite worrying. Which is why former Miss World Australia, Erin Holland has partnered with Neutrogena to unveil a unique UV-activated fashion collection, to help educate Australian women on the importance of everyday sun care.



Interview with Erin Holland, Miss World Australia
Question: Are you surprised that 73% of Australian women don't wear sunscreen every day?

Erin Holland: I am honestly shocked by the statistic, especially considering the country we live in! It's not just Aussie women either, because overall 78 percent of Australians don't wear a primary sunscreen. I think the reason why the figures are so high is because of the lack of education of sun exposure - even walking to the shop on an overcast day exposes us to harmful UV rays. Or have you ever thought about being at risk while driving your car to work? The incidental sun exposure really adds up in our day to day lives.


Question: Why do you wear sunscreen, daily?

Erin Holland: I have always worn sunscreen daily. I think growing up in Cairns it was imperative it became a part of my daily routine from a young age. Back then it was mostly worn for only sun protection and now I wear it also for prevention of the effects of sun damage.

I'm pretty sure all of us know someone who has been affected by skin cancer and sun damage, including myself. My mum has had a few nasty pieces cut out and my dad is currently getting treated for 'sun spots" at the moment. Knowing my genetic make-up and predisposition I need to ensure that I am sun smart and protected at all times.


Question: Which sunscreen is your favourite?

Erin Holland: My favourite sunscreen is Neutrogena Ultra Sheer Fluid, it is lightweight, non-sticky and more importantly SPF 50+ and it helps hydrates my skin! And best of all - it doesn't make my skin break out.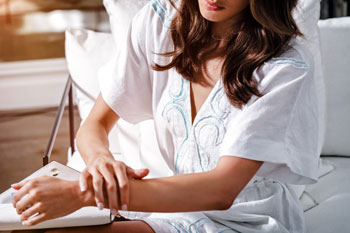 Question: Can you share your tips for blending sunscreen with make-up?

Erin Holland: My tip for blending sunscreen with make-up is all about timing. I apply sunscreen prior to applying my foundation. As mentioned before, the Ultra Sheer Fluid sunscreen is non-sticky and fast absorbed into the skin, which really helps when blending your foundation.


Question: How do you ensure your sunscreen isn't clogging your pores?

Erin Holland: Sunscreen isn't the only factor when it comes to clogging your pores. It comes down to what type of skin you have, what your beauty routine is and what type of sunscreen you use. It can be a juggling act to find the right combination. Always make sure you are cleansing off your face completely every single night. Make-up build-up is the number one culprit for clogged pores in my experience.


Question: Why was it important for you to partner with Neutrogena to encourage Australian women to wear sunscreen, daily?

Erin Holland: I have seen first-hand just how sun exposure can damage our skin, so I know how important it is to adopt a daily sun care routine, not just in summer but all year round. Skin cancer can be prevented with the amazing products like Neutrogena and education on the disease available these days. By simply incorporating sunscreen into your morning routine, you could be preventing this serious disease from striking later on down the track.


Question: Can you tell us more about the Skinnovation Collection?

Erin Holland: It is such an exciting concept combining fashion, technology and sun-safety. It consists of a prototype dress and shorts embroidered with UV-activated thread, that changes colour when exposed to UV rays. The white embroidery turns blue when exposed! Oh, and it's a totally gorgeous dress!

The Collection demonstrates the incidental moments when we may be exposed to UV rays, showing why it's so important to wear sunscreen daily. Some of the more surprising moments we found whilst filming included sitting at the window of your favourite cafe, driving in the car to work, walking the dog on an overcast day, or even at your office desk next to a window.


Question: How else do you stay sun-safe especially during Summer?

Erin Holland: I tend to avoid the heading out into sun in the middle of the day when the UV rating is most extreme. Making sure you always have a hat on you, only getting FAUX spray tans for my summer glow, and of course a bottle of Neutrogena Ultra Sheer Fluid Sunscreen in my bag!


Question: How do you keep your skin looking so healthy?

Erin Holland: Hydration is very important and I aim to drink 1.5L a day to avoid my skin and body from getting dehydrated, I also always moisturise morning and night! I use Neutrogena Hydro Boost Water Gel. The Gel has a refreshing, silky gel formula that provides long lasting, intense moisture. There's nothing worse than dry skin on a hot summer's day.

Lastly, I'd probably have to say diet. Looking good on the outsides comes from feeling good and are taking care of the inside. Make sure you add plenty of fresh fruits, vegetables and juices into your diet to glow from the inside out.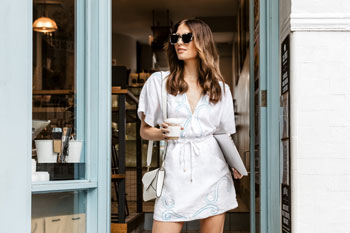 Question: Are you able to share your morning routine, with us?

Erin Holland: Of course! My morning beauty routine is:

Drink water: Staying hydrated throughout the day stops your skin and body getting dehydrated. It can be bit of a task some days to drink up to 1.5L, so I try to start the day right and drink a glass of water as soon as I wake up.

Shower: I like to shower in the morning as the steam helps open your pores and gives you a dewy fresh-faced look.

Cleanse: As you can imagine I can wear a lot of make-up for work, so it's really important to cleanse. I use Neutrogena's Deep Clean Shine Control Scrub to gently exfoliate and remove impurities and built up oil.

Tone: Toning is often a forgotten step that is oh-so crucial, as a good toner balances the skin's PH.

Use a Serum: Serum is to be used prior to moisturising. It keeps wrinkles at bay! A step in the routine not to be missed.

Everyday sun protection: Everyday we're exposed to damaging UV rays - whether it be a sunny or overcast day. To combat skin damage and ageing, I apply Neutrogena Ultra Sheer Fluid sunscreen every morning under my make up. The sunscreen is lightweight, non-sticky and more importantly SPF 50 and it helps hydrate my skin. Win-win.

Make-up application: Depending on my day and work schedule I will try to apply minimal make-up when and where I can. This usually consists of a foundation, bronzer, highlighter, mascara and a light and hydrating lipstick.


Question: What's next, for you?

Erin Holland: 2018 is looking super exciting! Along with getting the important sun safety message of Neutrogena's out there, I will be travelling in the coming months with my Qatar Airways ambassadorship, and potentially doing a little more singing… watch this space.


Interview by Brooke Hunter