Be a True Force of Nature
Australia's golden girl and surfing heavyweight, Sally Fitzgibbons has unveiled her first, much anticipated 'Be a True Force of Nature' campaign for iconic beauty brand Burt's Bees, with a national roll out across digital now live. The leading natural skincare brand and the champion of surf and natural living, represent the perfect unison of two true forces of nature.

Directed by Mike Calvino, the advertisement was shot over 2 days in Sally's home town on the South Coast of Gerroa. In heading back to the place where her surfing journey began and where she chooses to spend most of her downtime, the setting reflects Sally's personality as well as her love for the ocean; a true natural beauty which is the heart of Burt's Bees.

The cinematography captures Sally during first and last light over the water, showcasing rich natural colours. The beautifully shot content gives an insight into Sally's inspirational lifestyle and portrays the iconic Australian outdoor lifestyle.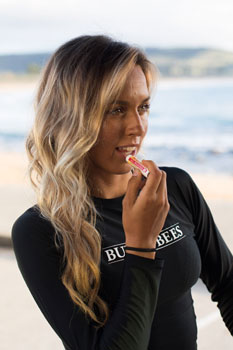 Sally, who has always been drawn to the power of the ocean and was chasing the World Championship title in Hawaii, is the epitome of women's health and her new role truly reflects this.

"Immersed in nature with no distractions is such a pure experience. I love the simplicity of nature, just like I love Burt's Bees. It's all natural, and it keeps my lips protected in all conditions. Being surrounded by water is when I feel like a true force of nature," said Sally.

Burt's Bees Marketing Director, Joy Delis said Sally is a leading icon for women and healthy, natural living.

"Sally's drive, courage and connection to nature make her perfect to tell the Burt's Bees -Be a True Force of Nature' story," Delis said.

One of Sally's favourite products in the range is the new Burt's Bees All-Weather SPF15 Lip Balm, which she showcases in the campaign.

"Whether I'm surfing, jogging or doing yoga on the beach, lip sunscreen is vital." said Sally.

The Burt's Bees All-Weather SPF 15 Lip Balm is formulated with Zinc Oxide which is a physical, mineral-based sunscreen that reflects UV rays naturally. The balm's formula moisturises lips with nourishing ingredients Beeswax, Meadowfoam Oil, Cocoa Seed Butter and Olive Fruit Oil. Unlike some natural SPF formulas that can produce an uncomfortable white cast on the lips, Burt's Bees All-Weather SPF 15 Lip Balm is formulated to provide 100% natural protection without an unsightly tradeoff. The result is all-weather protection and, superior moisturisation that your lips will love.

Sally's 'Be a True Force of Nature' campaign can be viewed here.

Burt's Bees products are available in David Jones, Myer, Big W, Priceline, Chemist Warehouse, selected pharmacies and online at www.burtsbees.com.au. Stockist number: 1800 813 661

Burt's Bees All-Weather SPF15 Lip Balm RRP $7.95



Interview with Sally Fitzgibbons
Question: Why did you decide to work with Burt's Bees?

Sally Fitzgibbons: It is a super natural fit to partner with Burt's Bees. It's all natural and shares in the same philosophies as me when it comes to treating your skin and body with the best. Burt's Bees products protect me in all of nature's harshest conditions. I try to have a true connection from nature to my skin, it's the relationship I'm looking for with any product I use.


Question: Do you have a favourite Burt's Bees product?

Sally Fitzgibbons: I always carry a Burt's Bees Lip Balm, I have about 5 of them in different bags, so I pretty much have one on me at all times! I'm loving their new All Weather SPF 15 Lip Balm as it keeps my lips protected naturally in the sun and surf. When choosing beauty products I want to be able to see that the products have been derived from nature. That also means understanding the label and not having ingredients that you can't pronounce!


Question: What does it mean to be a true force of nature, to you?

Sally Fitzgibbons: To be your authentic self. I try to live and base my decisions off my philosophy and that is to 'Be Authentic and On Time' I feel that helps to guide me and stay true to my values. There are a lot of amazing opportunities and cross roads that you come to in life and the right path or decision only feels right when you can truly be your authentic self under any condition. I think there are always things out there to challenge you and I'm up for a fight when comes to anything wanting me to be anyone other than me!


Question: What's a typical day like, for you?

Sally Fitzgibbons: I spend as much time in the water as I can!! It all depends on what swells you score in any given week but on average you have 2-3 decent surf sessions each day focusing on all the different techniques, heat structures and weaker areas you are trying to improve on. Surfing is such a holistic sport. You need to train many attributes in order to be at the top level of our sport. In addition to surf sessions you then position all your land training around that. I do power and strength training in the gym, cardio sessions in and outdoors, whether it be running, biking, swimming, skipping, boxing or combination of all of them. I round out my training by introducing different things throughout the year including yoga, Pilates, breath training and meditation. It's through my love of training and passion for all sports that I set about creating the All Australian Beach Body App so you can get a taste of how to 'Train like Sally' http://www.trainlikesally.com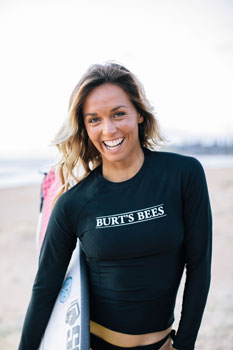 Question: Do you have a morning routine? Can you share your rituals?

Sally Fitzgibbons: When I first open my eyes, I try and regulate my breathing patterns before I start the day because I want to start the day in a really calm space. So I literally just wake up and breathe. It depends if I'm in a rush but I usually do 10 minutes where I have a single focus meditation where I'm focusing on one point. Then something I have a cool reflective 5 mins where I look to see what's on my mind to see what things show up for example if I'm anxious or stressed about. I like to write them down, that gives me the direction to start the day.

I'm fortunate to live by the ocean so after breathing so I go out and say hello to the ocean and check out what the surf is doing. My ritual is to do my mobility movements or a yoga session to wake up my body. If I see that the waves are good, I'm excited and rushing through my mobility, so I can get straight out there and sprint down to the waves.


Question: What's next, for you?

Sally Fitzgibbons: My year on Tour is chaotic, fast paced, exciting and an adrenaline rush. Summer is spent recovering from being in a -fight or flight' reactive state and creating more of a routine back home. Training schedules adapt and I begin a repairing, then building phase to get the body primed to handle a new season. Seeing friends and family and helping out in my own tribe is super important to me over summer and my favourite thing of all is going for a few surfs with my best friends and Dad at home over Christmas. You don't really know what's around the corner when it comes to surprise swells to chase for training but that's the exciting part I never really know what may be around the corner.


Interview by Brooke Hunter