Indie-pop artist Essie Holt drops new single 'Wanna Stay Up With You' - a song that embodies the 'feeling of wanting to stay up all night with someone new, because everything feels fresh and exciting'. Essie writes.
Premiered on triple j's 'Good Nights', 'Wanna Stay Up With You' is an even more direct indie-pop song from Essie with her vocal taking centre stage, sitting right upfront with 80's influenced guitar lines and synth-driven arpeggios that build alongside Essie's ethereal vocals as they layer, echo, and swell to create another pop gem from the Sydney based songstress.

Written in isolation in her attic studio with long-term producer and friend Evan Klar, Holt found herself writing a love song, something she had never done before.

After completely overhauling her life and relocating from Melbourne to Sydney at the end of 2019, 'Wanna Stay Up With You', was the product of Essie's journey of personal-discovery and writing from a place of deep completeness and happiness.

'Wanna Stay Up With You' is the newest offering from Essie Holt and follows her debut EP 'Silent Wars' which she released earlier this year. 'Silent Wars' explored Essie's discovery and the embracing of her queer identity and was well received at media and streaming services having now amassed over 2 million streams on Spotify.

Holt also featured on a track by electronic-pop artist HANDSOME called 'The Walker' which was released to celebrate Pride, proving that Essie shows no signs of slowing down this year.


Interview with Essie Holt
Question: How would you describe your music?

Essie Holt: I make left of centre pop music. I like things to sound a little wonky and get a little weird with my melodies and production. But, I'm a sucker for a pop chorus. So you'll find me sitting somewhere between the indie and pop world.


Question: Can you tell us about Wanna Stay Up With You?

Essie Holt: It's a love song! Actually the first love song I think I've ever written. I wrote the song really fast, but I think in reality it's taken me years to write a song like this because it took me a long time to get to a place where I feel whole and really comfortable. I wrote it from my attic studio in Sydney via Zoom with my good friend/producer Evan Klar, who is based in Germany right now.


Question: Is there a particular message you hope listeners take from your music?

Essie Holt: I want people to feel reflected in my music, especially those in the queer community. And I hope 'Wanna Stay Up With You' encapsulates a feeling of new love, where the energy is high and everything is fresh and exciting.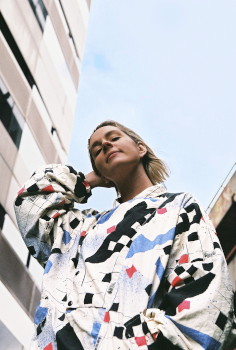 Question: Do you prefer performing live or recording?

Essie Holt: I love both for very different reasons. I think music suits me because I can be really insular, so hiding away and making music suits me perfectly. But then I get the biggest rush ever from performing live and actually physically connecting the music with people. I'm definitely missing play shows at the moment.


Question: Which is your favourite song to perform live and why?

Essie Holt: 'Give Me The Night' is SO fun to play live. The verses are super playful and then I get to really sing out in the chorus. It gives me a lot of adrenaline!


Question: What motivates you most when writing music?

Essie Holt: I get really excited about melodies that are super rhythmic and lyrically reflect me at the time. I love writing something that becomes all I want to listen to, in a kind of obsessive way.


Question: Which music/artists are you currently listening to?

Essie Holt: I recently just discovered Your Smith, she's wonderful! I'm also loving new Sylvan Esso, Haiku Hands and Miiesha.


Question: What was your first performance?

Essie Holt: Probably something at a school at assembly or something. I used to play folk songs on guitar!


Question: If you could collaborate with another artist, who would it be?

Essie Holt: I'd LOVE to do something with Clairo, and Shura!


Question: How does it feel to hear your song played all over the airwaves?

Essie Holt: It's always the best feeling! But my favourite feeling is when a friend hears it and tells me. Or when I hear a friend's song on the radio.


Question: What's a typical day like?

Essie Holt: This year has been great because no day is ever really the same. I'm fairly new to Syd, so I try and get out for a big walk each day, write music, try new bars, hang with friends and do some freelance work from a pub or cafe (day job vibes).


Question: What has been your favourite part of becoming a music artist?

Essie Holt: I think meeting so many great people! And getting to travel to do what I love.


Question: What's next, for you?

Essie Holt: I'm working on new music - I'm in a really good writing place right now so I'm trying to push that. I'm also really keen to play some shows, soon soon I think!


Question: Can you share your socials? (links please)

Essie Holt: Instagram
Facebook
Twitter


Interview by Gwen van Montfort