Introducing estée, the musical moniker of Borneo-born, Australia-raised, Filipino-Chinese singer songwriter Estée Evangeline. Today, the Adelaide-based newcomer reveals her new single 'twenty eight', a sparkling indie pop gem that evokes and explores the feeling of love in all its unique experiences.

"'twenty eight' is about the really simple aspects of being in love, and just the feeling of love itself - whether romantic or platonic," says estée. "Love is just really easy to write about because it's such a universal feeling, and I wanted to write about love in its purest, most wholesome form.

"As for lyrics, I've always been someone who loves watching the sunset, and this song is totally centred around that image and setting. In high school, I used to go to lookouts with my friends all the time. We'd get frozen cokes, sit in the car, laugh and talk while watching the sun go down and that's a really sweet memory of mine, and I tried my best to capture that feeling in this song."

'twenty eight' was recorded at Northern Sound System in Adelaide in early February 2021, and was produced and mixed by KANADA THE LOOP.

"KANADA THE LOOP was really easy and fun to work with because we were able to bounce ideas back and forth. He really helped with the direction of the song, and definitely helped to shape what I had envisioned for it."

Inspired by the likes of Clairo, SZA, Ariana Grade, and Tori Kelly, following her initial passion being ignited by her jazz-loving mother Angelina Perete as well as Miley Cyrus in Hannah Montana, estée has crafted a sweet and atmospheric sonic world of her own. Across her young discography of two solo releases and a collaborative track with Skim.prod, estée has already collected over 1.3million streams. The newcomer is also making moves in the live circuit, having recently supported much-loved Adelaide indie pop band Pinkish Blu at their final show, with an upcoming performance at WOMADelaide 2022.


Interview with estée
Question: How would you describe your music?

estée: I'd say it's very much a comfort sound for people, I get a lot of people telling me that my music is super calming and soft which I'm super happy about! It's been hard to establish a sound for myself because I listen to so many different genres of music, but I think the right word for my sound so far would be 'comforting,' which I think is really sweet.


Question: What inspired your new single twenty eight?

estée: The positive relationships I have in my life. I'm super grateful to have people I can count on who I know will always be there no matter what, who will keep me grounded and remind me that I have something to offer – especially when I'm being too hard on myself. This feeling is something I would reflect on a lot in high school when I would go to lookouts with my friends. My life looks entirely different now, but I still have the same feeling of gratitude and nostalgia whenever I'm watching a pretty sunset. I wanted this song to capture that feeling of adoration I have towards the people I love.


Question: Can you tell us about the music video?

estée: The goal of the music video was basically to introduce myself and my brand within the industry. I wanted to showcase my personality and create something that would highlight more of who I am as a person and as an artist. I also think it's just something wholesome for me to look back upon in the future and be like, "Wow, I've grown so much!" and my growth is something I try to keep track of as a musician.


Question: Is there a particular message you hope listeners take from your music?

estée: Yeah, I think I try to make people remember that even though life can be super hard and scary and daunting, you can always find something good somewhere. I do have songs that are super sad but I think at the end of the day, my goal is to connect with my listeners and help them on their own journeys, and be a part of that somehow. I want to be the soundtrack to someone's life, being there in the good and bad, celebrating with them in the good and crying with them in the bad – all while giving them a sense of hope.


Question: Do you prefer performing live or recording?

estée: This is such a hard question, honestly! I grew up performing at a really young age, and that was always how I pictured myself – a performer, singing other people's songs. Until I started writing my own songs and eventually started to record myself and be more involved in studio sessions. They both have their own amazing qualities which differ so it's definitely really hard to choose. I love interacting with a crowd and just hanging out, but I also love being vulnerable in my own safe space and expressing myself fully in the recording process.


Question: Can we expect any upcoming shows?

estée: Yes! I'm playing my own set at a show with Marlin Kites, who I have a song with, and performing with them is always so fun. That should be December 11th at The Gov. Hopefully, I'll get to headline my own show soon!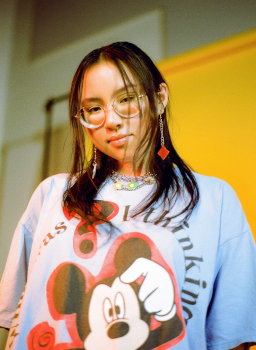 Question: What motivates you most when writing music?

estée: This is something that changes from time to time for me. I'm a really emotional person and I have to feel a lot before I can actually say what I'm feeling, so ironically, a lot of the time I'm writing because I don't know how to put what I'm saying into actual words that makes sense. The way I'm feeling often appears as metaphors or imagery, or lines that represent the way I feel. I've been trying to write for the sake of writing though, as practice. I think it's really important to constantly exercise that writing muscle, even if it's just typing down a lyric in the notes app to get back to later. I know that the more I write, the better I'll get at it!


Question: Which music/artists are you currently listening to?

estée: I'm listening to a lot of Silk Sonic right now. I love Anderson Paak and Bruno Mars together, I'm the biggest fan of everything they create, together and separately, but ESPECIALLY together. I'm also listening to LOONY, who I just discovered recently and I'm in love with her sound. Also, super big fan of PinkPantheress. She is so deserving of all the love she's getting right now, her music is awesome. I'm also constantly listening to SZA and Ariana Grande on repeat 😊.


Question: What or who was your inspiration to go into the music industry?

estée: I think the reason I'm pursuing a career in this industry is because I've always been surrounded by music, my entire life. I remember being 5-year-old Estée thinking "I really want to be a singer when I grow up," there was never any other options for me, and that stands to this day. It's crazy how life can twist that though, like even though that has always been a true core belief for me, that feeling started to waver. Mostly just because it was hard to believe that I could ever achieve that for myself and I wasn't very confident in my capabilities as a musician. But at the end of the day, I knew that I would be kicking myself forever if I didn't at least try.


Question: If you could collaborate with another artist, who would it be?

estée: I'd love to work with Joji. I don't know, I think our voices would complement and blend well with each other. Rich Brian would also be really cool to work with. I would also love to collaborate with this producer called Shawn Wasabi, he's super talented and I feel like he can totally just hear sounds that no one else can. Also, Jacob Collier because he's a literal alien.


Question: Did you have any pre-conceived ideas about the music industry?

estée: I think so, but I feel like they were more subconscious thoughts rather than being front and centre in my mind. Although, I don't think I knew what to expect anyway. In high school, I knew being an artist was something I've always wanted to do, but I didn't really know anyone personally who was already in the business and doing their thing. I'm really glad I have a lot more connections within the industry though, I'm definitely learning a lot which can be scary at times but also super rewarding. Really hoping I get to make more of these connections and be friends with more people in the business!


Question: What's a typical day like?

estée: I'm currently studying music at university, so a lot of my days are just filled with going to uni, procrastinating but doing work eventually, hanging out people I love, and writing and recording music way too late at night. For some reason, I'm way more creative at night-time, so I'm super delirious when I'm writing. But that also means I'm a lot more honest (and very obviously sleep deprived) 😊.


Question: What has been your favourite part of becoming a music artist?

estée: My favourite part has been being able to connect and meet people from all over the world. It's so cool to see people listening to my music and relating to it. I think I'm just generally someone who loves connecting with people and making friends, so meeting listeners online and even meeting fellow artists and producers and has been so awesome. Definitely makes the whole music process feel less lonely, which can be really easy to feel. I'm really thankful to even be in the position I'm in right now in my career, and growing as an artist (and overall, human) has also been my favourite part.


Question: What's next, for you?

estée: I'm definitely going to continue writing and supporting my own craft, and I want to eventually tour and play festivals with my super cool band. I'm currently in the process of writing my debut EP which will be so awesome when it eventually comes out. I also want to be an artist involved in 88rising eventually, honestly. Especially being someone who really wants to represent the Asian community in the music industry. It's a big dream but who knows, anything can happen!


Question: Can you share your socials? (links please)

estée: Instagram
TikTok
Spotify
YouTube
SoundCloud


Interview by Gwen van Montfort