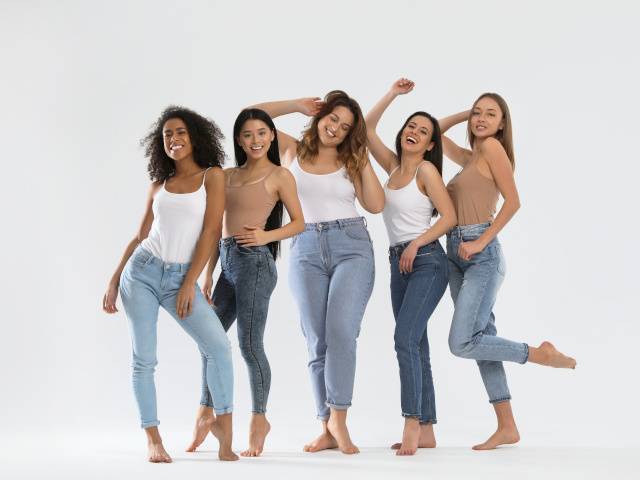 How To Choose Clothes That Flatter Your Body Type
When it comes to fashion, the fit is more important than your size or shape. The garments that look best on you will vary according to your body type. Regardless of age, height, proportion, or body shape, there is something for everyone in today's clothing options.

Once you understand how to dress for your body type, you'll be surprised at how simple it is to put together a wardrobe that you'll enjoy wearing. If you've ever asked yourself, 'What's my size catalogue?' but aren't sure about your body shape, continue reading to discover your body type and how to dress appropriately for it.

Rectangular Body Shape

The rectangular-shaped body is generally well balanced from shoulders to hips. As a result, your silhouette is relatively undefined and uncomplicated. Your arms and legs are your most valuable assets. Concentrate on these assets to improving them. The rectangular body shape is comparable to an hourglass figure, minus the defined waistline.

If your natural curves are lacking, clothing and accessories can assist you in achieving them. To draw attention to the narrowest part of your waist, wear a belt around it. Wrap gowns and empire-waist gowns are popular. Tops that fall just below the hips are ideal.

Tops with ruffles or pleats emphasise your shoulders and bustline, while accessories heighten your upper half. Choose underwear that provides adequate breast support while also defining your waist. Jackets, tops, shirts, and skirts with peplum details can create the illusion of an hourglass figure.

Apple-Shaped Body

When your upper body is heavier than your lower body, you have an apple-shaped figure. This body shape is defined by broad shoulders and a more expansive bustline, contributing to the appearance of weight around the midriff.

Because most weight and focus are concentrated above the hips, the midriff tends to be thicker than the rest of the body, with a slender waistline. The objective here is to deflect attention away from that area of your body and emphasise your strengths. Show off your legs or wear dresses with V or deep-V necklines to create the illusion of an elongated torso. You look best in A-line or empire cuts. Layer printed dresses or patterned jackets over your face to deflect attention away from it. Monochrome ensembles, dark shades, full or 3/4-sleeved skirts, and flowy tops benefit from this technique. Additionally, you can wear flared bottoms such as palazzo pants to create harmony. Finally, wear the appropriate bra size because your shoulders are broad, and your bustline might appear even wider.

Hourglass Body Shape

An hourglass figure is defined by proportionate shoulders and waistlines and a slim midsection. If you have an hourglass body, embrace your curves. Avoid baggy clothing and ruffles on the shoulders and bust. Pencil skirts and high-waisted trousers are indispensable wardrobe additions. Dresses that contour the figure and create a dramatic silhouette are ideal for the hourglass figure.

Allow your curves to take center stage. It's critical to choose clothing that emphasises your waist. Excessively large or excessively small clothing should be avoided. Keep in mind that emphasizing your slim waist draws attention away from your hips and bust. Moreover, wear undergarments that fit correctly.

If you have a large chest, be sure to wear the appropriate bra. Avoid padded cups and unstructured bras that emphasise the cleavage. V-neck tops and trousers, pencil skirts, and shirts that emphasise your breasts are all excellent choices.

Inverted Triangle Body Shape

The inverted triangle appears to be the most athletic body shape. It's because your shoulders are significantly wider than your hips. As a result, the arms and shoulders must be strengthened to the maximum extent possible. The triangular body shape is defined by broad shoulders and an upper body wider than the lower body.

Remember add emphasis to your hips and, as a result, concentrate on creating equilibrium. Straight-cut jeans and skirts with an angled V-neckline are both attractive silhouettes. Because your hips are narrower than your shoulders, any pencil skirt, skinny jeans, or similar items would look great with any top.

However, avoid excessive layering on the upper body, as this is unnecessary. V-neck lines are flattering and create the illusion of narrow shoulders, making them an ideal neckline choice.

Takeaways

Any item of clothing won't fit every body type. The trick is to understand your body type to determine which cuts and styles will work best for you. Bear in mind that regardless of what you wear, the garments must highlight your assets. Not only will this increase your self-esteem but improve your attractiveness to others as well.