HIS. ACTUALLY. HAPPENED.
See the INSANE TRUE STORY of Gran Turismo exclusively in cinemas August 10.
Starring David Harbour, Orlando Bloom, Archie Madekwe, Darren Barnet, Geri Halliwell Horner and Djimon Hounsou.
Directed by Neill Blomkamp.
Gran Turismo is based on the unbelievable true story of a team of unlikely underdogs – a struggling working-class gamer (Archie Madekwe), a failed former racecar driver (David Harbour), and an idealistic motorsport executive (Orlando Bloom). Together, they risk it all to take on the most elite sport in the world. Gran Turismo is an inspiring, thrilling, and action-packed story that proves that nothing is impossible when you're fuelled from within.
Gran Turismo
In cinemas August 10.
Based on the PLAYSTATION STUDIOS video game
#GranTurismoMovie
GRAN TURISMO: BASED ON A TRUE STORY is an inspiring, thrilling, and action-packed story that proves that nothing is impossible when you're fueled from within.
Columbia Pictures presents a PlayStation Productions / 2.0 Entertainment production, a film by Neill Blomkamp, Gran Turismo: Based On A True Story. Starring David Harbour, Orlando Bloom, Archie Madekwe, Darren Barnet, Geri Halliwell Horner, and Djimon Hounsou. Directed by Neill Blomkamp. Produced by Doug Belgrad, Asad Qizilbash, Carter Swan, and Dana Brunetti. Screenplay by Jason Hall and Neill Blomkamp and Zach Baylin. Based on the PlayStation Studios video game. The executive producers are Matthew Hirsch, Jason Hall, Kazunori Yamauchi, and Hermen Hulst. The co-producers are Jann Mardenborough and Darren Cox. The director of photography is Jacques Jouffret. The production designer is Martin Whist. The editors are Colby Parker Jr., ACE and Austyn Daines. The costume designer is Terry Anderson. The music is by Lorne Balfe and Andrew Kawczynski.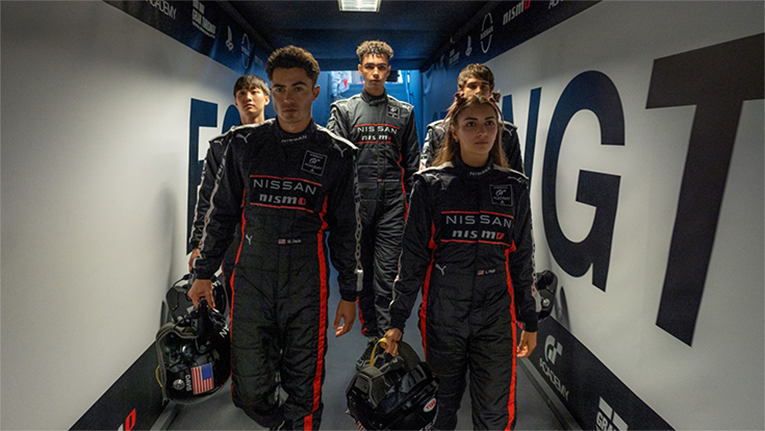 FROM TRACK TO SCREEN
"Gran Turismo is the ultimate wish fulfillment movie," says Neill Blomkamp, who helms the film based on the true story of Jann Mardenborough, one of the unlikeliest racecar drivers of all time. "You can have the best reaction time, all of the skill, but when you're going wheel-to-wheel at 200 miles per hour, that's when you get the chance to prove that you're for real. And that's what happened to Jann Mardenborough."
In the film, Mardenborough has always been a racing fan. As a working-class kid, he obsessively plays the Gran Turismo video game to experience a simulation of racing but imagines he'll never feel the thrill of what it's really like to put his foot down in a high-performance car… until he competes in a Gran Turismo competition against the best of the best for a chance to win a spot on Nissan's GT Academy race team. This ordinary Brit is plucked from thousands by a wild-eyed marketing exec, put under the tutelage of a cynical, washed-up former driver, and given the controls of one of the fastest machines ever devised by humankind – going on to race for Nissan in their high-performance vehicles in such famous races as the 24 Hours of Le Mans.
The story of how Mardenborough became a real-life driver, Gran Turismo is a film that Cinemablend calls "Rocky with race cars" – a classic underdog sports story in the tradition of Seabiscuit, Hoosiers, and Remember the Titans.
Blomkamp says that Jann makes a compelling character because his real-life story is an unbelievable series of dreams coming true. "When I read the script, I couldn't believe it was actually based on the true life story of Jann Mardenborough," he says. "The events in the film are pretty much exactly as they happened."
"Gran Turismo has all the qualities of a great underdog sports story," says producer Doug Belgrad. "Jann has a dream but is underestimated by everyone – especially the establishment racing community, who say it's impossible."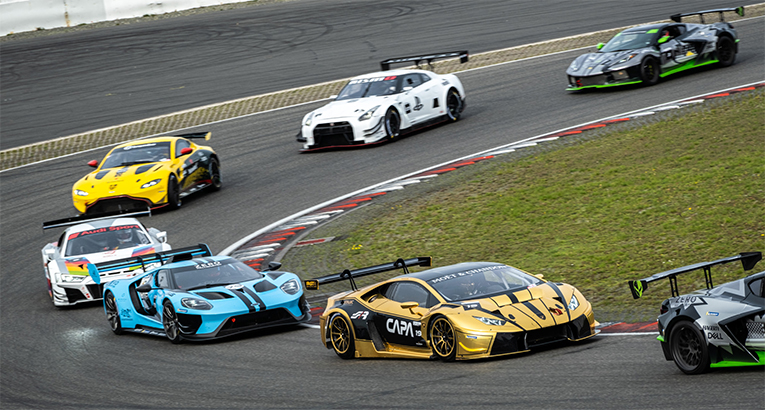 "There's no one way to make an adaptation," says Asad Qizilbash, head of PlayStation Productions and producer of the film. "Uncharted, the TV series 'The Last of Us,' and now Gran Turismo each had different approaches, but they all start with asking, 'why do people love this game?' For 'Gran Turismo,' I think it's because most of us will never in our lives put our foot down in a racecar or take a chicane at Le Mans, but the game puts you in the driver's seat. That was what we wanted to capture with the movie, and the movie does it in two ways – first, against all odds, Jann Mardenborough got a chance to experience it all in real life, and to tell the story, Neill Blomkamp has made the most thrilling, most realistic racing movie I can imagine."
Like a lot of young adults, Jann seems more interested in playing videogames than with making something of his life, until he's given a chance to play for real. "Jann is playing 'Gran Turismo' in his parents' house when all of a sudden – after years – he sees the option for GT Academy," Blomkamp explains. "Only then did he learn how to drive proper cars – how to hit an apex and exit a corner – everything he'd done intuitively inside the game, but had never been taught."
In Blomkamp's hands, Gran Turismo is a movie that puts audiences in the driver's seat and lets them imagine what it would be like to strap themselves into a 200-mile-per-hour rocket ship for the first time. "I knew Neill would bring a visceral, blood pumping feel to the movie," says David Harbour, who joins the cast as Jack, a washed-up driver who becomes Jann's chief engineer and teaches him the ins and outs of a real racecar. "What I didn't really know was how much we were going to be working with actual cars, actual drivers, actual tracks. We're in the cars, we're doing pit tire changes and gassing up the cars in real-time with other drivers blazing around the track at 200mph. It's really me in a helicopter flying 30 feet above racecars. It all plays into the intensity of the experience"which is critical to making a film about people having a very intense experience, risking everything for what they love."
The actor says that at first, he was skeptical about a movie adaptation of a racing simulator, because for him a movie is not like a videogame. "You want to play the game, to control the characters," Harbour says. "One of the things I really liked about this movie is that it's not a movie about a videogame – it's a movie that incorporates a videogame into its narrative, which is about a young man with tremendous talent who does something incredible, and about a coach who has been through a lot and become hardened – but who comes to believe in this kid."
Opposite Madekwe and Harbour is Orlando Bloom in the role of Danny Moore, the idealistic Nissan marketing executive who gets the bright idea to put console gamers inside machines traveling at death-defying speeds. "He's all-heart, all-passion," says Bloom. "He's driven by this harebrained dream to take sim car racers and get them into real cars, racing on tracks."
Blomkamp's way into the film was through a longtime love of cars"the merging of mechanics, engineering, art, and design"and that meant the exciting possibility of showing what these cars can do. "With a movie like this one, sometimes the temptation is to go all-digital. Shoot some background plates, do digital cars, drop your actors in from a virtual production environment. But in this case, everything is real, and I mean literally everything is real. When we portray an actor driving the car, they are actually going around the track pretty close to the speed that they should be going."
Producer Carter Swan says that when Blomkamp's name was first suggested, he thought first of the director's visual effects-driven science fiction films. Would Blomkamp be interested in this film? "When I learned about his passion for cars and the motor world, and that he wanted to get it as real as possible, that's exactly what we had always envisioned for this film," he says. "Because it's a true story, we wanted to keep it authentic."
Part of doing it for real was getting the real cars and shooting on the real tracks, including the Slovakia Ring in Slovakia, the Dubai Autodrome, the Nurburgring, the Red Bull Ring in Austria, and the Hungaroring; this latter track doubles for both the GT Academy (loosely based on Silverstone, the home of UK auto racing) and Le Mans.
But it wasn't enough to have the right cars and real racetracks. The film also had to look and feel real. And to achieve that, Blomkamp says, involved two visual components. "One component is the experiential: how do you make the audience feel like they're there as much as possible?" he says. This was achieved through camera choices. For example, in television coverage of real-life racing, productions often employ cinematic drones, which allow for beautiful, sweeping shots, and Blomkamp does here as well, but also Blomkamp uses first-person-view drones – more often used by drone racers – to keep up with the racecars and give points of view rarely, if ever, seen before.
Blomkamp was one of the first directors to employ the Sony Venice 2 camera with the Rialto extension. Because the Rialto allows the filmmaker to separate the sensor from the camera body, Blomkamp could place his camera in tiny, previously unreachable places inside and outside the car. "The prototype racecars are basically F16 cockpits," says Blomkamp. "It is not possible to put a cinematic-level 6K or 8K sensor into the inside of that cockpit"to be with the actor without shooting through polarized glass"except with the Rialto. If you want to get intimate, to change the sound design, to be in the cockpit, and to be in the real car, there is no other way."
The second way Blomkamp made the film feel real was through its lighting, photography, and production design. "If you hit pause on the film and you look at a single frame, it should never feel synthetic, or overly lit, or overly saturated, or fake. Everything is derived from reality. The production design is real. The photography style is real. The color choices are real," he says. "If we were making documentary about racing, and all of these pieces were there, this is how we'd shoot it."
And in the driver's seat, Blomkamp had one other secret weapon in showing what it was like for Jann Mardenborough behind the wheel – and that was Jann Mardenborough himself, who served as the film's stunt driver for the character of Jann. "The story is based on him, Archie portrays him, and he's the stunt driver who drives Archie's car as the character based on him," says Blomkamp. "It's amazing – some very interesting meta thing happening there."
"It's so surreal," says Mardenborough. "The last time I was in Hungary, the track was packed with trucks for a race. This time, it was packed with trucks for a film being made about me. That blew my mind."