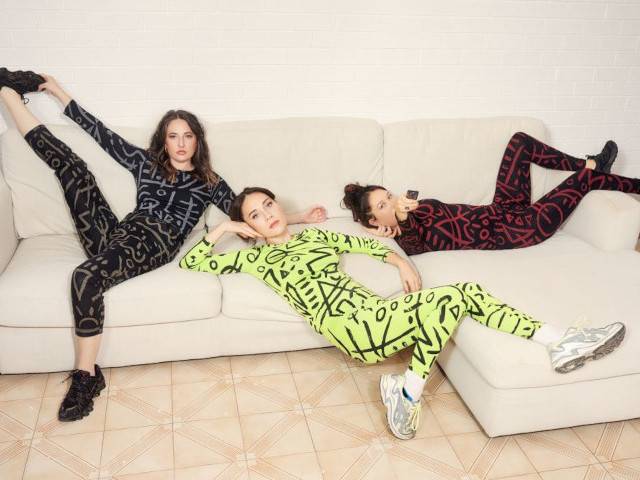 The 'Sweat Selects' series returns with the ever-electric and dynamic Haiku Hands. Renowned for their upbeat and kaleidoscopic blend of electro-pop dance music, this mix certainly delivers as the group shares their current inspirations and favourite records to rave to.

Showcasing all things homegrown, 'Sweat Selects' shines a light on local talents both on and off the Sweat It Out roster. With Haiku Hands as the first guest appearance on the series, they follow on from Mazy's mystical mix of psychedelic dance music and Annie Bass' journey through nostalgia.

Haiku Hands' showcase their diverse influences incorporating everything from electronic to pop, and hip-hop to dance through this hour of power. With infectious rhythms and contagious vocals sprinkled in the mix, you will no doubt be up and raving.

Mie Nakazawa of Haiku Hands notes, "The songs we used in this mix are from the beginnings of our next album inspiration playlist. The mix goes on a journey, but we believe every song is good for rave times. The last song of this mix is our most recent release 'Bye Bye'. This song is an anthem for everything you wanna say goodbye to. We hope it helps you tie it up and chuck it in the bin, leaving space for new and exciting things. We hope you enjoy."

Based across Melbourne and Sydney, the core of Haiku Hands is Beatrice Lewis, Claire Nakawaza and Mie Nakawaza. Together they curate, perform and work as a collective of artists, engaging and exploring social norms with their lyrical and visual content. Their self-titled debut album in 2020 featured collaborations with legends like SOFI TUKKER, Mad Zach, Machine Drum, Mirac, Elgusto of Hermitude fame and Lewis CanCut. The album went on to win plaudits at home and across the globe from the likes of NME, Rolling Stone, DIY and Paste, to name but a few.

Continuing to craft upbeat and eclectic pieces, Haiku Hands recently released their new single 'Bye Bye'. Complete with bold bassline perfection and energy inducing spoken vocals, it is bound to get any dance floor absolutely heaving. The new single comes alongside a video that sees the group completely vibing out to their anthem for ridding life of anything unwanted.

Haiku Hands' 'Sweat Selects' mix is out now, and available exclusively on Apple Music.