Clairol - Nice'n Easy Hair Colours - Cultivating a natural look that does not look artificial. To get the best result choose a hair colour that complements your natural skin tones and always keep the colour you want within one to two shades lighter or darker than your natural hair colour. Nice 'n Easy is specifically formulated to give you a more natural looking hair colour. It has recently been reformulated to deliver the three signs of truly natural looking hair colour: depth, highlights and shine.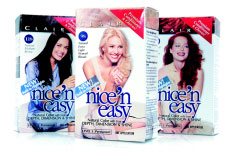 NATURAL LIGHT CHAMPAGNE BLONDE
Hair with noticeable bright highlights giving a stripy or bold appearance throughout is definitely out. What is hot is an all-over gentle blonde look with subtle natural highlights delicately blended into the hair. Kate Hudson, Gwyneth Paltrow and Cameron Diaz have all taken on the 'gentle blonde' giving their hair a lift of colour.
To get this look Nice 'n Easy recommends the new Champagne blond ranges which create the most natural-looking blonde. Champagne Light Blonde (101B) should be used for a light gentle blond shade and for a slightly darker yet soft blonde try the new Champagne Medium Blonde (103B).
NATURAL COPPER RED
Those with Auburn hair will find that vibrant copper tones are popular again. We've seen stars work with their naturally auburn hair and pump it full of vibrancy and shine - just look at Deborah Messing, Cynthia Nixon and Alyson Hannigon to see copper in action.
To get this look try Nice 'n Easy's Natural Copper Red (109) for an electrifying red and the new Natural Medium Auburn (111) for a slightly darker shade.
NATURAL MEDIUM CARAMEL BROWN
For the brunettes among us a natural dark chocolate-brown hair colour is sensational. We've seen stars such as Courtney Cox, Demi Moore and Katherine Zeta Jones set the style with long solid naturally dark brown hair. Also setting the pace for brunette's is Cindy Crawford, who has recently been announced as the new face of Nice'n Easy by Clairol.
Cindy's look can be recreated using Nice'n Easy's Natural Medium Caramel Brown (shade 118B), Natural Dark Caramel Brown (shade 120B) or Natural Reddish Brown (shade 112A) for even warmer, slightly redder tones. To achieve the darker summer style try Nice 'n Easy's Natural Dark Caramel Brown (120B) and Natural Darkest Brown (121A).
TIPS
Maintaining your hair colour: wear hats in summer, give your hair a break from blow-drying or heated styling tools.Clairol Nice 'n Easy now offers new instant shine after-colour conditioner with up to four weekly treatments included in each pack in addition to its new premium gloves and an easy, squeezable applicator bottle.
Clairol - Herbal Essences
Wish you had the kind of abundant hair that all TV models seem to have? Hair with volume, bounce, body, volume and fullness? Not everyone is blessed with large amounts of thick hair but the following tips from Clairol Herbal Essences should help add that little bit of bounce to fine hair. Thin lifeless hair can be due to the natural makeup of an individual's hair shaft or can occur at different stages of a person's life, through stress, childbirth and simple ageing - caused by the loss of certain amino acids from the hair.
SHAMPOO
Specifically designed for fine hair and uses extra body shampoo technology to give increased volume and fullness of hair. Hair smells great and is full of body and shine. Natural Volume shampoo is formulated with special plant-derived conditioning ingredients. The high pH levels open the hair cuticle, allowing the special conditioning ingredients to enter the hair.
200ml RRP $4.15
CONDITIIONER
Herbal Essences Natural Volume conditioner provides just the right amount of conditioning that closes the cuticle, securing the conditioning ingredients inside the hair shaft. Collectively infused with natural botanicals including Chrysanthemum, Violet, Mallow, Orange Blossom, Caraway, Morning Glory and Daisy and using revolutionary patented technology, Natural Volume provides beautiful body and long-lasting volume.
200ml RRP $4.15
www.Clairol.com