Hanna Ashcroft, is an Auckland based songwriter known for her soulful voice and blues toned cadence. In her new release "Everywhere", she unveils themes of passion, pain, love and loss. Hanna's songs are emotionally revealing in both strength and fragility. Influenced by names like Otis Redding, Joyra Smith and Charlotte Cardin, it has an ethereal, dark and atmospheric feel with a ghostly hip hop undertone.

"Everywhere initially began as a song of deep sadness, loss and longing, but turned into a song of hope and letting go...I was in the thick of the early stages of a break up and it honestly felt like I saw him everywhere...4 months later I flew to Bali where I ended up recording and as we began I realised I didn't see him everywhere any more. It was quite a beautiful and expansive moment" says Hanna.

Travelling to Bali to record the single spending 6 weeks with producer, Andreas Arianto. Hanna found the experience emotional and vulnerable but at the same time healing and comforting. "The recording process was an emotional rollercoaster. I guess because I was sort of healing through the experience while creating it...I wanted the song to sound ghostly, atmospheric, dark and sparse but with a strong hip hop inspired beat to give the track strength. I felt this combination would communicate the feeling I felt." Hanna explains.


Interview with Hanna Ashcroft
Question: How would you describe your music?

Hanna Ashcroft : It's always an interesting question as each song is different but I think I would best describe it as "blues inspired atmospheric vibes with a hip hop undertone". The sound was born from me wanting to communicate my slightly melancholic and ghostly moods in a more upbeat and thought provoking way that was and is authentic to me. I feel it does that.


Question: Can you tell us about Everywhere?

Hanna Ashcroft : Everywhere was originally inspired by a break up and how I felt haunted by his physical absence. I felt he was everywhere. In everything I saw, with me in everything I did. At the time I couldn't make a coffee without crying, I was scared to go to sleep as he would be in my dreams, and then I was afraid to wake up as he'd be the first thing on my mind. I'd never experienced that sort of heart break and those of you who have been through it will totally understand what I am saying. It's not easy but over time you get through it and three months later as I was recording the song I realised I had left it in the past and was mostly healed. What an incredible process.


Question: Is there a particular message you hope listeners take from your music?

Hanna Ashcroft : Overall I'd love for listeners to know that they are not alone and that no matter what they are going through there is light at the end of the tunnel, a friend on the other end of the phone and a hand to reach for if you need it. Music has always been a huge comfort to me and if someone listened to one of my songs and found that, well, I would be one happy woman!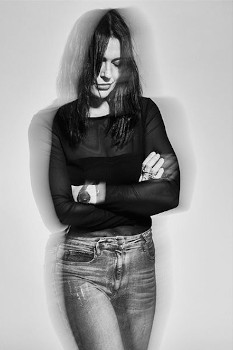 Question: How has COVID-19 influenced your music?

Hanna Ashcroft : Well. That is a hard question as I am not sure it influenced my music in a good way... I was on lock-down by myself for 6weeks and whilst the first few weeks were fun and I got a lot of space and time to write I started to feel very isolated and that anxiety came through in the music I was writing at the time. I think everyone felt it and everyone is still feeling it, so perhaps I was tuning into the collective consciousness a bit but I don't think I will be sharing those songs anytime soon. I'd rather have some hope in my music and that was definitely lacking at the time.


Question: Can we expect a tour once all restrictions are lifted?

Hanna Ashcroft : Most definitely! I will be hopefully performing here in Auckland very soon and with the release of the EP in November 2020 I hope to come over to Australia and hit the road.


Question: When was your first performance?

Hanna Ashcroft : I remember it so vividly. It was at the BlueStone Room in Ponsonby, Auckland back in 2008. My friends had bought me a bouquet of flowers. I wore all black (not that that is any different to the norm) and performed my first set of songs. I was both terrified and exhilarated.


Question: What motivates you most when writing music?

Hanna Ashcroft : For me it is about living my most authentic life through being my most authentic self which will hopefully inspire others to do the same. I worked in other industries for years before finally following my passion and I can honestly say I have never felt more myself or more alive. If everyone can do that then what an impact it would have on the planet and on stress levels and mental health. Happiness is wealth and I truly believe true happiness comes from doing what you love.


Question: Which music/artists are you currently listening to?

Hanna Ashcroft : Jay Crookes, Beth Hart, Son Little, Chet Faker, Alt J, Mahalia... to mention a few.


Question: What or who was your inspiration to go into the music industry?

Hanna Ashcroft : My friend Phil Stoodley. Someone once asked me what I thought success was, and my answer was anyone that has the guts to live their passion, their truth and do what they love. When I tried to think of a person I knew who I considered a success I thought of him. He is one of the most authentic people you will ever meet, follows his heart, works on his music and is always kind and considerate to everyone. I realised then that it didn't matter how 'successful' I looked from the outside if I wasn't working on music and following my heart I was never going to be a success in my own eyes. Moral of the story. Do what you love, not what others think you should do or love.


Question: If you could collaborate with another artist, who would it be?

Hanna Ashcroft : Oh man! What a question and how many artists I could list right now! At this stage I think I would say The Weeknd. His beats are insane and I love the way his dark lyrical content rules the direction of his music. It's like he doesn't care or think about the end result which I really admire and respect.


Question: What's a typical day like?

Hanna Ashcroft : Well other than the days I work in retail a typical day looks like this: 6:30 wake up, gym, home for smoothie, sit down and do some admin and anything that needs brain power with my morning coffee. Next I'll have lunch and a break, maybe even a little read of a book. Then I turn my attention to singing and writing firstly with some singing practice, then I'll write some poetry or a song depending on how I feel. Some days they are terrible but it's just good practice to keep doing it. The more you write the more the odds are in your favour that something will be good. Then I'll usually go for a walk at 4ish to wind down before pouring a wine and chilling out. Either by cooking and listening to music or by creating more if I got into a good zone. It's all fairly malleable.


Question: What has been your favourite part of becoming a music artist?

Hanna Ashcroft : Being able to create every day and live my dream. I get to say 'I am a musician' when people ask what I do which feels so much more honest than what I used to have to say. Living the life of an artist is the biggest and best gift I could have ever hoped for and I am so grateful I took the plunge! Maybe it took for me to work in other industries for over a decade to really appreciate what I have now. I get to make my week work for me and find time to create and time to work verses being stuck in a regimental 9-5 which really crushed my creativity to be honest. It's far more open and as long as I keep a little routine within the freedom I feel really great most of the time.


Question: What's next, for you?

Hanna Ashcroft : More music, more releases, new experiences, more writing. I am just going to keep doing what I am doing and once the EP is out in November, move to recording an album and so on and so on. It is all very exciting!


Question: Can you share your socials? (links please)

Hanna Ashcroft : Instagram
Facebook
Spotify


Interview by Gwen van Montfort