Complete your Hannah Montana Season 2 Collection with Part 2 of the second season
Starring: Miley Cyrus, Emily Osment, Jason Earles, Billy Ray Cyrus, Mitchel Musso
Directors: Roger S. Christiansen, Steven Peterman, Sally Lapiduss, Dan Povenmire, Michael Poryes
Producer: Richard G. King
Rated: G
Running time: 158 minutes

Rock out the house with Part 2 of the second season of Disney Channel's rockin' original series HANNAH MONTANA! When her life as celebrity Hannah Montana gets challenging, Miley Stewart relies on her family and her friends, Lilly and Oliver, to remind her to be true to herself first. Watch as Miley gets herself into some hilarious situations with her dual life as Hannah and Miley - sweet niblets! Laugh out loud with Miley and her friends in 14 totally awesome episodes from the second season of HANNAH MONTANA!

Laugh out loud and make some noise with Miley and her friends in 14 totally awesome new episodes in Hannah Montana Season 2 - Part 2, available to own as a double-disc release from Disney DVD now!

When her life as the chart-topping celebrity Hannah Montana gets even more challenging, Miley Stewart (MILEY CYRUS) relies on her family and friends to remind her to be true to herself.

In the second half of season 2, Miley gets a touch of envy when the Jonas Brothers hang out with her dad (BILLY-RAY CYRUS) - and she goes to great lengths to crash their jam session. Miley's love-life also gets interesting when her old crush, Jake Ryan (CODY LINLEY), kisses someone else and she finds herself at the centre of a very strange love-triangle when two boys vie for a date with her on the same night!

Throughout the following episodes, Miley gets herself into one disaster after another as she forgets her dad's 40th birthday, fights with best friend Lilly over an unsuccessful date between her dad and Lilly's mum (HEATHER LOCKLEAR) and endures more than one uncomfortable visit from crazy relatives including the hilarious Dolly Parton as Aunt Dolly.

All the while, all the dramas and mishaps of life as a regular teenage girl are made twice as hard as Miley continues to keep her alter-ego identity of Hannah Montana a secret.

Throughout the two-disc edition, Miley is joined by series regulars Mitchell Muso, Emily Osment and Jason Earls along with a slew of Hollywood celebrity special guest stars including the Jonas Brothers, Dwayne "The Rock" Johnson, Selena Gomez, Dolly Parton, Joey Fatone, Corbin Bleu, Ray Romano, Camryn Manheim, Vicki Lawrence, David Koechner, Donny Osmond, Sheryl Lee Ralph, Heather Locklear and Brooke Shields.

Featuring a collection of Hannah Montana hits performed throughout the series, including fan favourites Life's What You Make It, Rock Star and Nobody's Perfect and fun bonus features including episode highlights and Miley's Makeover special, Hannah Montana Season 2 - Part 2 is a must-own addition to any Hannah collection.

Special Features
* Hannah's Highlights: "Lilly's Mum Has Got It Goin' On"
* Miley's Makeover: Hannah Gets A New Look




Famous Faces - Who's who of Season 2
Throughout the episodes of Hannah Montana Season 2 Part 2, a slew of famous Hollywood celebrities join the fun with Miley as she continues to try and keep her superstar identity a secret. Check out just some of the stars to grace the screen with Hannah Montana in the brand new DVD.



The Jonas Brothers

The Jonas Brothers are the hottest young musical act in America right now! In the first episode of Hannah Montana Season 2 Part 2, Miley's dad gets to record a song with the trio, leaving Miley fuming with jealousy.

DID YOU KNOW? The Jonas Brothers guest starred in Miley's own concert last year and now you can catch the Jonas Brothers in their own 3D Concert movie out later this year.




Heather Locklear

Heather Locklear guest stars as Lilly's mum in 'Lilly's mum has got it going on'. In the episode, Miley and Lilly try to set her up on a date with Miley's dad Robbie.

DID YOU KNOW? Heather Locklear is no stranger to playing the beautiful mum being fixed up by her teenage daughter - in the film The Perfect Man, Hillary Duff plays her daughter who schemes to marry her mum off to suitable bachelor Chris Noth!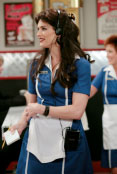 Brooke Shields

Ex-teen sensation from the 80's, Brooke Shields, returns as Miley Cyrus' mum in Hannah Montana Season 2 Part 2.

DID YOU KNOW? Brooke Shields has more in common with screen daughter Miley than their teen star status - they are also both accomplished cartoon voices! Brooke has voiced characters for many cartoons including The Batman and Goldilocks and the 3 Bears while Miley was the voice of Penny in the movie BOLT.




Corbin Bleu

High School Musical heart-throb Corbin Bleu is back as Miley's crush in Season 2!

DID YOU KNOW? Miley actually appeared with Corbin in High School Musical 2 - she was credited as "Girl at Pool" in the final song and dance scene of the film.

Complete your Season 2 Collection with Hannah Montana Season 2 Part 2, out on Disney DVD 3rd June 2009.