High School Musical 3: Senior Year Extended Edition Graduates to Disney DVD 8 April 2009Get Ready to celebrate the Extended Edition Never-Before-Seen In Theatres!

The Wildcats are back and better than ever in the third and fabulous High School Musical instalment, with the release of High School Musical 3: Senior Year Extended Edition, only on Disney DVD from 8 April 2009!

Join your favourite teen songsters Troy (Zac Efron), Gabriella (Vanessa Hudgens), Sharpay (Ashley Tisdale) and Chad (Corbin Bleu) as they sing and dance with a fresh new crop of talented Wildcats and prepare to graduate from high school.

The High School Musical gang graduated to the big screen in High School Musical 3: Senior Year Extended Edition, the first High School Musical film to be released in theatres (High School Musical 1 and 2 were Disney Channel original movies). Now they graduate from high school and hit Disney DVD in the Extended Edition with never-before-seen song and dance numbers.

High School Musical 3: Senior Year follows Troy, Gabriella and their friends in the final stages of their high school days. The gang, having experienced so much, must prepare to move on from East High School and into their college years, and possibly, a future without one another.

In order to make every moment count and to celebrate the final few weeks together before they graduate, our East High friends do what they love to do best, stage a high school musical!

With incredibly catchy all-new musical numbers and stunning dance routines, including the opening smash Now Or Never, junk-yard spectacular The Boys Are Back, and the waltz number Can I Have This Dance, follow the gang as they sing and dance their way through the final basketball game of the season, senior prom and of course graduation.

Packed with fun, must-see bonus features including additional scenes, behind-the-scenes footage, hilarious bloopers, a sing-along version of the movie, song selections and backstage Disney specials including 'Prom' and 'Graduation', High School Musical 3: Senior Year Extended Edition is a must-have Disney DVD for the entire family this Easter as well as for all High School Musical fans!

High School Musical 3: Senior Year
Available to own on DVD: 8 April 2009
Rated: G
Running time: 112 minutes





---

High School Musical Trivia Challenge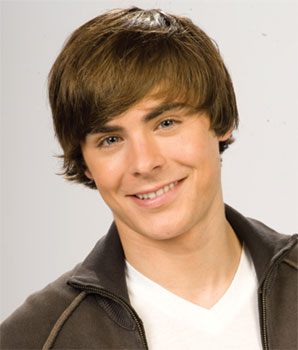 Zac Efron Trivia Challenge
1.During half time of the championship basketball game, Coach Bolton says "Here's the number that means something." Why is this number important?
2. Who are the captains of the Wildcats basketball team?
3. What lucky item do the Wildcats basketball players keep in their lockers?
4. How does Zeke store his game socks?
5. Who scores the winning shot of the championship game?
6. What is Jimmie's nickname?
7. Jimmie Zara shoots the winning basket of the championship game, but who is hoisted into the air and handed the trophy upon the Wildcat's victory?
8. What type of vehicle does Troy Bolton drive?
9. Which college is most actively recruiting Troy for its basketball team?
10. What is the mascot of the U of A, Troy's potential college team?
11. Why does Jimmie take a picture of Troy's room?
12. What 'top secret hiding place' does Troy take Gabriella to after the championship game?
13. What is Coach Bolton's Alma Mater?
14. What college is Gabriella likely planning to attend?
15. Gabriella and Troy are saddened by the large distance between Stanford and U of A. How far apart are they?
16. What type of car does Sharpay drive? What colour is it?




Answers:
1. It is the number of minutes left in the game. 2. Troy Bolton and Chad Danforth. 3. Their 'game' socks. 4. He vacuum seals them. 5. Jimmie Zara. 6. 'The Rocket' or 'Rocketman'. 7. Troy Bolton. 8. A Truck. 9. The University of Albuquerque. 10. The Redhawks. 11. So he can decorate his just like it. 12. His tree house. 13. The University of Albuquerque. 14. Stanford. 15. 1053 miles. 16. Honda, pink.



---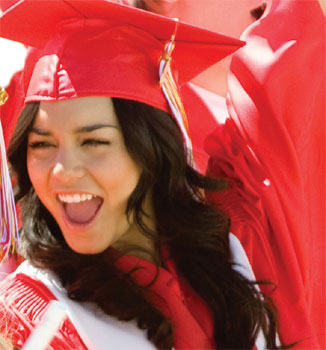 Vanessa Hudgens Trivia Challenge
1. Which four Wildcats are being considered for the prestigious Julliard scholarship?
2. Why is Troy surprised to hear that he is being considered for the Julliard scholarship?
3. What style of dance does Martha ask to work into the show?
4. Whose clothes are stolen while they are in the shower?
5. Who does Troy invite to prom?
6. What is awkward about Jimmie and Donnie's entrance into the first musical rehearsal?
7. Who does Chad ask to Prom?
8. Who is Troy's understudy in Senior Year?
9. Who is Sharpay's understudy in Senior Year?
10. Why might Gabriella miss prom and the musical?
11. How long is Gabriella's early acceptance honors program?
12. Who does Ryan ask to Prom?
13. Troy visits a salvage yard to get a part of his truck. What part is it?
14. Who eventually tells Troy about Gabriella's early acceptance to Stanford?
15. What type of food does Troy bring Gabriella on her balcony after finding out about Stanford?






Answers:
1. Sharpay and Ryan Evans, Kelsi Neilsen and Troy Bolton. 2. He did not submit an application. 3. Clogging. 4. Jimmie and Donny. 5. Gabriella. 6. They are wearing only towels. 7. Taylor. 8. Jimmie. 9. Tiara. 10. She received an early acceptance to Stanford. 11. Three weeks. 12. Kelsi. 13. A radiator cap. 14. Sharpay. 15. Pizza.



---
Ashley Tisdale Trivia Challenge
1. In what colour is Sharpay's private parking spot outlined?
2. What colour is Sharpay's locker?
3. Aside from its colour, what else is unique about Sharpay's locker?
4. Who becomes Sharpay's new personal assistant?
5. Where is Tiara from?
6. What school does Tiara tell Sharpay she transferred from?
7. What is Sharpya's preferred coffee beverage?
8. What favour does Jimmie ask Troy?
9. What does Ms. Darbus mean when she mistakenly refers to the Wildcat's "top to bottom" championships?
10. Who is the Student Body President of East High?
11. Chad jokingly asks Taylor what the school lunch special is today and is surprised when she actually knows it. What is it?
12. Who is responsible for the spring musical sign ups?
13. Before committing his free period to musical practice, what did Troy intend to do with that time?
14. What extra-curricular activity do Gabriella and Taylor participate in together?
15. What is the title of the spring musical?
16. Who composes the spring musical?
17. Who choreographs the spring musical?




Answers:
1. Pink 2. Pink 3. It's doublewide. 4. Tiara Gold. 5. London, England. 6. London Academy of Dramatic Arts. 7. Non-fat, no foam soy latte with one pack of sweetener. 8. If he can have his locker next year. 9. Back-to-back. 10. Taylor McKessie. 11. New York Deli. 12. Kelsi Nielsen. 13. Work on his truck. 14. They are co-editors of the Yearbook. 15. Senior Year. 16. Kelsi Neilsen. 17. Ryan Evans.



---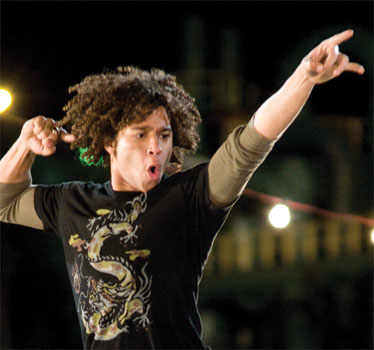 Corbin Bleu Trivia Challenge
1. What type of Pizza does Troy bring Gabriella?
2. What dessert does Troy bring for his evening pizza picnic with Gabriella?
3. Why is Gabriella not at play practice during the last two weeks of school?
4. Who is assigned to sing Gabriella's duet with Troy in her absence?
5. While Sharpay is asked to fill Gabriella's role, who fill's Sharpay's?
6. During which song do a hundred basketballs fall from the gym ceiling?
7. Where does Ms. Darbus find Troy alone where he has gone "...just to think?"
8. Who submitted an application in Toy's name to Julliard?
9. Who picks out Troy's tuxedo?
10. What event does Gabriella tell Troy she cannot attend when she tells him that she has "run out of goodbyes?"
11. Where is Taylor attending college?
12. Where does Troy decide to attend college?
13. What two activities does Troy plan to participate in while ay Berkeley?
14. How far is Berkeley from Stanford?
15. What does Jimmie introduce himself to backstage during opening night of "Senior Year?"
16. What does Sharpay ask if he/she is "some sort of Muppet gangster?"





Answers:
1.Marghertia Pizza. 2. Chocolate-covered strawberries. 3. She accepted the early admissions offer from Stanford. 4. Sharpay. 5. Tiara. 6. Scream. 7. On the stage after hours. 8. Ms. Darbus. 9. Gabriella. 10. Senior Prom. 11. Yale University. 12. UC Berkeley. 13. Basketball and Theater. 14. 32.7 miles. 15. Sharpay. 16. Jimmie.



---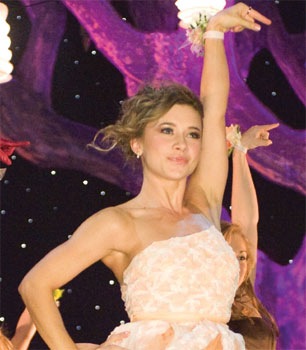 Olesya Rulin Trivia Challenge
1. Jimmie gets stung again by Sharpay's wit when she compares his (?) to a toxic spill.
2. What is the name of Jimmie's cologne?
3. Who sneezes onstage during the performance of 'Senior Year'?
4. Who walks off stage during 'Senior Year'?
5. What lie did Tiara tell Sharpay?
6. During the song 'A Night to Remember' which two students temporarily play the same character onstage?
7. Who wins the Julliard scholarship?
8. Who is extended the special second invitation to Julliard?
9. Who does Ms. Darbus ask to help her run the drama department next year?
10. What do Troy and Chad leave behind for Jimmie and Donny in their lockers?
11. Who does Sharpay make spy on Kelsi?




Answers:
1. Colonge. 2. Babe. 3. Sharpay. 4. Sharpay. 5. To observe her and 'learn to ropes' of the East High theater department. 6. Sharpay and Tiara. 7. Kelsi. 8. Ryan. 9. Sharpay. 10. Their lucky socks. 11. Ryan





---
Related Atricles
High School Musical 3 Senior Year - Interview The Story Continues
www.girl.com.au/high-school-musical-3-senior-year-interview.htm
High School Musical 3 Senior Year - Cast
www.girl.com.au/high-school-musical-3-senior-year-cast.htm
High School Musical 3 Senior Year - Behind the Scenes with the Filmmakers
www.girl.com.au/high-school-musical-3-senior-year-filmmakers.htm
High School Musical 3 Senior Year - All Dressed Up on Location
www.girl.com.au/high-school-musical-3-senior-year-backgrounder.htm

High School Musical 2 - Back to School
www.girl.com.au/high-school-musical-2-onset.htm
High School Musical 2: Extended Dance DVD
www.girl.com.au/high-school-musical-2-extended-dance.htm
High School Musical 2 DVD
www.girl.com.au/high-school-musical-2-dvd.htm
High School Musical 2 Official Soundtrack CD
www.girl.com.au/high-school-musical-2-cd.htm

High School Musical DVD
www.girl.com.au/high-school-musical-dvd.htm

High School Musical The Concert
www.girl.com.au/high-school-musical-the-concert.htm

High School Musical & Pirates of the Caribbean DVD Game
www.girl.com.au/high-school-musical-pirates-caribbean-dvd-games.htm