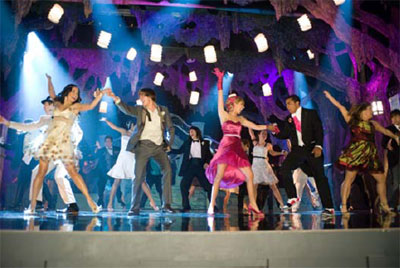 BIRTH OF A PHENOMENON


The phenomenon of "High School Musical" started out as an idea in producer Bill Borden's living room. "I wanted to make a musical that I could sit down and watch with my kids. It was that simple," says Borden.
Although the musical had seen somewhat of a revival with the success of adult fare such as "Moulin Rouge!" and "Chicago," no one was making musicals for the teen audience. "Bill and I are true believers in this particular genre-the musical for teens," says Borden's producing partner Barry Rosenbush. "With the first movie, we weren't trying to invent the wheel... we were trying to reintroduce the wheel.
"Movie history is filled with musical comedy for teens," continues Rosenbush. "The movies back in the '30s and '40s, the movies that we grew to love-'Westside Story,' 'The Sound of Music,' and later 'Grease'-were all for young people."
Borden and Rosenbush were already working with writer Peter Barsocchini on another project when the idea for "High School Musical" gained momentum; they tapped him to write the screenplay.
"They said they were doing a Disney project that involved music and sports," says Barsocchini. "The world of music and sports was familiar to me-I played basketball during my youth and I was a music critic in the late '60s in San Francisco."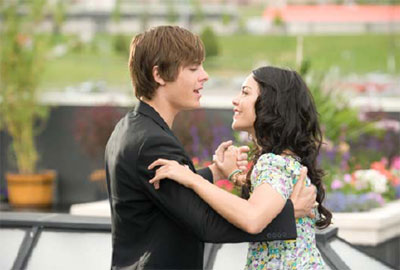 Multi-talented director/choreographer Kenny Ortega then joined the trio to bring this musical idea to the small screen. "Kenny has many unique talents which make him a really fantastic director," says Borden. "He is a musician. He's a great dancer. He's a choreographer. He's an actor. He really does mold the screenplay. He can take a concept and make it come alive in a musical like no other person in the world. Kenny really is an amazing force of nature."
"All I've ever tried to do here with 'High School Musical' was to enjoy telling a story from a musical point of view in a lighthearted and joyful way without having an overly complicated story and overly complicated characters," says Ortega. "I just try to bring it to life with as much fun and joy and color and excitement as possible."
The team fathered a creative phenomenon that would come to include cable television's highestever-rated telecast, the two highestever-rated Disney Channel movies, two multi-platinum soundtracks, a concert tour, an ice show, numerous awards and accolades, and a source of inspiration to teens worldwide. "There's something about teenage life that is the same all around the world," says Borden.
ALL DRESSED UP
Costume Designer Caroline B. Marx Creates a Signature Wardrobe


Costume designer Caroline B. Marx took the big screen to heart when it came to wardrobe for "HSM3."
"The costumes for 'HSM3' are more fashion forward; each character is clearly defined," says Marx. "Layering of the actual pieces and attention to detail was very important for the big screen. In this film, we find each character growing up. Their costumes show their individual personalities."
Director Ortega was very pleased with the vision Marx brought to the wardrobe. "Caroline is really wonderful and open and brought some wonderful new ideas to the musical. It's bigger and more colorful and more exaggerated than ever. Because we introduce more fantasy and peek into the future, we could go places with the costuming in 'High School Musical 3' that we haven't been able to visit before. And Caroline helped take us there."
"Caroline came to us because of her inventiveness," adds producer Rosenbush. "She has an amazing ability to take practical clothes-for graduations and prom and basketball games- and add the sparkle of Hollywood."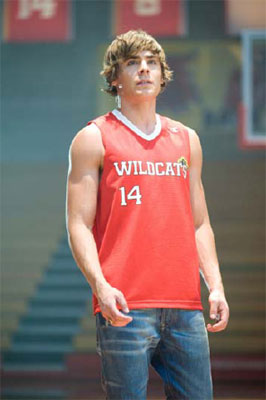 Marx began prepping for the feature film five months prior to cameras rolling. "I wanted to make sure we were ahead of the game in terms of trends, so when the movie came out we'd hit at the same time or even further ahead of hot styles," she says. "I went to Fashion Week in New York, attending 37 shows and as many parties as well as visiting showrooms and meeting with a lot of designers."
Marx worked closely with the cast on their wardrobes. "After almost four years, they really know who their characters are," she says.
The costume designer wanted Zac Efron's character Troy to channel a James Dean/Young Elvis look, with a color palate of mostly blue and gray tones. Troy wears primarily slim-cut Diesel denim jeans and James Perse classic tees with Converse high-top sneakers or low-top Vans.
Vanessa Hudgen's Gabriella has a very innocent, girl-next-door feel. "Gabriella's costumes have an arc. She starts in her quintessential white, blue, green and yellow floral dresses, sometimes with little cardigans. As time passes in the film, she becomes more self-aware and begins to take on a more 'boho' style of dress," says Marx. Hudgens wears clothes by American Eagle, Free People, Velvet, Miss Sixty (Italian), and Dutch designer Tony Cohen in the film.
Sharpay's look is very expensive and over-the-top, with the majority of her clothes enhanced with Swarovski crystals. Labels include Marc Jacobs, Miss Sixty, L.A.M.B., Dolce & Gabbana, Juicy Couture, Betsey Johnson, Diesel, Sheri Bodell, Rock n Republic boots and oversized bags, and accessories from Kitson. "Hot pink and feathers are a focus for Sharpay," says Marx.
Marx took Ryan's wardrobe directly from the runway with neon pink Marc Jacobs pants, a J. Lindenberg nylon blazer and Paul Smith floral pants (with added side stripe) tucked into police boots. "He is usually wearing a Goorin Bros. fedora hat," says Marx. "For the prom, he sports a bowler hat, inspired by a popular Spanish trend."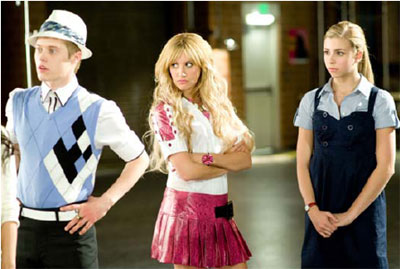 According to Marx, Corbin Bleu's Chad is the first character on film to wear primarily organic and sustainable clothing and shoes. "His entire wardrobe gives off a very eco-friendly vibe," says the costume designer. His American Apparel organic tees feature custom ecofriendly messages such as "My dog didn't eat my homework, I recycled it" and "Greenster." Marx found designers and companies that manufactured green products, including G-Star, Livity Outernational, Alternative Earth, Lucky Brand, Nike and Maasi Treads.
Marx describes Monique Coleman's Taylor as "brainiac and business-like with a feminine edge." Taylor wears primarily J. Crew and Banana Republic sweaters and sweater vests over Theory and G-Star button-front shirts (worn untucked), with skirts by Marc Jacobs, Piazza Simione and Corey Lynn Calter. "We feel that she's going on to be the future President of the United States so we gave her a very conservative look," says Marx.
Marx says the wardrobe for Olesya Rulin's Kelsi is very funky and artsy, but with a vintage feel that includes men's blazers and vests from Club Monaco and French Connection, and vintage character tees by Disney Couture. Kelsi's primary designer was artist Elisa Jimenez of "Project Runway." "The wardrobe has changed with Kelsi, going from ill-fitting clothes to tight-fitting and funkified," says Marx.
Kaycee Stroh's Martha takes on a very '80s vibe, "early Madonna combined with an urban hip-hop flare," says Marx. "She wears lots of leggings, multiple strands of pearls, bangles, multiple rubber bracelets and bandannas in her hair."
Ryne Sanborn's Jason sports the preppy East Coast jock. "He wears polos with the collars worn up, button-down over-shirts worn open and untucked, with either pinstripe, plaid or khaki cargo shorts or jeans.
Chris Warren Jr.'s Zeke is young, hip and preppy with a crisp urban flare. "He wears oversize polos and shorts," says Marx. Zeke's chef-wear was customized with Wildcat emblems: his white chef hat bears the paw print, and his red apron the collegiate "E."
Jemma McKenzie-Brown's Tiara took on an English schoolgirl look. Matt Prokop's Jimmie was given an 'Emo vibe' with a little slacker/skater mixed in. Justin Martin's Donny Dion sported a wardrobe that was a little conservative with a cool edge. The prom dresses for Gabriella, Sharpay, Taylor and Kelsi are original designs by Marx and manufactured by famed Madonna seamstress Zoya Bergam. "It's every girl's dream is to have that perfect prom dress," says Rosenbush. "Caroline put the magic into the ordinary and made it extraordinary."
ON LOCATION
Albuquerque in Utah


Filmmakers faced challenges including location issues, shooting in a real high school alongside studying students, and the physical and creative challenges of making elaborate movie sets out of an active high school and a working junkyard.
"Although the story is still set in Albuquerque, New Mexico, Kenny said 'I want to go back to Utah where 'HSM' 1 and 2 were shot,'" says co-producer Don Schain. "He has become very comfortable with the environment, the crew and the dance talent in Utah."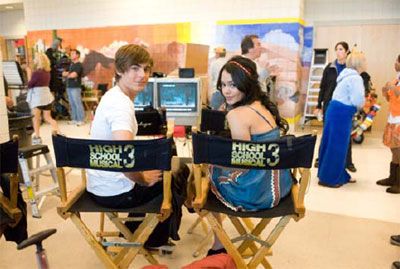 So for the third time, filmmakers utilized Salt Lake City and the real East High School as the feature film's primary location. "'High School Musical' just belongs in Salt Lake City," says Efron. "Right here on this gym floor we did 'We're All In This Together,' so it's good to go 'home' and dance on that same floor."
"This is our home," agrees Vanessa Hudgens. "I walk down these halls and think this entire place is just filled with good memories."
Audiences will recognize the Montez residence and the Bolton house. Production also transformed a real junkyard into a fantasy dance arena. Other locations included the International Peace Gardens in Salt Lake City and the Stanford University campus in Palo Alto, Calif., plus two days of stage work to complete production.
Production had to film at East High School for 15 days while school was in session before summer break started. Location manager Carole Fontana and her team acted as the chief liaison between the production and the school. "We were very conscious of the fact that filmmaking is not the primary business of the school," says Fontana.
East High principal Paul Sagers thought it was great that the students were exposed to a working movie production. "The crew involved us when they could," says Sagers. "When they needed to rent band instruments, for instance, rather than go to a rental house, they'd come to us. When they wanted basketball players, they'd look to our athletes first. About 800 of those 2,000 extras in the gym scene are our students and teachers."
"When kids were curious, we'd let them take a look at what we were doing, to allow them to have a sense of ownership over this movie," says production designer Mark Hofeling.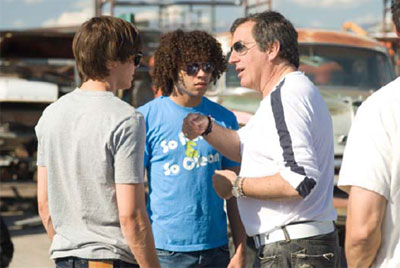 East High School has become the second most popular tourist attraction in Salt Lake City. "Families come here and tour the Mormon Temple and then East High School," laughs Utah Film Commissioner Marshall Moore.
But shooting a big-screen production movie in a real high school presented some challenges, says Hofeling. "My first reaction to reading this script was feeling a little overwhelmed. That anxiety just increased after my first meeting with Kenny. More is more with Kenny.
"He really wanted to reintroduce kids to everything about musical film and musical theatre," continues Hofeling. "We all agreed that if we're going to introduce kids to the song and the dance of the classic Hollywood and Broadway period, why not try to introduce them to a bit of the stagecraft of that time as well?"
According to Hofeling, the ambitious movie features four Broadway musicals. "One would be quite a challenge, especially since we're putting Broadway level productions in a high school theatre... not to mention in a high school cafeteria!"
"The great thing about a feature is that we could let our imaginations run wild," says Borden. "Mark Hofeling really gave us some magical sets-sets that fly in and out and roll across the stage. We have true theatre magic. It's added a whole new dimension."
Adds Ortega. "With this we were going for heightened high school reality. We are definitely somewhere between high school and Broadway."
Theatrical lighting designer Patrick Woodroffe, who has worked with The Rolling Stones, Elton John, Cirque du Soleil and The Los Angeles Philharmonic Orchestra, created the lighting for all the production numbers in the theatre and for "I Want It All," which takes place in the cafeteria.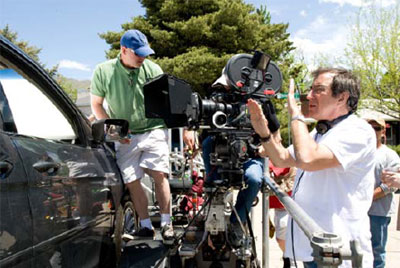 The film's diverse sets inspired filmmakers to flex their creative muscles. "For the cafeteria number, the cue Kenny gave us was Busby Berkeley, a great director and choreographer in the '30s who used to create these epic black-and-white musicals that were astounding," says Hofeling. "It's the glitz and the glamour of Sharpay's imagined New York experience-this girl from Albuquerque dreaming about fame and fortune.
"We took all of the existing color out of the cafeteria-the iconic red is gone," continues Hofeling. "This familiar room becomes a ghost of itself-it's about a big-time girl trapped in small-town high school and she wants out."
Set to "I Want It All," the cafeteria-based show stopper features a menu board marquee with pink neon chasing lights and hydraulic pivoting round tables for the dancers to dance on. The cafeteria ultimately morphs into a theatrical version of Times Square with lighted signs of old Broadway Theater names. It was no small feat, yet crews had only five days to transform the cafeteria from its normal red and white into its fantasy state-and three days to turn it back.
The theatre auditorium at East High was used for many scenes involving multiple musical moments. According to Hofeling, they extended the stage eight feet forward into the orchestra pit, added a proscenium and bought new stage curtains in beautiful Wildcat red. To facilitate the medley nature of the fictional musical numbers done on stage, filmmakers created many flexible sets to punctuate the story beats in each song.
To shoot the rooftop waltz for "Can I Have This Dance," crews had to lift approximately 40 crane-loads of construction materials, skylights, plants and filmmaking equipment to the top of the four-story building. "There's something really magical and separate about the rooftop," says Hofeling. "But Kenny said that they were going to waltz over the entire roof, which meant making a garden space out of almost a whole city block. There was an incredible view with the mountains all around and the valley couldn't have been greener when we were on the rooftop."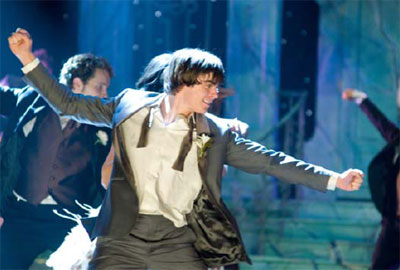 The junkyard set for "The Boys Are Back" number was a unique challenge. Says Ortega, "Mark Hofeling and his art director Wing Lee did a fantastic job. We were actually in a real auto parts yard, but what was created does not have any resemblance of what it looked like on a normal day. They created a junkyard theatre." In addition to vintage cars, the junkyard featured aisles of junk, dirt, broken glass, neon windows and scaffolding. "It's so amazing to walk on a set like this because it's a big playground to us," says choreographer Bonnie Story. "You can rehearse all you want in a studio and you can visualize different levels, but when you bring the choreography into this space it comes alive. Even the costume designer played a role, making the dancers look like they were part of the cars."
Filmmakers used Matchbox toy cars to plan out where cars would be placed. "It's actually a lot more technical than just plopping a car here and there," says Hofeling. "You really have to be thinking about the pace of the music, the choreography and the geography of the place."
Another challenge involved the football field, the locale for the graduation scene. "The grass was mostly dead," says Hofeling. "We made an enormous 24/7 effort-sodding, watering-just to get this grass back in time for our work there."
The last shot for the "Scream" sequence and the last shot of the movie found Efron in a rotating hallway, built to look exactly like the stationary ones at East High. "We wanted the audience to feel Troy's confusion that his world is betraying him," says Hofeling.
High School Musical 3 Senior Year Interview The Story Continueswww.girl.com.au/high-school-musical-3-senior-year-interview.htm
High School Musical 3 Senior Year Castwww.girl.com.au/high-school-musical-3-senior-year-cast.htm
High School Musical 3 Senior Year All Dressed Up on Locationwww.girl.com.au/high-school-musical-3-senior-year-backgrounder.htm
High School Musical 3 Senior Year - Behind the Scenes with the Filmmakerswww.girl.com.au/high-school-musical-3-senior-year-filmmakers.htm