In follow up to her hugely successful single 'Never See Me Cry', Hudson Rose returns with a much anticipated follow up entitled 'One More Kiss'. The catchy pop/country track made its debut at #1 on the iTunes Country Chart and #16 on the All Genres Chart.

One More Kiss' is a fun, upbeat summer song about appreciating the little things in life, having dreams, enjoying every moment and doing it with someone special. 'One More Kiss' is about living without regrets and doing what makes you happy. It's about an ultimate bucket list combined with a fun summer romance.

"Bucket lists can be simple and beautiful or as daring and adventurous as you want them to be – mine has a bit of both. I think the little things can be just (or more) amazing as the big things. While seeing the Eiffel Tower and the Northern Lights are definitely still on the list, with the year we have had, things like kissing in the rain, learning to dance and horse riding at sunset are even more important than ever" Hudson Rose

The catchy country pop track was co-written by Rose with Jackson Beasley, Lyn Bowtell and Jackson James and produced by James and Rhys Zacher. The exquisite music video was filmed and edited by James and Rose.

2020 was a monumental year for Hudson Rose. After signing with Checked Label Services/Kobalt Music Publishing for global representation, Hudson released her debut single 'Never See Me Cry'. Since debuting at #2 on the iTunes chart 'Never See Me Cry' has gone from strength to strength. The single reached #17 on the Music Network Country Hot 50 Chart and was the most played single on ABC Country for three consecutive weeks, after being added on high rotation. Major player KIX Country embraced the track which resulted in #12 chart success.

Hailing from NSW's mid north coast, Hudson Rose has captivated audiences in her local area and went on to impress judges at the 2019 Tamworth Country Music Festival's busking competition, where she was chosen out of hundreds to perform on the festival's main stage as part of their Top 10. She returned the following year, to perform across various venues and gained a supporting slot for Queensland band Homegrown as well as performing with Amber Lawrence.

To co-incide with the single release, Hudson performed at Queensland's inaugural Road to Roma Country Music Festival early March.

Hudson Rose continues to deliver a refreshing sound to country music. Combined with beautiful and imaginative storytelling and solid production, there is distinct magic that surrounds this young artist. Be prepared to be captivated by further releases in 2021.


Interview with Hudson Rose
Question: How would you describe your music?

Hudson Rose: I like to describe my music as 'country pop' although still with some of those traditional country elements.


Question: Can you tell us about One More Kiss?

Hudson Rose: One More Kiss is my bucket list song. I created a bucket list mid-last year when we were all at home, and I wrote a few ideas down which then turned into a song. Things like bungee jumping or seeing the Northern Lights are definitely on my list, although sometimes the little things like dancing in the rain or riding the Ferris Wheel can be just as, if not more, special that create some beautiful memories and moments. This is the idea behind the song.


Question: Is there a particular message you hope listeners take from your music?

Hudson Rose: I would love my listeners to feel something. Whether that is making their day just a little bit better or being able to relate to something personal for them. I think one of the beautiful things about music is that it doesn't matter what someone is experiencing or going through at that time, they can take away something different from listening to the song.


Question: Do you prefer performing live or recording?

Hudson Rose: For me, nothing beats the feeling of performing live. Interacting with the audience and the energy you feel on stage…there's nothing quite like it. In saying that, I do love the magical process of recording new music and creating something you can share with the world.


Question: Which is your favourite song to perform live and why?

Hudson Rose: Original song – One More Kiss. It's fun and upbeat to play. Occasionally I see people recognising the song and singing along (that just makes my day).
Cover – These Boots Are Made for Walking, Nancy Sinatra. I have worked out my own version of this song that audiences seem to respond to really well. Usually, most people will know the words and even get up to have a dance (now that they can!).


Question: What motivates you most when writing music?

Hudson Rose: I try to write songs that are personal to me, while also writing in a way that can relate to a wider audience. This challenge is a motivator for me.
I get inspiration from things that I see, that happen around me and conversations that I have, and write down these lyric ideas in my phone to look at and refer to later.


Question: Which music/artists are you currently listening to?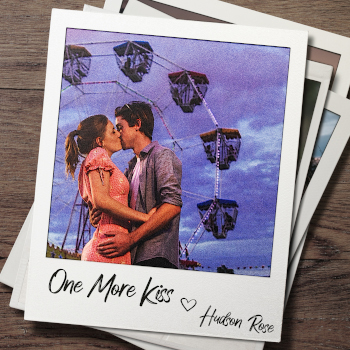 Hudson Rose: I have always been a huge Keith Urban fan, so he is definitely in my playlists at the moment. I have also been loving Josh Kerr, Julia Cole and Spencer Crandall from the States.
Some of my fav Aussie artists right now would have to be Andrew Swift, The McClymonts, Brad Cox and Katrina Burgoyne.


Question: What or who was your inspiration to go into the music industry?

Hudson Rose: The very first concert I attended was a Keith Urban show. I was about 9 years old and remember looking up at Mum to say, 'that's what I want to do!' Ever since then I've been hooked. I got my first guitar for Christmas 2016 and four weeks later headed to the Tamworth Country Music Festival. I could only play three songs on the guitar (terribly), but I still carried the guitar wherever I went.
I have always been a fan of country music because of the stories that it tells. I love the traditional country instruments and love finding ways to incorporate them in modern pop/country music.


Question: What was your first performance?

Hudson Rose: I started out performing at markets and local festivals with my older sister. I also used to perform in Eisteddfods until I was about 15. I have always loved performing and it's always been a big part of my life.
My first gig was at Flow Bar in Old Bar, and I haven't looked back.


Question: If you could collaborate with another artist, who would it be?

Hudson Rose: In terms or writing, I would love to collaborate with Josh Kerr. I love his wring style and would love to gain some hints and tips for different writing ideas.
Performing wise, it would have to be Keith Urban. His shows are so professional and full of energy. It has always been a huge dream of mine to perform with Keith.


Question: What has been your favourite part of becoming a music artist?

Hudson Rose: You get to do what you love every day. Yes, it can be challenging and hard at times, but I think being a musician is such a beautiful job. Whether you're playing at someone's special event, doing your own live show, or even playing in a local pub, you're connecting with people, adding to their experiences and memories.


Question: What advice do you have for aspiring artists?

Hudson Rose: Just keep going. I know that's super clique to say but it's so true. Sometimes it doesn't feel like you are doing anything or moving forward, but if you are putting the time in and taking small steps forward, you need to believe in yourself that everything is making a difference. Planning is something that always helps me figure out where I'm headed and what I'm trying to achieve next.


Question: What's a typical day like?

Hudson Rose: It depends on the day. At the moment I am spending time updating my business plan to create a sustainable, full time business from music. Some days I am planning and booking co-writing sessions, while other days I am confirming gigs and sending emails. It's great to have the flexibility to be able to move and fit things in. I am spending time and working behind the scenes to create more structure and options in the business.


Question: What's next, for you?

Hudson Rose: The plan is…to release a few more singles and then an EP, maybe a tour and look at booking some festivals. I also want to continue to focus on my writing.
Later down the track I would love to visit Nashville and ultimately release an album.


Question: Can you share your socials? (links please)

Hudson Rose: Facebook
Instagram
YouTube


Interview by Gwen van Montfort