Born in Boston, Massachusetts, Indi began dancing at age three and is trained in tap, ballet, hip hop, and jazz funk. With a passion to perform at an early age, Indi was determined to chase her dreams in the entertainment industry. At just eight years old, Indi relocated to Los Angeles and began training at Gray Studios drama school. A few years later, Indi booked her first guest appearance role on the popular web series Teens Wanna Know (2017).

At just 14 years old, Indi is quickly rising to the top with her impressive range of creative endeavors. Best known for playing "Kimmie" in Nickelodeon's Henry Danger, "Brandy" in Betrayed, "Chloe" in My Haunted House, and herself in Q Wonder, she is now a series regular playing mean girl "Paris" in the new Brat TV's series Charmers (premiered on May 27th). Charmers is about a coven of teen witches attempting to defeat an evil demon with their powers that is haunting their camp, Whispering Sky. Indi can also be seen as a recurring dancer in Netflix's popular Dramedy Dead To Me (2020).

Now, Indi is gearing up to release her newest single "Afterglow" set to premiere on June 18th! She also just wrapped filming her role as "Young Vista" opposite Cary Elwes in the upcoming feature film The Hyperions (set to release in 2022).

Formally a member of Kidz Bop USA/Canada where she has toured and performed around the Country, Indi broke out as a solo artist in 2019 and has released 5 original singles to date and has amassed over 2.5M Followers on her social media channels. In 2020, Indi joined popular social media collective Vibe Crew and has also been recognized as part of the popular social media influencer group The Squad collaborating on content with her friends. Indi is extremely active on her Youtube Channel where she posts weekly videos showcasing her bubbly and upbeat personality with videos surrounding fun challenges, funny reactions, and fan favorite pranks!

Along with her many artistic projects, Indi used her voice for change as one of the singers for the theme song of the commercial campaign for Creatable World, Mattel's new all-inclusive doll line. Additionally, Indi has been a lead in national commercials and campaigns with big brands including, Samsung, Marvel, Hasbro, among other national toy companies appearing on Nickelodeon and Disney Channel. Indi aims to inspire Gen-Z and beyond by promoting self-confidence and passion for her crafts. She is also interested in philanthropic endeavors, such as Autism Awareness, Racial/Sexual Equality, and Save The Earth.

Indi has previously partnered with brands such as Nickelodeon, Casetify, Starburst, and One A Day Vitamins. In her free time, Indi loves to spend time doing yoga, Pilates, kickboxing, boxing, weightlifting, cycling, hiking, skateboarding, swimming, surfing, shopping, gaming, dancing.


Interview with Indi Star
Question: How would you describe your music?

Indi Star: I would say my music is definitely pop music! I feel that I have a unique voice and a unique point of view that I pull my emotions and song ideas from.


Question: Can you tell us about Afterglow?

Indi Star: Afterglow is about being in that beginning part of a relationship, when you think everything is good and you always want to be in that moment with that person.


Question: Is there a particular message you hope listeners take from your music?

Indi Star: I hope what they take from my music is to just enjoy life, and never take anything for granted. I hope people can connect with the stories that I tell in my songs and that they can find a way to identify with that story.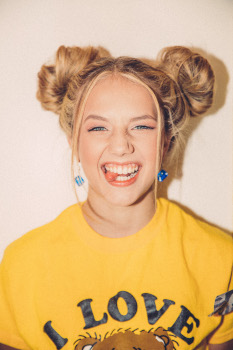 Question: Did you always want to pursue a career in the entertainment industry?

Indi Star: Ever since I was 3 years old, I wanted to be in the entertainment industry. I've always loved dancing, singing and acting. I started dancing in local studios and then once we moved to LA, I pursued singing and acting!


Question: What motivates you most when writing music?

Indi Star: I write a lot about relationships. It really helps me sort out my emotions. My family really motivates me as well. They always have motivated and helped me pursue all of my passions.


Question: Which music/artists are you currently listening to?

Indi Star: Right now, my favorite artists are James Arthur, Olivia Rodrigo, Harry Styles, and Lewis Capaldi!


Question: If you could collaborate with another artist, who would it be?

Indi Star: I have always wanted to collaborate with Ed Sheeran! That would be so awesome!!! I've always loved all of his songs.


Question: What can you tell us about your role of Paris in Charmers?

Indi Star: My character, Paris, on Charmers, is kind of a mean girl. She's also very confident, sporty and competitive. She does have a side to her that not a lot of people see, but that side gets revealed as the series unfolds.


Question: You've achieved so much, can you provide your tips for creating a successful schedule?

Indi Star: It takes a lot of hard work and commitment. Nothing comes quickly or easily! If you ever need a break and just breathe, make sure you give yourself that, remember that you need to take care of yourself, and it never means that you aren't cut out for the job!


Question: What moment in your career stands out the most?

Indi Star: I remember filming for a movie called The Hyperions, and going up to my dad and telling him that this was what I wanted to do for the rest of my life. That moment has always stuck with me.


Question: What's a typical day like?

Indi Star: Every day is different! I may be going to my music studio, headed to set or headed to a location for a photo or video shoot. There is also a lot to do just to keep up with content for all my social media accounts and YouTube! I normally wake up when my alarm goes off (can be different every day) and get ready for whatever that day has in store. If I have some free time, I normally hang out with my friends or just stay home and relax with my family.


Question: What's next, for you?

Indi Star: I have a lot of new songs in different stages of development. I have about three new songs that are fully written and recorded. I'm super excited about that! I'm also hoping The Hyperions, a movie I shot a few years ago, will hopefully be coming out next year! I am really hoping that a second season of Charmers gets ordered by Brat. I had so much fun on that project!


Question: Can you share your socials? (links please)

Indi Star: Instagram
TikTok
YouTube
Website


Interview by Gwen van Montfort