Rising indie-pop artist SANNIA shares her first single since lockdown began 'Love You Like', ahead of her headline show in Melbourne on 21 July. Co-produced with industry heavyweight Oscar Dawson (Holy Holy), the track draws unlikely inspiration from an Amy Winehouse biopic, serving as a relatable heartbreak anthem for anyone who has fallen hard for the wrong one.

The result is a slow-burn bloom of pulsing synths, sharp pop sensibilities and strong, yet contemplative vocals that will disarm you right from the opening hook.

Speaking on the backstory of the song SANNIA said, "I was watching the Amy (2015) film on Netflix and found myself really struck by the story of her ex checking her out of rehab to get high together - I thought about it for days afterwards, how alone she must've felt to only feel whole with a person that was doing irreparable damage, and how isolated she must've felt to walk away from help for the belonging she felt with him.

For me her addiction to her enabler was more heartbreaking than her other dependencies and I think a lot of people have experienced at least one relationship like that. I've definitely been there a few times which is probably why it resonated so deeply with me. I wrote the song and put together the first demo in my bedroom during the second Melbourne lockdown and finished it off with Oscar Dawson (Holy Holy) in January."

SANNIA'S 2018 arrival with her breathtaking debut single 'Go And Get Over' was described as a "watershed moment" by Beat Magazine and a "commanding debut" by triple j's Bridget Hustwaite.

Her unique voice was quickly recognized, winning the nationwide Triple J Unearthed Competition to open for and sing with The Rubens on their Lo La Ru Tour.

Inspired by the authenticity of artists such as Mallrat and Olivia Rodrigo, SANNIA merges her near lifetime of classical music training, with a fiercely independent attitude. Supporting the likes of Tia Gostelow, Eliott, Kira Puru and Mia Wray, she has also earned advance praise for unreleased material, as a finalist in Nashville's International Songwriting Competition out of 26,000 entries.

Having spent 2020 and early 2021 working alongside industry giants Andy Mak (Vera Blue), Ed Quinn (Sycco) and Oscar Dawson (Holy Holy), SANNIA is armed to release an avalanche of music in 2021; in anticipation of her debut EP.


Interview with SANNIA
Question: How would you describe your music?

SANNIA: Sadgirl Pop – I'm your breakup soundtrack so I definitely wouldn't recommend spinning Sannia in the club. In terms of similar artists, I'd say a little bit of King Princess, a little Mallrat and a little Olivia Rodrigo.


Question: Can you tell us about Love You Like?

SANNIA: I would say firstly the writing process around this song was so uniquely 2020-lockdown. I was in full hibernation mode binge watching Netflix when I came across the Amy Winehouse doco (Amy 2015) and the revelation that her boyfriend checked her out of rehab so they could do drugs together stayed with me for days afterwards. I was just walking around the house thinking about that relationship dynamic and the idea of being addicted to something toxic to you; it was an addiction to him – it seemed – more than addiction to drugs. I started writing this song probably the next day and recorded the first demo – which includes a lot of the stems in the final song – in my bedroom. #2020.


Question: Is there a particular message you hope listeners take from your music?

SANNIA: That they're not alone, if something I've written resonates with them, and they've experienced that same thought or feeling that they're not the only one. That was always what made music so important to me when I was younger, hearing about the experiences off others and realising I wasn't so alone even when I felt like I was.


Question: Has Covid19 influenced your music?

SANNIA: If anything, it's made me appreciate even more the nature of playing live. As an introvert I was pretty comfortable staying in my room and producing my own music even before lockdowns began, what I really missed was that in-person connection with an audience and even with my own band! Though I think COVID19 has taught me to get into that writing headspace quicker and not rely on momentary inspiration.


Question: Do you prefer performing live or recording?

SANNIA: I love recording but my favourite thing about being an artist is that live experience; being able to connect with others and there's nothing like everyone in the room experiencing the same moment in music and a shared emotion, it's irreplicable with streams or zooms or IG live, which is why I never really got on bboard with the online gigs. There's just nothing like live music.


Question: What should we expect from your upcoming show?

SANNIA: New music. Two years' worth of it. Our last gig together was at the end of 2019 and I cannot wait to share everything I've been working on in lockdown, it's definitely a new sound too so it'll be interesting to see how it's received.


Question: If you could have anyone, in the world, attend a show, who would it be?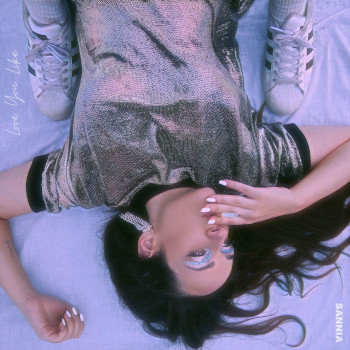 SANNIA: Sam Fender, not only would he be a riot, but I think he might be my favourite songwriter of the decade. The amount of emotion he can bring on tracks like Winter Song and Leave Fast never fails to move me; his voice is out of this world. I'd literally have Sam at a gig just to get him up on stage for a jam and a yarn. Legend.


Question: What motivates you most when writing music?

SANNIA: I wouldn't say it's something that requires motivation, I just love writing, I'm always writing, singing ideas in the car or when I'm walking or working, I was a writer before I was a performer, I think it's something I'll always love to do.


Question: Which music/artists are you currently listening to?

SANNIA: Naturally Sam Fender's 'Hypersonic Missiles' is my go-to album but if we're talking just this month, my current obsessions are Holly Humberstone, MØ, Isabella Manfredi, King Stingray, Mia Wray, Tyne James Organ and (obviously) our new reigning queen Olivia Rodrigo.


Question: What or who was your inspiration to go into the music industry?

SANNIA: I'd never really wanted to do anything else. I was hassling my mum for piano lessons as soon as I was tall enough to reach the keys on her battered old upright. I had zero interest in anything else as a kid, it's always been music for me.


Question: What has been your favourite part of becoming a music artist?

SANNIA: I'm doing what I've always wanted to. I've never looked back and regret it or thought about doing anything else. I love what I do, wouldn't change a thing.


Question: What's a typical day like?

SANNIA: Pretty all over the place! I've got four part time jobs so I could be teaching piano, singing at a wedding, running a music history tutorial or working in retail… As an independent artist there's a lot of costs to cover without the help of label, so I fund my music with those jobs, and spend my nights on my own music. Girl's gotta eat.


Question: What's next, for you?

SANNIA: Releasing lots of new music!! It's nearly been two years since my last release and so much has changed, I can't wait to share this new sound with everyone.


Question: Can you share your socials? (links please)

SANNIA: Absolutely, beers on me if you follow my Spotify account also
Facebook 
Instagram 
Twitter 
YouTube 
TikTok 


Interview by Gwen van Montfort