INIKA Organic has once again been the only 100% natural beauty brand to be invited to NYFW to create makeup looks for the runway shows of not one, but two high-profile designers; Jonathan Cohen and Chocheng.

After a great deal of interest from the success of its SS2019 shows, INIKA Organic chose to work with two designers who embrace cruelty-free and sustainable fashion. Both shows featuring INIKA Organic makeup artistry were completely free from fur and feathers, with the Chocheng show being 100% natural.

With two contrasting looks created for each designer, the first show to feature INIKA Organic was Jonathan Cohen. With a legacy of creating pieces inspired by Mexico, a hint of modern Manhattan and a laid back attitude of California, Jonathan Cohen's SS2020 show was all about bright patterns and bright makeup to match. With lead makeup artist Yuki Hayashi at the helm, INIKA Organic brought Jonathan's vision to life with all NEW limited-edition colours curated especially for the Jonathan Cohen Runway.

The Jonathan Cohen SS2020 Runway Look:
This show was big, bright and bold. Bright pops of INIKA's 100% natural eye colours stole the limelight and were teamed with INIKA's timeless bases, brows, lashes and lips to bring the entire look together.

Products used:
INIKA Organic Certified Organic Liquid Foundation with Hyaluronic Acid
INIKA Organic Certified Organic Perfection Concealer
INIKA Organic Long Lash Mascara in Black
INIKA Organic Loose Eyeshadow Pigment in Blue Cobalt (coming soon)
INIKA Organic Cream Eyeshadow in Vivid Yellow and Hottest Pink (coming soon)
INIKA Organic Lipstick Crayon in Pink Nude
INIKA Organic Eyebrow Pencil
INIKA Organic Cream Illuminisor in Rose

The second show saw INIKA Organic create a contemporary take on a 60's natural chic look for womenswear designer, Chocheng. Chocheng's SS2020 draws inspiration from 1960 mystery thrillers Plein Soleil and Midnight Lace. It takes retro wardrobe references and reimagines them for the modern woman. Neutrals, tones of pink, candy stripes, monochrome and coral red worn with wood framed sunglasses, straw bags and platform espadrilles bring a fresh summer femininity to the season. Lead MUA Campbell Ritchie brought Chocheng's vision to life by using the most natural and elegant shades of pink in the INIKA Organic collection, inspired by Jackie O holidaying in Saint-Tropez.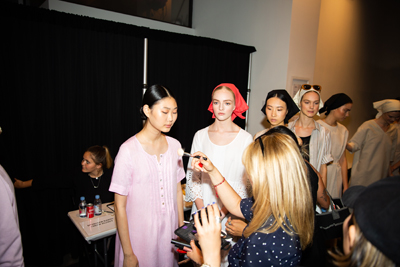 The Chocheng SS2020 Runway Look:
INIKA's natural pinks and peach tones were used to create a naturally stunning modern 60's look teamed with INIKA's bases, brows, lashes and lips for a flawless finish.

INIKA Organic Rosehip Oil (on bare skin for a hydrated and plump look)
INIKA Organic Certified Organic BB Cream
INIKA Organic Light Reflect Cream
INIKA Organic Brow Perfector
INIOKA Organic Perfection Concealer
INIKA Organic Baked Blush in Pink Tickle
INIKA Organic Baked Contour Duo
INIKA Organic Bold Lash Mascara in Black and Brown
INIKA Organic Certified Organic Lip Glaze in Blossom
INIKA Organic Vegan Lipstick in Cherry Blossom
INIKA Organic Cream Illuminisor in Gold
INIKA Organic Blush Puff Pot in Rosy Glow
INIKA Organic Mineral Mattifying Powder

Image credits for Jonathan Cohen is Maria Solorzano
Image credits for Chocheng is John Castillo Photography