From their beginnings, as tiny infants, the members of IRiS have come a long way. They may not be as cute or cuddly these days but they make up for it by being able to hold and play their own instruments. The temper tantrums and prolonged periods of crying have been cut right down to a minimum too.
Front man Brett Collins has traded in his "My First ABC" for a songbook brimming with his fully formed melodies and insightful lyrics. In addition his mumbled garglings have bloomed into a strong, soaring singing voice.
Kit Riley and Brendan Smith have given up on eating craft adhesives behind their teacher's back and now hold the band together with their rhythmic glue; Brendan providing the taut drumming and Kit the powerhouse bass lines. Aaron Laguda is now out of his training pants and rounds out the band with his melodic riffs on lead guitar.
They have recently recorded their self-titled EP with acclaimed, international Producer Cory Churko. The disc contains five accessible and upbeat pop rock songs. The band show glimpses of the West Coast jingle jangle of The Byrds, the classy new wave of Tom Petty and the Heartbreakers and the classic Australian rock of INXS. They tie their influences together to create their own fresh, mellifluous sound.
Their recent energetic live sets treat their enthusiastic and dedicated fans to the current tracks interspersed with a few old favourites. Their performances showcase their potential perfectly; from uplifting anthem Home to radio-loving favourite S-Town to the campfire sing-a-long and strummed acoustic guitar of All I Wanted.
Prepare to go gaga for IRiS, their time in the sun has come.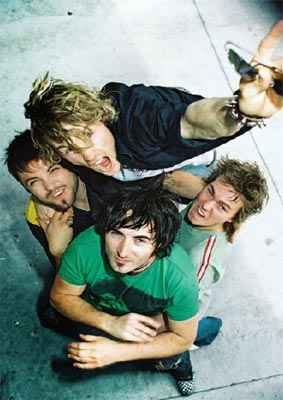 Iris Band Members:
Brett Collins - Lead Vocals / Guitar
Aaron Laguda - Guitar / Backing Vocals
Kit Riley - Bass / Backing Vocals
Brendan Smith - Drums

Brett Collins Iris Interview
1. How did it feel to hear your song played all over the airwaves?
It should be on more dagnabit! hehe its an awesome feeling - although admittedly a little weird, I just assume I must've put the CD on or something
2. Did you have any pre-conceived ideas about the music industry?
Well, that it's an industry, and making commercial music means there's a lot of people that treat it like a business, which is a strange thing when it comes from such a personal place
3. Do you write your own songs? What's your inspiration?
Absolutely! Inspiration comes in all shapes and sizes, but essentially out of anything that generates passion, whether it's passion about a person, or an inner struggle, or a passion to eat - who cares!
4. What music/artists do you listen to when you are not playing your own?
Lots of different stuff .. lately I've gotten into this NY band called Chromeo .. very funky dance stuff which im not normally all that into, but they're very cool
5. What's next? Tour/Album/Single?
Quite possibly a tour around March, all things going well!
6. Was there a moment you contemplated throwing in the towel?
No chance. Out of adversity normally comes opportunity, if you look hard enough ;)
7. Do you prefer performing live or recording?
Tough one .. they're both so rewarding in different ways. There is a buzz you get from live performance that's unlike anything else tho
8. What/who was your inspiration to go into the music industry?
A busker that transformed my life ... just a simple guitar and a voice, he'll never know the impact he had..
9. What is the biggest challenge you have faced along the way to your musical success?
The people that don't realise my genius.. haha just kidding, keeping the financial head above water is definitely a challenge
10. What's a typical day like?
Any combination of gigs, rehearsals, writing, procrastination, frustration, euphoria and assorted errands
11. What has been your favorite part of becoming a music artist?
Free drinks! hmm, would it be too gay to say the music? yeh, it probably would be .. how about, answering quizzes like this one
12. If you could collaborate with another artist, who would it be?
Anyone that shares the same sort of musical vision, and is fun to be around
13. Are you single? What do you look for in a partner?
yeh ...... hmm I guess I look for someone honest and intelligent who can make me laugh and looks hot! hehe
14. Do you have a website fans can visit?
Sure thing - http://www.myspace.com/irisband
15. Can you tell us 5 things required for a happy healthy & enjoyable life?
Be true to your word, always be ready to learn something, be generous, respect people's time and love whenever you can
16. What message would you like to say to your fans?
You guys are the ones who make doing what we do possible, thankyou so much for your support and much luv to you all :)
17. What is the story behind the bands name?
The best music is honest music, and eyes are the window to the soul - hopefully the name IRiS will always remind me to be as truthful as possible to what's being created
60 Second Quiz
Full Name
: Brett Collins
Nickname(s)
: Iris, Bretty, Bretto
Star Sign
: Sagitarius
Music Talent
: Vocals, Guitar, Keys
Favorite Food
: Pizza
Favorite Film
: Anchorman
Favorite Actor
: Al Pacino
Pet
: Tiny Toy Poodle
Describe yourself in 3 words
: always learning something
Best Feature
: probably my eyes
Worst Feature
: stubbornness
Person You Would Most Like to Meet
: Michael Jackson (80's version)
Hobbies/Interests
: movies, squash, flying, drinking
First Job
: washing heavy machinery
Are you a Pub, Bar or Club kind
: bar
What Can You Never Leave Home Without
: ipod!
What is the first thing you think of when you wake up in the morning
: have I missed anything?!
Hometown: Melbourne
myspace.com/irisband
www.musicbiz.com.au