S CLUB 7 is back - adding a little Sunshine into your lives!
7 has always been a very special number: The 7 Wonders of the World, The Magnificent Seven, seven days of the week. But over the past three years that lucky number has been extra-special for S Club 7, currently the UK's foremost chart topping and TV acting international pop phenomenon.
Poised to release their third album, 'Sunshine', on November 26th, S Club 7 have already chalked up 7 top three singles (including the number ones 'Never Had A Dream Come True' and 'Don't Stop Movin'', which incidentally hit the top spot twice) and a number one album (last year's 7.)
Add to this winning the Best British Newcomer Award at the BRITS 2000, their massive sell-out summer arena tour and scoring a US top ten single with 'Never Had A Dream Come True' (making S Club 7 one of the only UK pop acts to successfully crack the all-important American market,) it comes as little surprise to discover that the 7 have already sold over 10 million records worldwide. The word 'phenomenon' suddenly begins to sound something of an understatement!
Particularly when you also consider that S Club are also seven of the UK's most successful YOUNG actors. Their TV series Miami 7 (1999), LA 7 (2000), S Club 7 Go Wild (2000) and Hollywood 7 (2001) and several one-off specials have not only snatched peak viewing figures in the UK, but they've also been watched, freeze-framed and replayed in over a - staggering -- hundred countries worldwide.
Personality is key to S Club 7's global success. Unlike other pop outfits, this group offer that special something. They have that special X-factor which makes them stand out from the crowd.
RACHEL STEVENS, the former PR and model tops the polls as Most Fanciable Female in lads' mags throughout the UK. Then there's JO O'MEARA, the blonde with a taste for tattoos and one of the most incredible voices in pop today. TINA BARRETT was dancing virtually before she could walk, with eight years of classical dance training behind her, while HANNAH SPEARRITT, has a CV, which boasts singing, acting and modelling among her many talents.
As for the lads, JON LEE's packed into his 19 years more than most fit in their lifetime: a stint in EastEnders, the lead in Oliver! on the West End stage and various other radio and TV work. Meanwhile, with PAUL CATTERMOLE, you can always expect the unexpected: he's a trained actor and singer, a major rugby fan and has even fronted a couple of rock bands. Finally there's BRADLEY McINTOSH; S Club 7's laid back, soulful dude who's been writing and producing music all his life.
2001 has already been a remarkable year for the 7, but things certainly aren't about to stop just yet. While Hollywood 7 (which contains the first inter-S Club kiss,) tops the children's TV ratings, the band have recently released their second single in aid of BBC Children In Need, Have You Ever. This year's single has a twist though: with the aid of school children and BBC Local Radio listeners from across the country, S Club hope to enter the record books by featuring the greatest number of people singing on one hit song.
So, while 'Have You Ever' heats up the charts, S Club 7's new album, 'Sunshine', will raise the temperature to boiling point. And if you thought you knew S Club, think again - this 15-track collection shows just how diverse and unique the group can be.
"Yes, it's more S Club pop, but it's also a lot more mature as we've all grown as performers since our last album. 'Sunshine' doesn't sound like anything else out there and we're all extremely proud of it," says PAUL.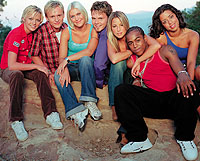 And he's right. Together with long-term contributors Cathy Dennis, Simon Ellis and Stephen Ellis, plus several other premier writers and producers (including Lucid and Murlin) the group have put together a multi-ranging selection of classic cuts which hang together like a greatest hits collection.
Choice dance grooves, ('Don't Stop Movin'', 'Dance, Dance, Dance', 'Stronger'), sit comfortably alongside the ballads 'Never Had A Dream Come True', 'Sunshine' and 'Have You Ever', while the up-beat Motown-infused 'You' (SC7's next single) and 'It's Alright' are, in RACHEL's words, "exactly what S Club is all about."
This album holds some welcome surprises too. BRADLEY and PAUL both earn co-writing credits, while each group member gets to sing lead vocals on a track of their own. "It was great," JON recalls, " we each had to choose a solo song and were then given the freedom to perform it in our own way."
With the album already receiving widespread acclaim, S Club 7 certainly aren't about to rest on their laurels. The band are already in rehearsals for S Club Carnival, their second major UK tour next spring.