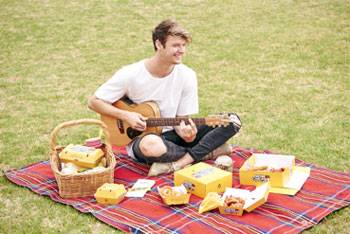 "Yes! Yes!"
Yes to super succulent crispy fried chicken. Yes to their first Sydney store, opening this December at Macquarie's very own Macquarie Centre!

And Yes, to their new fried chicken ambassador, YouTube star Jacko Brazier!

Translating to "Yes! Yes!" in Korean, NeNe Chicken is proud to announce that Aussie larrikin; Jacko Brazier has jumped on the NeNe Chicken train as their newest Ambassador!

Jacko will be joining the Sydney NeNe Chicken team this December 16th from 12-2pm for an in-store meet and greet whilst giving away free NeNe chicken to their new Sydney customers.

"I've always wanted the opportunity to wear a chicken suit and now I get to do that and spread the word about NeNe Chicken. i'm really excited to launch NeNe Chicken's newest store in Macquarie, NSW and I know that both my followers and the larger community will love it," Says Jacko.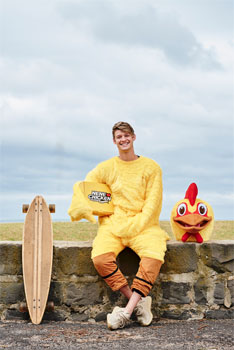 Made to order, NeNe Chicken Sydney will have a variety of crunchy, juicy fried chicken coasted with various mouth-watering selections of palate popping sauces straight from Korea. From Original, Swicy, Freaking Hot, Snowing Cheese to Snowing Vegetables and Bulgogi; NeNe Chicken offer more fried chicken flavours for customers than their competitors. Expect farm fresh poultry that undergoes 16 hours of marinating and a crispy secret formula batter mixture.

Cult classics like the Kimchi Wraps, Orginal and Kimchi Burgers, Chicken Wingetttes and Drumettes are sure to please, while the new Crunchy Fusion Tacos offers a Mexcian flair on NeNe Chicken's traditional Korean flavours.

NeNe Chicken have created a range of sides that compliment their exceptional flavours – onion rings, cheesy mayo chips and original and fiery cheesy sticks.

With locations across Australia, Sydney Korean fired chicken lovers will soon be able to get their fix of crispy NeNe Chicken. The new store will turn the bustling Macquarie Centre into the newest hub for fired chicken.

For more details about the NeNe Chickens first Sydney store or details about NeNe stores nationally visit: www.nenechicken.com.au.



Interview with Jacko Brazier
Question: How would you describe yourself?

Jacko Brazier: Creative, out there, sanguine and fun!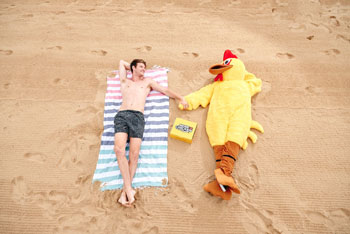 Question: What's a typical day like, for you?

Jacko Brazier: Traveling around, maybe getting on a plane, attending events, thinking of ideas to film or writing/recording some music.


Question: What originally inspired your passion for YouTube?

Jacko Brazier: Comedy, Jim Carey and other creators.


Question: Where do you find your inspiration for creating video content?

Jacko Brazier: Watching other videos and just experiencing everyday life!


Question: What advice do you have for young Australians who aspire to become YouTubers?

Jacko Brazier: To just give it a go. The hardest thing is filming the first video but once it's out there your confidence builds and your good to go.


Question: Which other YouTubers are your favourite to watch?

Jacko Brazier: David Dobrik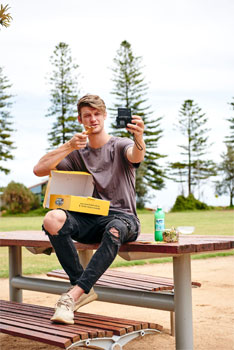 Question: How do you switch-off from social media?

Jacko Brazier: Music.


Question: What do you love about NeNe Chicken?

Jacko Brazier: Who doesn't love fried chicken? I'm pretty lucky to be an ambassador for my favourite fried Chicken store.


Question: Why did you decide to become the NeNe Chicken ambassador?

Jacko Brazier: Because of the synergy between myself and the brand - it's fun and outgoing - I love chicken! Nene is an exciting brand to be a part of and I'm thankful they have chosen to work with me.


Question: What's your favourite NeNe Chicken product and why?

Jacko Brazier: Cheese sticks, I love cheese (laughs)!


Interview by Brooke Hunter