You may know Jessica Braithwaite as the bubbly Nine Network TV presenter and musician. Throughout her various musical projects including folk band Gemini Downs she has played the Big Day Out, The Ashes and Civic Park for forty thousand people. But she's most at home singing around a campfire in her track pants, telling stories and drinking warm wine from a paper cup.

Jessica has released the moving pop single and video "Feel This Way". Co-written with multi-platinum writer Jesiah Dzwonek (Cool Kids, Echosmith), "Feel This Way" is a joyful protest anthem. It rallies against the pressures and divisions of life in 2020.

"I know social media is meant to connect us, but sometimes it feels like we are more divided than ever. Who are we all trying to impress anyway? And when did we stop listening to each other?" - Jessica Braithwaite

Jessica simply couldn't believe it when Hollywood heavyweight producer Stuart Brawley (Michael Jackson, Seal, Cher) emailed, wanting to work with her. Before long she was taking her parents along for the ride to LA to complete her musical vision. The writing process through to recording was a thrilling experience as she explains, "I'm still buzzing from it. It was an opportunity to write with some of the industry's most successful songwriters. I'm used to recording demos in my brother's bedroom with his dogs barking in the background. How the hell did I end up at Larrabee Studios, West Hollywood, the recording home to Madonna, Bruno Mars and Snoop Dog? I bumped into Manny Marroquin in the kitchen (yes THE eight time grammy award winning Manny Marroquin who mixed Kanye West, Lizzo and Sia) and we chatted pleasantly over tea. It was totally surreal."

Adding to the all star cast, One Direction live drummer Josh Devine stepped in when the original drummer pulled out at 10pm the night before. Josh saved the song, and fills out the musical lineup alongside Stuart Brawley (Don Henley, Michael Jackson, Rolling Stones) on keys.

"I want it to be uplifting for those of us who can feel a little down about life sometimes. If one other person listens to this song and finds a sense of energy or gratification within themselves, I'll be so happy." - Jessica Braithwaite

Jessica's original songs have been played on Triple J, The Hit Network, and the ABC. But more meaningfully, she's taught music to orphanage and hospital bound children on the South Africa/Zimbabwe border, and is a Save The Children ambassador.


Interview with Jessica Braithwaite
Question: How would you describe your music?

Jessica Braithwaite: It's unashamedly pop, with a joyful vibe. But it's also thoughtful, and I hope people find it inspiring.


Question: Can you tell us about Feel This Way?

Jessica Braithwaite: Feel This Way is a protest song against the way society can make us feel like rubbish sometimes. So many of us are overworked, stressed out, and getting bombarded with images that make us feel down. From the billboards that tell us we need to buy things to be happy, to the magazine advertisements that make us feel ugly, to social media which can make us feel like everyone else's life if perfect - except our own.
Feel This Way is a plea, or a hope, that we don't have to feel this way. We can choose an alternative path to happiness by connecting with the magic already there within ourselves.


Question: Do you think social media influenced your music and/or lifestyle?

Jessica Braithwaite: Social media is a double edged sword. It's the main way I can communicate with my audience and share my music.
But at the same time, it makes me anxious. I often find myself comparing myself to other people on social media, or getting really fed up at the unrealistic standards portrayed by mummy bloggers and influencers.
In the Feel This Way film clip (see below), I highlight that not everything we see on social media is real. We even faked a live concert to prove this point. It's a reminder that we shouldn't be so hard on ourselves. I'm so thrilled that people are taking such a positive meaning from it.


Question: Is there a particular message you hope listeners take from your music?

Jessica Braithwaite: I hope people feel inspired to find happiness from within, as opposed to seeking it from external sources. I'm always overjoyed when someone writes to say my song helped them feel better or deal with a personal challenge.
The film clip has been awesome because women in particular are really getting the point about not having to compare ourselves to others on social media. When it ended up in the British tabloids, I knew I'd really struck a chord and the message was resonating with a lot of people. To know I'm helping people is an incredible feeling.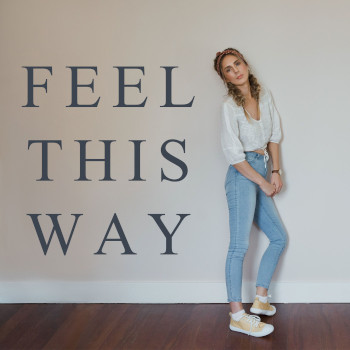 Question: Tell us about working with Stuart Brawley?!

Jessica Braithwaite: This was a dream. If I didn't have the music to prove it, I probably wouldn't even believe it happened myself! When I received an email from Stuart inviting me out to LA to record with him, I half thought it might have been some kind of joke. Why would someone who's worked with Michael Jackson and the Rolling Stones want to work with me? But it turns out, Stuart had heard something in my demos that spoke to him. It was real. And recording with him in LA was one of the most incredible experiences of my life. I worked with world class song writers, and even recorded in the same studio as Taylor Swift, Mariah Carey and Madonna. I also learned so much about song writing and how to use my own voice in different ways that I didn't know I could.


Question: Do you prefer performing live or recording?

Jessica Braithwaite: Hands down recording. I love the creative process of writing, building, developing and bringing a song to life. I can be sitting there in my track pants, drinking tea, collaborating with others and having the time of my life.
Performing is different. Being a worrier, there are so many more things to worry about. Will I perform OK? Is the crowd enjoying themselves? What are people thinking? What if I sing off pitch? I hope to overcome this so I can one day enjoy performing as much as I do recording.


Question: Which is your favourite song to perform live and why?

Jessica Braithwaite: I have this song where I put tap shoes on my feet and do tap dancing percussion on a sound board while my brother plays the mandolin. It goes off whenever we play it live and it's such a thrill to be up there jumping around, driving out the beat with my feet.


Question: What motivates you most when writing music?

Jessica Braithwaite: Writing music is almost therapy more than anything else. It's my way of processing the world or emotions. Sometimes it feels like the song was already written subconsciously inside me without me even realising. And then when I pick up the guitar, it all comes tumbling out of my mouth. It's a very personal experience. Which is why I get so nervous when sharing my music with the world!


Question: How does it feel to hear your song played all over the airwaves?

Jessica Braithwaite: It still blows my mind. I love thinking about all the different things people are doing when they hear my song, Some people send me photos of themselves listening while in their car, or working out at the gym, or dancing around at home. It still boggles my mind that something that began as just thoughts inside my head can be shared and enjoyed by so many people.


Question: You've achieved so much, can you provide your tips for creating a successful schedule?

Jessica Braithwaite: Gosh I'm the worst person at creating a successful schedule. My life is a mess with so much happening! When things get really full on, my motto is "prioritise and execute" - which basically means put all the things you need to do in order of what needs to be done first, then just smash through the list as fast as you can! This often means things like doing the washing get left until the very end!


Question: What has been your favourite part of becoming a music artist?

Jessica Braithwaite: Hearing the responses from people who've found meaning in my music. When I released Feel This Way, people wrote to tell me how it had helped them in their lives. And when I released the film clip (which has a heavy focus on not needing to meet unrealistic standards portrayed online) women were writing to thank me. Some sent me photos of themselves at home in their pyjamas with their babies, in solidarity of what life is really like as a new mum. Teachers have been asking me if they can use the film clip to teach their students about social media. It's moments like that that make me feel I'm really having an impact.


Question: Can you tell us a little more about Save The Children?

Jessica Braithwaite: A few years ago I moved to South Africa to teach music and volunteer at a health clinic and orphanage near the Zimbabwe border. I learned so much about the positive difference each person can make in the world. When I returned home to Australia, I wanted to continue helping, so I teamed up with Save The Children as an ambassador. Some people might not realise, but Save the Children also do great work right here in Australia, from our outback Indigenous communities, to our capital cities and neighbourhoods that might be right near you!


Question: What's a typical day like?

Jessica Braithwaite: I wake up early with my 2 year old son Donovan and spend the mornings with him, eating breakfast, going for a walk or reading books. Then it's off to work as a TV presenter at Channel Nine. I spend my days writing scripts, looking at weather maps and doing live crosses from various locations - often out in the elements.
When I get home, my little boy is often already asleep, so I sometimes just stand in his room and watch him sleeping!
Music is an escape for me. If I can find 15 minutes to sit down at the piano without anyone else demanding of my time, I consider myself a very lucky lady.


Question: What's next, for you?

Jessica Braithwaite: This is not going to sound very 'rock and roll', but I just want to sit down and have a cup of tea and a big relax! The whole process of releasing music, seeing the responses and even ending up in the British tabloids has been totally overwhelming. I just want to sit down with my guitar and write music and spend time with my family for a little while.
At some stage I'll release the next song from the Hollywood sessions, but I'm in no hurry. I want to enjoy the process.


Question: Can you share your socials? (links please)

Jessica Braithwaite: Instagram
Facebook
Twitter
Tiktok (I've literally just joined!)


Interview by Gwen van Montfort