The Australian pop-soul singer/songwriter, Joel Adams, who is originally from Brisbane has released his highly anticipated new single, Sick World.

Joel Adams exploded to stardom back in 2015 when his self-released debut single Please Don't Go become a global and viral hit. The song has been streamed over 500 million times and placed Joel on Spotify's 'Top 20 Under 20' to watch out for. Since then, Joel has spent time in the studio focusing on more music and was living in Los Angeles where he released Fake Friends, a single with Ryan Tedder, and an EP which has been streamed over 31 million times. On top of this, Joel also participated on NBC's primetime national series, Songland, where he performed his original song Hate Love.

Due to the current global pandemic, Joel has returned to Australia where he has been busy writing and recording. The new single, Sick World, reflects on many of the issues the world is presently facing and was written when Joel was in his first week of quarantine, having just landed back in Australia during the beginning of COVID-19 outbreak when the whole world seemed anxious and stressed.
Joel was shocked at the way the world and society reacted when faced with a grave situation. The selfish acts of panic buying so people were unable to buy their daily living essentials and how divided many people became when it would have been more beneficial to unite, was disappointing. The concept for Sick World initially began as a song about how the virus plagued the world in more ways than just sickness, but then as more happened in 2020 it opened Joel's eyes to many other larger issues taking place globally and how society repeatedly chose to become divided instead of united.
Joel says, "The lyrics in the chorus - It's a sick world but it got much sicker when we lost ourselves - ring true now more than ever with the way social media and technology has evolved so quickly. We rely so much on instant gratification and have becoming impatient and self-centred in an ever-increasing way. On one hand, we have evolved socially and economically but on the other hand we are still so lost in so many ways ethically. I think 2020 has reminded us just how far we still have to go."
Interview with Joel Adams
Question: How would you describe your music?

Joel Adams: A musical soap opera


Question: What inspired your new song Sick World?

Joel Adams: I was inspired to write Sick world during my first week of quarantine in Australia. I'd just gotten back to Brisbane from LA and everything was so hectic. People were panicking, fighting, storming grocery shops it was such a crazy time. I didn't really know how to process it all so usually when that happens I turn to songwriting.


Question: Is there a particular message you hope listeners take from your music?

Joel Adams: I think with this song in particular I just want people to look at themselves and the way they have handled this crazy year. Are they being as empathetic and understanding as they could be to others that oppose their views? I think we need to listen to each other more and stop fighting. This year has shown had divided we all are and we need to have more respect and understanding towards each other.


Question: Are you happy to be back in Australia during the pandemic?

Joel Adams: I am very lucky to be back here in Queensland especially. We've all been very fortunate to not have had the number of cases that other countries have had. I've been able to use this year reflect, grow and reconnect with family, friends and my core values.


Question: Can you tell us about your performance on Songland?

Joel Adams: Songland was a great experience. I was lucky enough to perform in front of 3 of the best songwriters arguably ever. And fortunate enough to hear there critiques and grow more as not only a performer but a songwriter as well.


Question: Do you prefer performing live or recording?

Joel Adams: I think it honestly depends which one you are doing more of at the time. When I'm in the studio for too long I start to crave performing. When I'm on the road for too long I want to go hide in the studio it's a catch 22!


Question: Which is your favourite song to perform live and why?

Joel Adams: My favourite song to perform is a song I haven't released yet called 'Gentlemen'.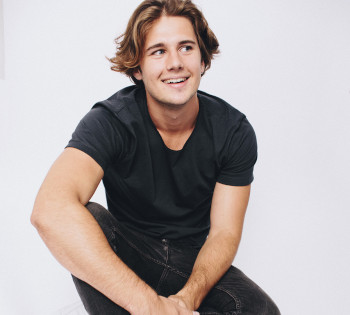 Question: If you could have anyone, in the world, attend a show, who would it be?

Joel Adams: Ed Sheeran


Question: What motivates you most when writing music?

Joel Adams: Usually I'm motivated by a life experience or I'm searching for something. Music to me is very therapeutic and spontaneous. Sometimes I won't write for months and then in one day I'll write 5 new songs. Its something that can't be forced kinda like fishing! Sometimes there's just no fish in the lake.


Question: Which music/artists are you currently listening to?

Joel Adams: Right now I'm into this Irish singer Luz. She's got one of the best voices I've ever heard it comes from a real honest place and she's also an incredible writer. I also am really into a local band Selfish Sons and there track Spy glass.


Question: What or who was your inspiration to go into the music industry?

Joel Adams: I always wanted to do something I loved for a living. Music just happened to be the thing I gravitated to. Once I start a hobby it becomes an obsession and then it becomes my entire life. I didn't really have a choice it was music or nothing. In all honesty though I'm just doing it for the cash.


Question: What's a typical day like?

Joel Adams: I usually wake up answer some emails head to the studio maybe play some golf before or go to the beach. After studio I go train then head out for dinner with some mates. My typical day usually changes though sometimes I'll be working till 4 am some days I'll finish early just depends on what I'm doing in the studio.


Question: What has been your favourite part of becoming a music artist?

Joel Adams: The most inspiring thing is the possibility that someday someone might hear a song of mine and decide that music is something they would want to pick up. It's such an incredible art form and you get such a rush especially when you start out learning new songs on guitar or piano everything is an adventure.


Question: What's next, for you?

Joel Adams: What's next is new releases and collaborating. I've been lucky enough to run into some really talented Aussie artists since I've been back and I'm super keen to get stuck into writing with them. As for me I'm not pumping the brakes it's full steam ahead on new music out as soon as a possible and then touring!


Question: Can you share your socials? (links please)

Joel Adams: Instagram
Facebook
Spotify


Interview by Gwen van Montfort