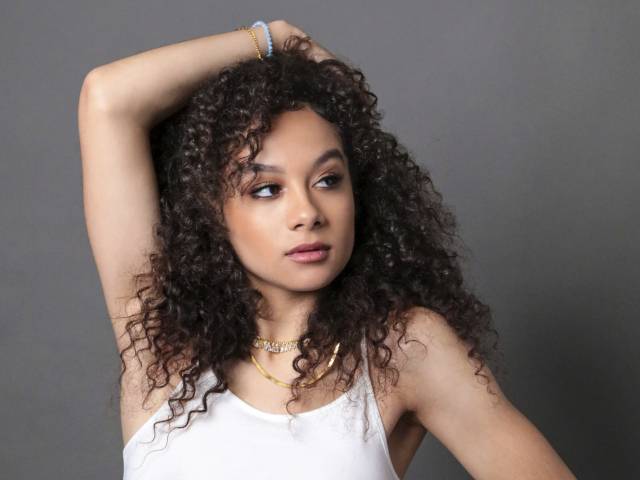 Kayden Muller-Janssen will next be seen starring in her breakout role on Disney Channel's latest highly-anticipated series. The story follows teenage supervillain Havoc who is forced to relocate to a Texas suburb with her family under a new identity as "Amy Madden" after standing up to the League of Villains. Muller-Janssen plays Hartley, Amy's outgoing classmate and neighbor who unknowingly befriends the villainous Madden family. The cast also includes James Patrick Stuart, Lucy Davis, Isabella Pappas just to name a few.

A multi-talented performer, Muller-Janssen has also made a name for herself as a talented singer-songwriter with her deeply personal songs about relationships, self-worth, and empowerment . Her debut single Kiss Kiss Baby landed a #1 spot on Radio Disney and was a top 5 most requested video on Music Choice along with her song Walk. She recently released her latest single You're Just A Boy.


Interview with Kayden Muller-Janssen
Question: Where did your love of performing come from?

Kayden Muller-Janssen: I think my love for performing is something that always felt natural to me. It runs in my genes. Many of my family members on my Mother's side, are dancers and musicians. I have a cousin who is a theatrical performer and produces his own plays, and my Grandma was always singing around the house. When I was young my Mom allowed me to try many different sports and activities, so I was able to find what interested me. I gravitated more towards acting and singing, it wasn't long after that I began my career in the entertainment industry.


Question: Can you tell us about your role in 'Villains of Valley View'?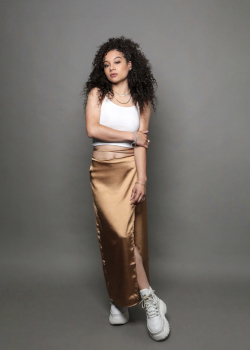 Kayden Muller-Janssen: Hartley is Amy and the Madden familys' new neighbor who ends up becoming a close ally and helps them pretend to be a normal family. She is a very fun character to play! She's open-hearted, always positive and likes to see the good in people, almost to a fault. Hartley definitely doesn't like to lie, which becomes a struggle for her once she meets Amy and the Maddens. I think Hartley's purpose is to really balance all of the evil that the Maddens bring with her crazy but good personality. She also helps guide them to become better people.


Question: What is your favorite part of filming?

Kayden Muller-Janssen: My favorite part of filming would have to be getting to use some of the pretty cool villain weapons as well as doing stunts! I've learned so much being on set about how coordinated everything has to be from the acting, to the stunts, and the special effects. It's awesome to see all the action behind the scenes!


Question: What were some challenges you faced on set?

Kayden Muller-Janssen: I am a perfectionist and don't like making mistakes. I would have to say a challenge I faced on set was to not be too hard on myself. So, it was a little intimidating at first to act alongside my cast mates who all have so much more experience than myself. Luckily that didn't last long, everyone on set was super supportive and made me feel right at home.


Question: Do you have a screen industry role model?

Kayden Muller-Janssen: My on screen role models would have to be Halle Berry, Charlize Theron and Zendaya. They are extremely talented, iconic, female powerhouses in the entertainment industry that I have always looked up to.


Question: Your debut single 'Kiss Kiss Baby' landed a #1 spot on Radio Disney, can you tell us about your passion for singing/songwriting?

Kayden Muller-Janssen: I always loved to sing and perform for my family growing up, so I think it's something I've always had a passion for. I was always a bit of an oddball, marched to my own drum, and had a strange fashion sense. For that, I was bullied a lot. I dealt with how I was feeling and coped with those situations through music and writing, that's how I found out I had a real passion for singing.


Question: Will we hear any of your songs in 'Villains of Valley View? Maybe a dream goal for future episodes?

Kayden Muller-Janssen: Oh! I hope so one day! None of the songs I've written are in the show, but who knows… Maybe there will be a bit of music somewhere throughout the season.


Question: Where does your music inspiration come from?

Kayden Muller-Janssen: It is hard to say where exactly my inspiration for music comes from because I draw from many different places. My favorite genres are soul, R&B, and pop, but, I have an appreciation for all types of music and try to contribute that in my own music as much as possible.


Question: As a multi-talented performer, where do you see your career heading: screen or music?

Kayden Muller-Janssen: Well, I love them equally so I wouldn't ever be able to choose just one. For now, I am working on both simultaneously and hope it stays that way for a long time.


Question: Can you share your socials?

Kayden Muller-Janssen: You can find all my socials under @Kaydenmuller!