A native of California, Kelianne is a 24 year old Actress, Singer, Dancer, and Gymnast that is quickly rising to the top! To date, she has created a fanbase of over 12-Million fans and 400M views across her multiple social media platforms! Known for her incredible gymnastics abilities, Kelianne was previously a member of the U.S. National Acrobatic Gymnastics Team and competed in the World Championships. Previously a member of The Hype House and the Triller Compound, Kelianne is became extremely popular on her TikTok account, with 9.9 Million followers. Her fans love her videos of popular dances, doing gymnastics tricks, and her beauty tips.

Raised 70 miles outside of LA, Kelianne comes from a very musical family and grew up performing. Since her father and older brother are multi-instrumentalists in multiple bands, Kelianne became a multi-musical talent herself. She plays piano, guitar, ukulele, and drums, and grew up performing and singing on the stage in musical theater, until she immersed herself full time in gymnastics. Her original dance troupe "The Acrobats," which she created, has toured across the country, opening for Justin Bieber, and has been featured on various TV shows, such as The Ellen Show.

Kelianne continues to inspire women of all ages by promoting self confidence and a healthy body image. She is also interested in philanthropic endeavors and plans to visit countries around the world to bring and distribute clean water to those in need. She also currently supports Make-A-Wish and No Kid Hungry.

Kelianne and her best friends Nate Wyatt and Tayler Holder commonly called, "The Trio", released their first song together "It Feels Like Christmas" on 12/8. Now, the artist known solely as Kelianne is finally launching her Pop Music career with her first single 'Boys' releasing January 2022. The music video will follow a week after the single release. Previously known as Kelianne Stankus and soon to be Mrs. Mattson, Kelianne is keeping things simple during this new era as a solo artist by completely dropping her last name. From now on, you can just call her Kelianne.

Kelianne has previously partnered with brands such as L'Oreal, Bloomingdales, Victoria Secret, Crest, Celsius, and many more! In her free time, Kelianne loves to spend time doing yoga, weight lifting, painting, and spending time with her fiancé, Chase Mattson.


Interview with Kelianne
Question: How would you describe your music?

Kelianne: I would say feel good pop music!


Question: Can you tell us about Boys?

Kelianne: This is my first single ever which is very exciting. I hope people love it as much as I do.


Question: Is there a particular message you hope listeners take from your music?

Kelianne: I just want people to feel good when they hear my music. Music is amazing and can make you feel so many emotions.


Question: What motivates you most when writing music?

Kelianne: I just think creating new songs is such a fun process. I love coming into a session with an idea and seeing the song come to life.


Question: Which music/artists are you currently listening to?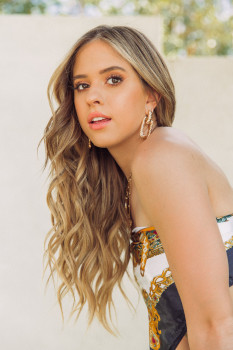 Kelianne: I listen to a lot of different types of music. Sometimes I'm in the mood to listen to Russ. Justin Bieber is always on the top of my list, as well as Dua Lipa.


Question: If you could collaborate with another artist, who would it be?

Kelianne: I think about this all the time because there's so many artists I would love to collaborate with. I think it would be so fun to collaborate with Doja Cat. I love watching her perform and to perform alongside her would be so much fun.


Question: What or who was your inspiration to go into the entertainment industry?

Kelianne: Ever since I could remember I would watch tv or watch singers perform on stage and I would always say – "that's going to be me one day". I've always wanted to this!


Question: What tips do you have for aspiring artists?

Kelianne: Take your time and don't try to be someone else. Be you.


Question: What is the biggest challenge you have faced along the way to your success?

Kelianne: Accepting rejection and realizing everyone's timing is different.


Question: What's a typical day like?

Kelianne: Every day is different I would say. Some days I'm just at home creating content. Other days I'm out at events, or in the studio making music.


Question: What's next, for you?

Kelianne: Being a recording artist! I'm ready for everyone to listen to my music and go on this journey with me!


Question: Can you share your socials? (links please)

Kelianne: Instagram
TikTok
YouTube


Interview by Gwen van Montfort