Born in St. Louis, Missouri and raised in Michigan, KG Crown recently moved to Los Angeles to pursue her love for music. Dedicated to her love for performing, writing music, acting, and fashion, she has quickly amassed 73.7k followers on Instagram, and over 101.9k followers on Tik Tok! She started her career in the modeling industry at the age of 4 when she began working with Ford Models and is now signed with Zuri Agency in Los Angeles and Carson Adler Agency in New York City.

Now, KG Crown is gearing up to release her new single, "Bad" ! Her new, sassy single brings together a K-pop sound with her own unique twist and was inspired by her passion for standing up against bullying. Due to her past experiences with bullying, she continues to use her platform to bring awareness to this topic and inspires her followers to stand up for themselves. Her new single, "Bad", is the first release from her new EP dropping later this summer!

At just 7 years old, KG was the lead singer of a band, Good Kicks, that she created with her older brothers. After this amazing experience, it was time for her to launch her solo career where she continued chasing her dreams as a pop artist. KG Crown has had experience working with Grammy-winning songwriters and has appeared in multiple magazines and advertisements nationwide! For philanthropy, she hopes to become involved in anti-bullying organizations. In the past year, she also created a YouTube channel where she posts videos about fashion, beauty, and music!


Interview with KG CROWN
Question: How would you describe your music?

KG CROWN: My debut EP Mu La la is a new sound for me. It's inspired by the genres of K-Pop, Pop, Hip-Hop and Rap. It's the first time I've been in complete creative control with my music, so I am really excited about it.


Question: What inspired your new song "Bad"?

KG CROWN: I grew up in a conservative Christian town, where I was bullied for singing pop music and wearing crop tops. It didn't matter that other girls were listening to the same music and wearing the same things. I was considered "bad" because I was the pop star. The song was written in response to being bullied by my peers, their mothers, and school faculty. I have no tolerance for bullying. I don't see anything wrong with someone being confident, wearing what they want to, and pursuing their dreams.


Question: Is there a particular message you hope listeners take from your music?

KG CROWN: I want listeners to be themselves, be proud of who they are and what their talents are, and to stand up against bullying. The world would be a much better place if we all just supported each other and spread kindness instead of rumors and hate.


Question: Do you have any tips for girls (and guys) that are being bullied?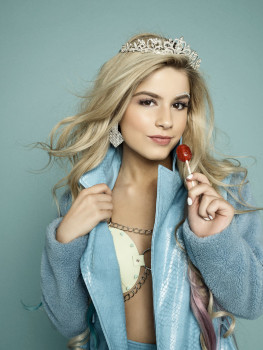 KG CROWN: My heart goes out to anyone experiencing bullying. I think that a lot of times people who bully others are doing so out of jealousy or they feel insecure about themselves. It is important to remember that the bully is the one with the issue, not you. You are not the problem. My advice is to try to ignore it but if it gets really bad ask a trusted adult or friend for help. Bullying is not something you have to suffer through alone or in silence.


Question: Has moving to LA influenced your music?

KG CROWN: Moving to LA has definitely influenced my music. I have met a lot of great producers, musicians, and other artists who I hope to collaborate with on songs.


Question: Do you prefer performing live or recording?

KG CROWN: Recording in the studio is fun, but the focus is really on getting the sound or production right. I definitely love performing more. There is nothing better than when the song is finished and you get to share that with your audience by just having fun and dancing around on stage.


Question: Can we expect any upcoming shows?

KG CROWN: It is my dream to go on tour, so I hope so!


Question: Which music/artists are you currently listening to?

KG CROWN: I've currently got Ariana Grande, Doja Cat, Saweetie, and Black Pink on my playlist.


Question: What or who was your inspiration to go into the entertainment industry?

KG CROWN: When I was seven years old, I heard a voice that told me to "sing to the world." Being a girl of strong faith, I took that pretty seriously. I have always loved singing, acting, and performing.


Question: If you could collaborate with another artist, who would it be?

KG CROWN: Ariana Grande would be my dream collaboration.


Question: What has been your favourite part of becoming a music artist?

KG CROWN: My favorite part is just collaborating with so many talented and creative people in the industry. Every photo, every song... it's all a team effort. I also love meeting and hearing from my fans. Without them, I wouldn't be here.


Question: What's a typical day like?

KG CROWN: I spend most of my day practicing my craft...singing, playing piano or guitar, or dancing. I am constantly filming content for social media and editing that content. I do collaborations with other artists and influencers. Most of my school work is done in the evenings. And I try to do at least one thing I love every day like swimming, playing basketball, going to the beach, shopping, or hanging with friends/family.


Question: What's next, for you?

KG CROWN: You can find me in the studio recording more music, filming more content, and using my platform to join anti-bullying efforts.


Question: Can you share your socials? (links please)

KG CROWN: Instagram
TikTok
Youtube
Facebook


Interview by Gwen van Montfort