Rising star Kyla Carter's talent runs deep whether she is acting, singing, dancing, or performing on Broadway. Kyla is currently starring as 'CJ Suki' in the new DreamWorks animated series "TrollsTopia" streaming on Hulu and Peacock. She can also be seen starring as the same character in the Netflix series "Trolls The Beat Goes On". Kyla's single "Because You're You" from Season 4 of the Netflix series soundtrack has become a hit with Trolls fans and beyond, garnering over 28K-streams on YouTube alone. As a singer/songwriter herself, Kyla has plans to release more original music in the new year.

Kyla was born and raised in Long Island, New York – where she took inspiration to become a performer from her icon Shirley Temple. She began her acting career at 5-years old when she was cast as 'Hattie the Witch' in the Nickelodeon animated series "Wallykazam!" and 'Young Nora Durst' in the HBO drama series "The Leftovers." With her passion for theatre arts, she began her Broadway career at 8-years old playing 'Gretl von Trapp' in "The Sound of Music" (2015-2017), under three-time Tony Winner Jack O'Brien. She then went on to play 'Susan Waverly' in the Broadway production of "White Christmas" (2018-2019). Overall, Kyla spent 18-months touring the U.S. and Canada, performed over 500 shows, visited 50 cities and 26 states, and never missed a day of work or school on the road. Outside of Broadway, Kyla's professional acting credits thus far include work for ABC, HBO, Nickelodeon, PBS, Netflix, Hulu, Peacock and NBCUniversal.

When Kyla is not acting, she spends time writing her own original music, performing popular cover songs on her YouTube Channel, dancing, and modeling. During the pandemic, Kyla began her own podcast 'Kyla's Korner' The podcast is featured weekly on 'The Mark White Show' airing on Radio Alabama's KIX 96.3 FM/100.3 FM, and can be streamed on most podcast platforms. Kyla's mission is to spread positivity and kindness to her community. She shares encouraging and motivational messages to her listeners with her motto being: 'Live life sunny side up!' She is an advocate for spreading sunshine and positivity wherever she goes. Kyla is truly an inspiration and positive role model for other young girls and boys during these unprecedented times.


Interview with Kyla Carter
Question: Can you tell us about your role of CJ Suki in TrollsTopia?

Kyla Carter: CJ Suki was originally part of the DreamWorks animated series "Trolls the Beat Goes On." She was created based on some of my own features, like freckles and blue eyes. She is a pop singer, a spunky firecracker and loves her Aunt DJ!


Question: Without giving too much away, what's your favourite part of TrollsTopia?

Kyla Carter: Working for DreamWorks Animation the last four years has been a DREAM JOB with a DREAM TEAM of amazing creative directors. It is very surreal to see a cartoon version of yourself on the television! My favorite part of TrollsTopia is the great music and positive messages around friendship, with lots of fun humor!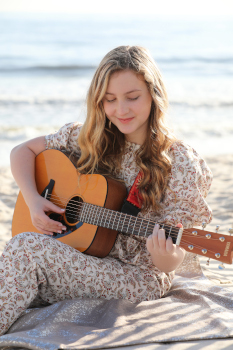 Question: Who's the funniest person in the cast in real life?

Kyla Carter: In voice acting, oftentimes we do not get to meet the cast. Many times, we live in different cities recording via Skype from a local recording studio. Recently, I met Lauren Mayhew who plays Val Thundershock. She is super funny and really cool.

Question:
What was your first performance?
Kyla Carter:
Oh, that depends on what show! My first national commercial was for Nestle Boost when I was five years old. My first lead in an animated television show was for Nickelodeon's "Wally Kazam," where I played Hattie the Witch. And my first Broadway show was the Broadway National Tour of "The Sound of Music."
Question:
What's a day on set like?
Kyla Carter:
A day on set includes attending school with a set tutor, long hours, great wardrobes and lots of fun!
Question:
If you could work with any other actor or director, who would it be?
Kyla Carter:
I would love to work with and learn from the very talented and strong female director Tamra Davis. She has an incredible work ethic, is able to do what she loves, and does it insanely well, all while raising a family. She is truly a role model for young actors like myself.
Question:
You've achieved a lot at such a young age, can you provide your tips for creating a successful schedule?
Kyla Carter:
ORGANIZATION and SCHEDULING are key! My life is planned to the minute daily. Planning time for school, work, training and even down time, keeps me focused and successful in every area of my life.
Question:
Out of acting, singing, modelling and dancing, which do you love most?
Kyla Carter:
I love them all but I was born to sing! It is my SUPERPOWER!
Question:
Tell us about your podcast?
Kyla Carter:
Kyla's Korner is a podcast segment featured weekly on The Mark White Show, where I share encouraging and inspiring messages. The main message that I try to relay to my listeners is to "Live Life Sunny Side Up." It can be heard through TMWS podcast on Apple iTunes, SoundCloud, Audioboom, Spotify, Stitcher, and Blubrry – or on Radio Alabama's KIX 96.3 FM and KONG MonsterRock.net
Question:
What's a typical day like?
Kyla Carter:
I am on a dance competition team so I dance 12 hours a week training in ballet, pointe, tap, jazz, modern, leaps and turns and hip hop. In addition, I take guitar, piano, singing and acting lessons daily. I also schedule time to write music every week. I attend public school when I am not working and since I am in all honors classes, I have A LOT of daily homework! My weekdays are packed, but I make sure to have a light schedule on the weekends so I can just live life as a "normal teen."
Question:
What's next for you?
Kyla Carter:
I love songwriting and have been actively writing songs to be produced for about a year. I am so proud and excited to be releasing my first single in 2021!
Interview by Gwen van Montfort