The Strategies for Success in the Music Industry Mixtape
What happens when two Hip-Hop enthusiasts meet each other online? They write a book, of course.

Carlton Boyd and Maggie Tra have collaborated on a special project to assist emerging artists in the development and promotion of their music brand in this ever-changing music industry. Individually, the duo has created a lane for themselves, with boss lady Maggie Tra, an expert in Public Relations and blogging with her company Stimulated Media and with her Hip-Hop blog Stimulate Your Soul, and Carlton Boyd, in managing his music discovery blog Dopecausewesaid, artist/producer development platform The Cab Portal, and DCWS Podcast Network.

In the "My Music is Dope, But Now What!?! The Strategies for Success in the Music Industry Mixtape" book, the duo gives up all the secrets to success and humbly offers a guidebook for those who need it most " emerging artists.

This book is your new bible. The music industry can be selfish and lonely as hell; let this book be your savior.


Interview with Margaret Tra
Question: What inspired you to write 'My Music is Dope, But Now What!?!'?

Margaret Tra: I've actually been working in the music industry for over 7 years now, and within that time people have always asked me for advice on how to release their music, on publicity and branding. When I was approached by Carlton Boyd to co-write it I just took it as a sign to finally put all my thoughts and experiences into writing so that musicians could perhaps benefit from it. To have it all in one place and it also saves me time from repeating myself to everyone! Now I can just tell them to purchase the book!


Question: Who did you write My Music is Dope, But Now What!?! for?

Margaret Tra: The e-book is mainly aimed towards emerging musicians, who are just starting up and don't know much about entering the music industry. We like to call it a bible for musicians, a go-to should they need any advice or opinions on how to release their music, from getting publicity and even when to get a manager. It covers all aspects for that D.I.Y musician. It is also targeted towards women in the music industry, in the hopes to push them into the career despite it being a male dominated field.


Question: What message do you hope readers take from 'My Music is Dope, But Now What!?!'?

Margaret Tra: Essentially I want readers to walk away and feel confident enough to start up their music career in more a strategic manner, and think more about the business side of it. A lot of musicians are often promised so many things by booking agents, managers and the like I want this book to be something they can always turn to for help.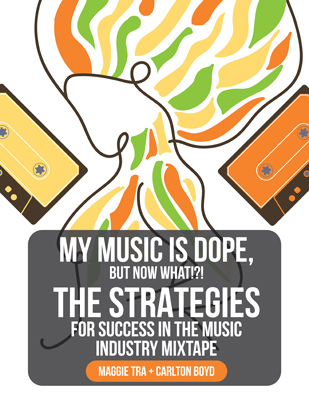 Question: How did you first meet Carlton Boyd?

Margaret Tra: That's actually a funny story, as a publicist I am always emailing new editors of blogs and Carlton is actually from the states and he runs Dope Cause We Said. We instantly clicked and talked about music and became friends quite instantly. He approached me about the idea of writing something together and I was so down for it. I like to take every opportunity that is thrown my way if it fits into my brand.


Question: What was it like working with Carlton Boyd?

Margaret Tra: Carlton is such a lovely human; he's super kind and supportive. As owners of bloggers we have a lot in common and in the end we do what we do for the love of music. So working with someone with the same mentality is just wonderful.


Question: What's next, for you?

Margaret Tra: Next I am working on a series of women empowerment workshops around the world; the next one is in London on the 24th March at Grow Hackney, London. I am also throwing Stimulate Your Soul events where we invite musicians from different countries in the cities that I visit; the next one is in Brussels 24th April at Bonnefooi. Other than that trying to DJ a lot more, continue to run SYS blog and SYS Radio on KISS FM Australia. And of course more travelling, I couldn't do what I do without that.


Interview by Brooke Hunter